If part one was the unbelievable highs, then part two sees the incredibly sad fall from grace of the great Roy Jones Junior.
If he had retired after scaling the Heavyweight mountain, he could be considered as one of the best ever. However, Jones elected to carry on, and moved back down to Light-Heavyweight to face Antonio Tarver having reportedly failed to secure fights with Evander Holyfield, Mike Tyson and Lennox Lewis.
Tarver was now WBC champion in Jones' absence, and the WBA super belt would also be at stake in Las Vegas.
With Jones having to shed over 25 pounds for the fight, he weighed in looking gaunt and nothing like his optimum self. And his cat like reflexes and flashy skills were not evident during the contest. 
In the end, Jones was fortunate to have his hand raised by majority decision to be the first man to move from Heavyweight to Light-Heavyweight to win a World title, but the warning signs were dangerously apparent. 
Jones said post fight, "if I don't get Tyson, I'm done" but would be forced to rematch Tarver in May 2004.
Jones would blame his lacklustre showing in their original meeting on the difficulty of making weight, and Tarver would famously ask after referee Jay Nady asked if there were any questions; "Have you got any excuses tonight Roy?" 
Jones would have nowhere to hide this time, as 'The Magic Man' caused a huge shock when a massive overhand left detonated onto Jones' chin.
Jones rose at the count of nine but was unsteady on his feet, and the fight was waved off.
Roy's cloak of invincibility was gone, and he attempted to redeem himself immediately by going after the IBF belt, now held by Glen Johnson. The Jamaican road warrior was maturing like a fine wine having picked up the title in a rematch with Clinton Woods. 
Johnson and Jones' meeting would take place in Memphis, and again, Jones would be on the wrong end of a massive upset.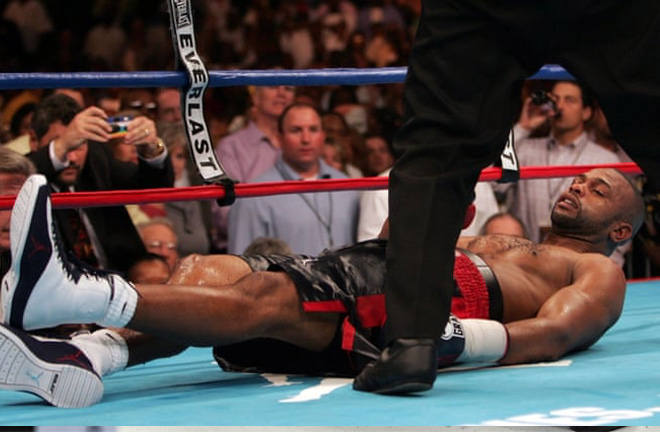 Glen kept Jones on the ropes for most of the fight, and was ahead on all cards when an overhand right landed on the side of Jones' head, rendering him unconscious and unable to beat the count.
Jones' career was in free fall, and next would see the rubber match with Tarver. Jones had brought his father back into his training team for the first time since 1992, but it was to no avail, as Tarver took a clear points win.
Jones would blame his father for interfering with what his trainer, Alton Merkerson was trying to do between rounds, but the frailties of the once great Roy were there for all to see.
The rebuild was now a gradual one rather than another step into World title class, and Jones scored wide points wins over the limited Prince Badi Ajamu and Anthony Hanshaw. 
January 2008 saw him do battle with the great Puerto Rican, Felix Trinidad and, although, Jones looked back to something approaching his best, Trinidad hadn't been active for four years, and was knocked down twice in a comfortable points win for Roy. 
The win brought Jones to the attention of Joe Calzaghe, and the pair did battle in November of the same year. 
Jones showed a glimpse of his past with a first round knockdown, but that was as good as it got for him. Calzaghe dazzled and showboated his way to a big win on the cards. 
Rather than retirement, Jones came back again, and 2009 was looking good after wins over faded campaigners Omar Sheika and Jeff Lacy.
The year was to be rounded off with a move up in weight, and a trip to Sydney, Australia for a meeting with IBO Cruiserweight champion, Danny Green. 
By now, Jones was 40-years-old, and it shockingly took Green only 122 seconds to stop him at the Acer Arena. Jones would file an official complaint regarding Green's hand wraps, but to no avail. Jones' legacy and career again lay in tatters.
A long overdue rematch was next in April 2010, and, while Jones' career was in decline, Bernard Hopkins' was going in the opposite direction, as he continued to confound his critics. A rematch between Jones and Hopkins had been discussed for many years after their 1993 original meeting, which Jones won at the peak of his powers.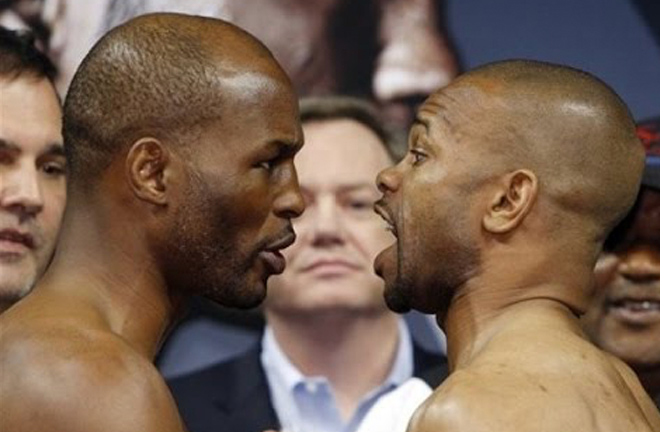 The rematch was a damp squib, and the fight in Las Vegas was poorly attended. Hopkins would gain revenge on the cards and the pair went their separate ways, Hopkins towards a Light-Heavyweight Championship into his 50's, and Jones towards the abyss.
His third straight loss was another sad one to see. Rising back up to Cruiserweight to take on 31-year-old World title contender Denis Lebedev. Now 42, Jones had done well to hang in there with his much younger opponent. But with just two seconds remaining of the tenth and final round, Roy shook his head in bravado and didn't see a right hook coming that poleaxed him.
Recognising that he was now way past his best, Jones adopted a 'have gloves, will travel' approach, and travelled Europe in search of paydays. 
After returning in December 2011 to outscore Max Alexander in Atlanta, Jones travelled to Lodz, Poland to edge Pawel Glazewski via split decision for the lightly regarded WBU Cruiserweight belt.
Russia then housed his unanimous win over Zine Eddine Benmakhlouf. 
Riga, Latvia then hosted Jones' fifth round retirement win over England's Courtney Fry, and it was then back to Krasnodar, Russia in September 2014, as he knocked out Hany Atiyo in just 75 seconds with a body shot.
Roy returned to America to score three straight knockout wins against nondescript opposition which then led to him returning to Russia in December 2015, where he was now good friends with President Vladimir Putin, and gained Russian citizenship ahead of his fight with Enzo Maccarinelli. 
The Welshman, past his best, still had way too much for Jones, knocking the 46-year-old out cold in the fourth round.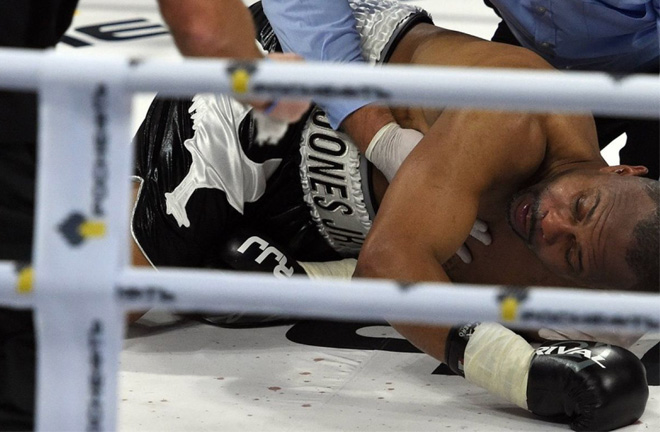 This again didn't deter Jones and force him into retirement. Roy would fight four times more before finally calling time on his career. 
First would be a second round stoppage of Vyron Phillips, who won an online vote to box Jones and possessed a seven fight amateur career and an eight fight MMA ledger. 
Rodney Moore was outscored over ten, and then Bare Knuckle champion Bobby Gunn was stopped in eight rounds as Jones picked up another meaningless trinket, this time the WBF Cruiserweight belt.
He thankfully brought the curtain down on his professional career with a points win over Scott Sigmon in Pensacola, where it all began, in February 2018. 
He flirted with an MMA crossover fight but has so far kept his word on retirement.
Jones will surely go into the Hall of Fame at the first opportunity. But, as a massive fan of his, I can't help but think just how great Roy would have been regarded had he retired much earlier.