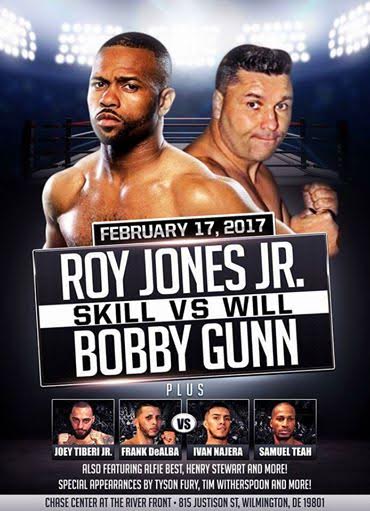 As former four-division world champion Roy Jones Jr. (64-9, 46 KO) prepares for his upcoming fight against Bobby Gunn February 17, he has his eyes set on one thing, bringing the championship belt back to Pensacola.
This 12 round contest against Gunn (21-6-1, 18 KO) is about more than Jones lacing up the gloves and continuing to do what he loves most; he is eager and adamant to add World Cruiserweight hardware to his Hall-of-Fame resume.
"What fuels me and continues to motivate me to step back in to the ring is my love for boxing, and having the chance to win another world title," said Jones.
Jones went 2-0 in 2016 against a boxer making his pro debut as well as an opponent who hadn't won since 2002, and he knows that the man standing across from him in 6 weeks is hungry and on a mission to put him on his back.
"Bobby is a heavy hitter who is going to come at me and look for the knockout," said Jones. "I am training for this fight like I did for my first championship fight. He's a former world champion too and bare knuckle boxing champion so he knows how to win, so I know I have to train and do what I've done in the past to get the W."
Gunn captured the IBA world title in 2006 and has thrown hands with a handful of world champions, and despite gloved boxing inactivity since 2013, has continued to make his presence known on an international level through bare knuckle boxing. In 2011 he fought in the first sanctioned BKB bout since 1889 and finished Richard Stewart, claiming the world title. Since he has stayed busy going to battle with top bare knuckle fighters around the world, keeping his unblemished record of 72-0 intact. He has had his eyes set on this showdown with Jones for quite some time and is confident February 17 will be his time to shine and get his hand raised against the future Hall-of-Famer.
There's been no trash talk to build and sell the hype as is the case with other fight sports; this is simply a matchup of two former world champions who have much respect for one another and are focused on going out and proving they are the better man February 17.