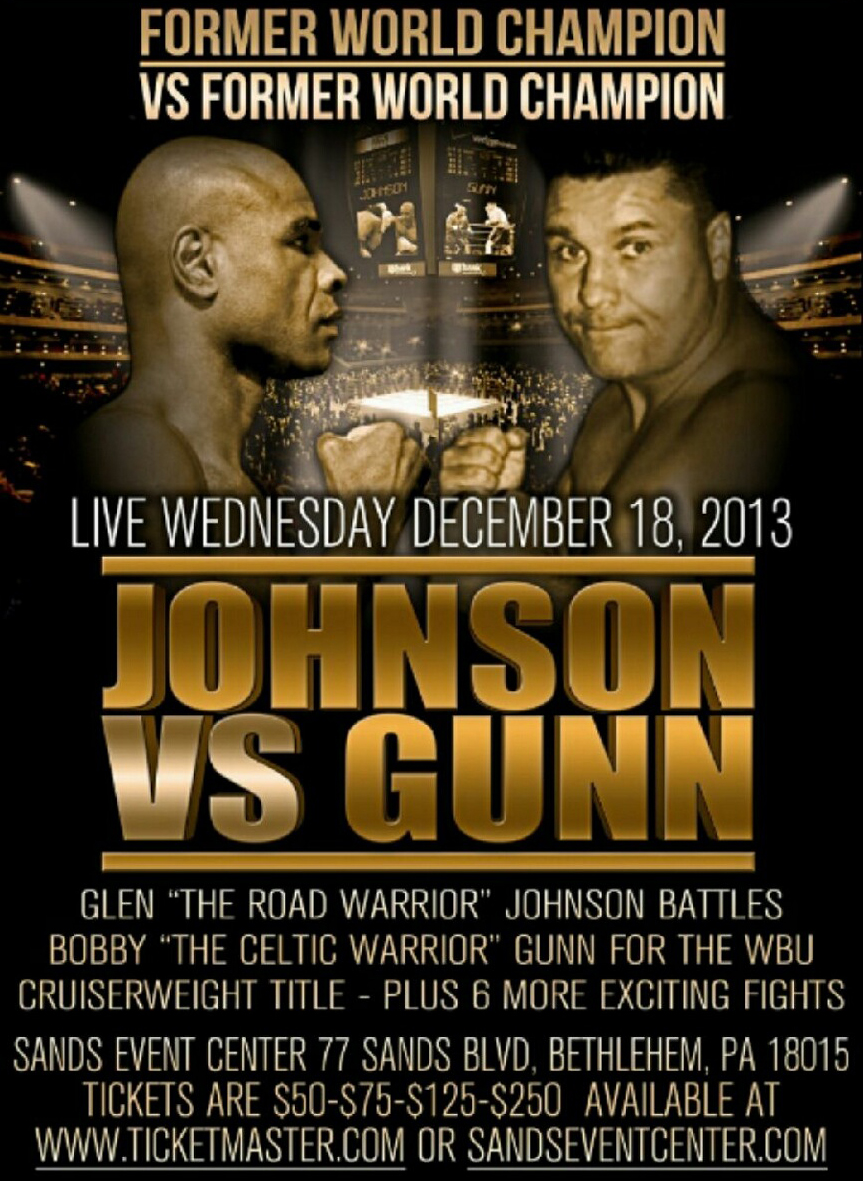 On Wednesday, December 18 at the Sands Casino in Bethlehem, Pennsylvania Glen 'Road Warrior' Johnson and Bobby 'Celtic Warrior' Gunn – face off for the vacant WBU Cruiserweight World title.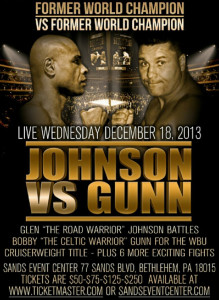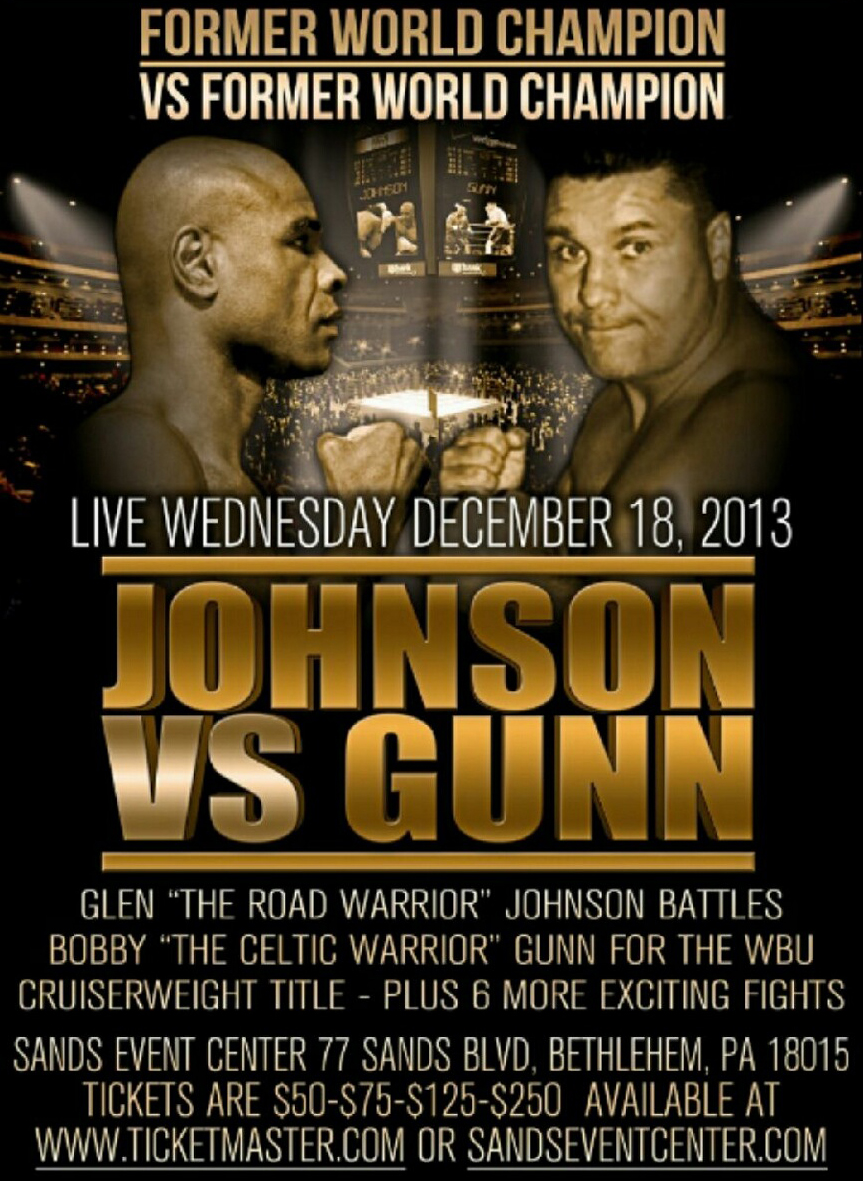 The late change of opponent for Bobby Gunn, who was originally due to face Roy Jones Jr., came about after Jones Jr. announced yesterday that instead he was going to fight Zine Eddine Benmakhlouf in Russia on the 21st.
In light of the unprofessional actions by Jones Jr's team, and of course Glen Johnson's willingness to step in at such late notice to save the show, Mr. Lewis made the following statement.
"What a bizarre escapade, we have all not only witnessed but participated in over the last thirty days regarding this title fight.
Bobby Gunn versus Roy Jones has been the talk of the holiday season both here in the USA, as well in Europe where our UK office has been bombarded with requests for press credentials.
We all looked forward to this matchup, yet the paperwork could not get completed from the Jones camp.
I could not understand it, that is until I received correspondence from the law firm Delahunt Solicitors in Dublin, Ireland informing me that Irish boxer Steve Collins had an arrangement to fight Roy Jones for the WBU World title!
I immediately investigated and to my surprise both Mr. Collins and Mr. Jones had indeed agreed to fight for a group calling themselves 'WBU V' for the title with the understanding that it was the legitimately recognized WBU here in the states!
Thus Mr. Collins's legal counsel is moving to protect Mr. Collins position and interests regarding the harm caused by action of Mr. Jones.
On the positive side, not only do we not have to be concerned about legal action stopping the fight but Mr. Collins and his legal counsel have requested through Mr. Gianluca Di Caro, Managing Director of our WBU-Europe to fight the winner of the Gunn-Jones Jr. world recognized WBU Cruiserweight World Championship and such request has been granted.
Now to our surprise, Mr. Jones announces less than twenty-four (24) hours after withdrawing from the fight with Mr. Gunn that he is now again going to fight in Russia for the rogue WBU V against Frenchman Zine Eddine Benmakhlouf.
Of course, that may change since there are two (2) weeks before the event. Anyway, in this business it is sometimes better to be lucky than talented.
This sums up our feeling of the former world Glen "the Road Warrior" Johnson stepping up once again with limited notice to fight Mr. Gunn.
Imagine, we now have the three (3) time world champion and the man who KOed Roy Jones, Jr. replacing Jones himself!
What a great night for both "Warriors" this will be and a sure candidate for worldwide "Fight of the Year".
I thank the Sands Casino for their patience in working this matter out and I can think of no better Christmas present than to be watching this historic event with so much at stake."