A Good Loss for Ruslan Provodnikov

Much will be spoken and written about the scintillating action in the instant-classic bout between Timothy Bradley and Ruslan Provodnikov Saturday night.  Bradley walked away with a well-deserved win and an upgrade to his debated legacy, but, in such a surprisingly spirited and unexpectedly rigorous affair, could Provodnikov's loss be considered good for him too?
Certainly Bradley walks away from that war having gained many fans while confirming the depth of his fortitude and heart. Provodnikov, for his effort, should reap several benefits as well, despite the loss.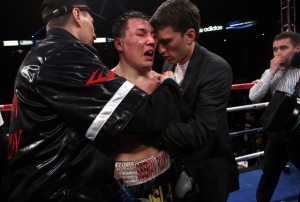 The former Pacquaio sparring partner stepped up in weight for this bout and likely earned the opportunity to continue competing in the crowded landscape of marketable contenders in and around the Welterweight scene.  He instantly becomes a commodity to fight makers and fans calling for entertaining and competitive fights within one of the deepest and most exciting divisions in the sport. While this performance won't catapult him to super-stardom, it should get him a seat at the table for near-future, high-level fights.
His stoic stalking style, constant forward trajectory – much to the chagrin of his facial structure – and punching power, may cause a pause to some of the current top ranked fighters, as a result of its equilibrium bending effects against Bradley. However, his newly-found recognition, penchant for standing right in front of his competitors, eating punches for the chance to land his own shots, make him an intriguingly reachable prospect for some of the division's slicker stylists going forward.
Some scoffed at Bradley for making this fight versus the much less regarded Provodnokov in the first place. As an 8-1 underdog and with a resume that didn't boast any competition close to Bradley's level, not many expected much from Provodnikov.
But Bradley's frequent abandonment of an otherwise effective stick and move style, for numerous toe-to-toe exchanges, assisted Provodnikov's superior punching power but less polished boxing ability and helped to sell the Russian's now rising stock to those watching the fight. Thanks in part to Bradley's somewhat out-of-character approach to the fight, Provodnikov was able to showcase his strengths, impress those not familiar with him and thus position himself as a worthy contender, despite not improving his win-loss record.
I'm typically not a fan of the term "Good Loss" but in the case of Ruslan Provodnikov vs. Timothy Bradley, this loss wasn't so bad at all.