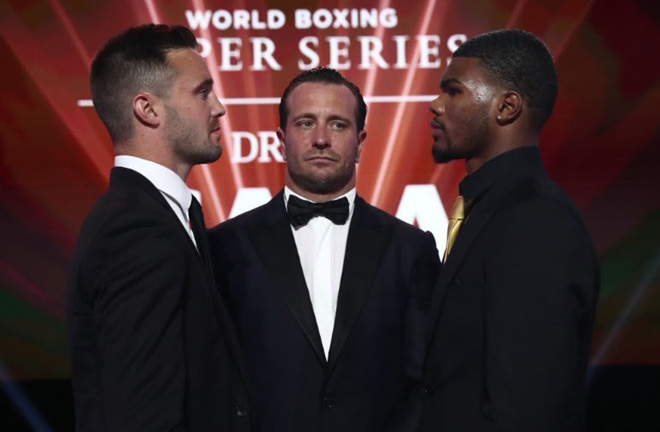 USA's Ryan 'Blue Chip' Martin feels confident in beating 'The Tartan Tornado' Josh Taylor when they meet in a 140 lb Ali Trophy Quarter-Final on Saturday at The SSE Hydro in Glasgow, Scotland, but Taylor is calm before the storm.
"I don't mind fighting in Scotland, for me, it's just another ring," said Martin (22-0, 12 KOs) who trains at The Summit in Big Bear, California under the guidance of famous coach Abel Sanchez.
"I need to go there and do what I do best; showcase my skills and come out victorious. I know Taylor is a good boxer but nothing overwhelming. I believe I'm faster, more athletic and just as strong as him. I think my speed is going to play a key difference."
Fans at the SSE Hydro can look forward to a spectacular fight, vows Martin.
"I have heard that the crowd in Scotland is different from what I am used to," said the challenger.
"But I will soak it all in and stay focused. I am a boxer-puncher, I love to entertain, I love to excite people, to press action! I have nothing to lose. The pressure is all on Josh Taylor."
Taylor, tournament two seed, was born in Edinburgh and raised in working-class Prestonpans, a place with 'a lot of tough people', according to 'The Tartan Tornado'.
"I got a fighter in my genes and a warrior inside of me," said Taylor who had over 150 fights as an amateur. "That experience is going to be valuable to me."
He is clearly a man who loves his profession.
"I love the fact that I am challenging myself against another person physically and mentally," said Taylor. "My style is based on hand speed timing. I can punch hard, but I am not a one punch knockout artist; I will either put you down or hurt you. I don't think there is anyone that boxes the way I box."
Taylor trains under top coach Shane McGuigan in London. "I moved away from my family, my loved ones and my home comforts, and I believe that keeps the fire and the desire," said Taylor. "Shane is a world coach, he is unbelievable. I just think he keeps taking me to the next level."
The next level is a quarter-final in the World Boxing Super Series and the quest for the Muhammad Ali Trophy.
"I've proved myself at world level, I don't feel the pressure," said Taylor. "It's telling in the gym, the way I'm performing right now is brilliant and I'm going to be in for a right good performance on Saturday. Ryan Martin is a bit of a dark horse because he is a bit of an unknown. I've watched a bit of him now and he is a good fighter. It will be a tough fight but I'm fully confident I'm going to win it. I believe I have what it takes to win this tournament."
Ryan Martin also pictures himself going all the way in the 140 lb edition of the World Boxing Super Series and honouring his idol Muhammad Ali.
"It would be a great accomplishment to win the tournament and knowing that I'm the best in my division. It would be a huge victory for my hometown of Chattanooga, Tennessee representing them as a world champion," said Martin. "If I win I will have a big parade in Chattanooga and taking a trip to the Ali Center in Louisville, Kentucky to pay tribute to my hero."
On the line Saturday in Glasgow:
Fans at The SSE Hydro in Glasgow will be treated to a spectacular doubleheader featuring two Ali Trophy Quarter-Final contests as Scottish Super-Lightweight star Josh Taylor takes on the undefeated American Ryan Martin.
Meanwhile, Northern Ireland's WBA World Champion Ryan Burnett meets former four-weight World Champion, Filipino-American Nonito Donaire in a Bantamweight Quarter Final.