Sam Eggington says he'll live up to his 'brawler' tag and warned Bradley Skeete that he'll go home empty handed from their clash at the Genting Arena in Birmingham on Saturday night.
Eggington defends his British strap for the second time and Commonwealth belt for the third against Skeete, who is challenging for the titles for the second time having faced another Birmingham man Frankie Gavin back in November 2014.
The Stourbridge ace's clash with Skeete has been billed as brawler versus boxer, but big hitting Eggington believes his ability is underrated – although he's happy to turn it into a tear-up if it means he keeps his belts.
"I am very confident I will beat Bradley in style," said Eggington. "If I had been asked who I wanted to face as a mandatory, I would have picked Skeete from the top five not to include Kell Brook and Amir Khan. I am confident and I think I will do a better job than Frankie did.
"People say I like a scrap and are saying this is a boxer against a brawler but if I choose to box it will still be competitive and if I choose to have a brawl it will be fun.
"I am not going to say I am a better boxer than Bradley but if I want to box it would be a competitive fight but I am not going to choose to do that through the 12 rounds. It will be a hard fight at times for both of us but it will be harder for Skeete; if he is boxing me I would definitely have an easier time than if I am pressuring him.
"It will be a good fight while it lasts but I am more than confident. I think there is always a possibility of a stoppage. I work hard and even the rounds that people win against me they work hard to win those and they will have to regroup at the end of the round. Every round, win, lose or draw they will be working hard to win that round. He might win a round but then the next round will mine."
"I am planning to win the British belt outright. It is my first fight of the year and this is my mandatory and hopefully by the middle of the year I can have a voluntary and win the belt outright and be pushing on for other things."
Eggington's clash with Skeete is part of a huge night of action in Birmingham where Kal and Gamal Yafai face crucial nights in their blossoming careers.
In Other Matchroom News…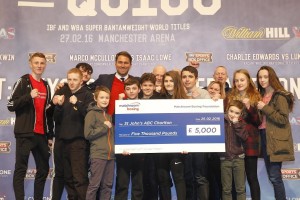 St. John's ABC in Chorlton have become the latest amateur boxing club to benefit from the Matchroom Boxing Foundation.
Members of the Manchester club were presented with a cheque for £5,000 by promoter Eddie Hearn at the weigh-in at the Manchester Arena on Friday ahead of the World Super-Bantamweight blockbuster between Carl Frampton MBE and Scott Quigg, and club chairman and head coach Andy Rea says the donation will revive the fortunes of the club.
"The money is going to have a massive impact on the club and the activities we put on for the kids that come here," said Rae. "Most of the donation will be spent on improving the club's facilities. We'll be investing in a new ring and replacing our old and tired equipment.
"We used to raise money to fund the club from gym shows but had to stop when the ring did not meet AIBA specifications. We have been fund raising for last six months to buy a ring and had still not reached the half-way mark.
"Now we can get some revenue from gym shows again and the club will be able to stand on its own two feet. It's an exciting time at the club with one of our youth boxers being selected for the England Squad in December and winning a silver at a tournament in Germany. He has just received a letter saying that his place on the team is secure for the next 12 month's so some of the donation will help with his development."
Hearn added: "It is vital to invest in the grassroots of the sport. We made our first donation in Liverpool to the Golden Gloves ABC and they are reaping the benefits, and I hope that this donation and our support can have the same effect on St. John's ABC and its members."