Khan-Garcia, Haye-Chisora and the Retirement of Glen Johnson
With two major fights scheduled, I went into this weekend expecting plenty of pugilistic drama. In Las Vegas, Amir Khan was looking to solidify his place as the 140 lbs division top dog by taking Danny Garcia's WBC belt away from him. The fight eclipsed even the British grudge match of Haye vs. Chisora in the British news, with the two fights scheduled for the same night (although at widely separated times).
Friday night had its own televised entertainment, as the redoubtable Road Warrior, Glen Johnson, traveled to Chicago in an attempt to restart his career. As it turned out, some things went as planned, but nothing went as expected.
Khan Flattened!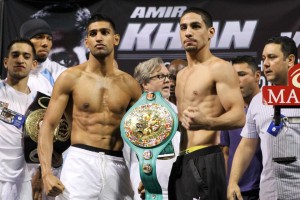 Everything looked like it was going along with the script in the early rounds of Amir Khan's clash. Simply put, Khan was drilling Danny Garcia so badly that the latter looked somewhat out-classed. One monster left hook changed everything. The punch came around at an angle Khan couldn't see, landed on the ear, and floored him. The British star never recovered, and was finished off in the next round for a TKO4.
This result is a major ground-shaker for world boxing. Frankly, any ranked fighter in the division would have been hurt by the punch that Garcia threw, had it landed in the same place and in the same way. Yet I can't escape the feeling that the only one who would have been hurt as badly as Khan was, and therefore failed to survive the 4th Round, is Zab Judah.
Khan's stoppage loss therefore confirms and highlights what boxing should have known since 2008, when Breidis Prescott kayoed Khan: Amir Khan is "chinny." Unlike the Prescott loss, I doubt anyone will forget about this anytime soon.
Khan is still a world class fighter, and at age 25 you can be sure he has a good career in front of him. Still, a loss like this one will take some of the sparkle off of his reputation, and it will be quite a while before anyone thinks of him as a world beater again.
In particular, what the fight shows us is that Khan will need to change his style from one of flashy, fluid, boxer-puncher aggression into something more measured. "King" Khan can't afford to be mixing it up in the trenches, where anything can happen, if he wants to get his crown back and keep it.
Haye Whips Chisora
After failing to live up to his own vigorously promoted hype in his clash with Wladimir Klitschko, David Haye went into temporary retirement and became the butt of many, many jokes. I doubt anyone is joking about him now.
Haye reminded the world why size isn't necessarily everything in the heavyweight division. Del-Boy showed up in shape and with a 35 lbs weight advantage, but with a body-builder physique that too many heavyweights have become obsessed with in recent years. David Haye took him apart with a display of speed, skill and power.
Haye's performance should send tremors through the ranks of the big men, and any questions about how much of the Hayemaker's explosive power transitioned to heavyweight ought to be silenced. Chisora absorbed some of Vitali Klitschko's and Robert Helenius' best punches and remained standing. Indeed, many thought Chisora won the fight with Helenius, and if nothing else, the man has a reputation as a guy who can take a punch. Yet it was not the heavy-handed force of either of those giants, but the rocket-like fists of Haye that gunned Chisora down.
So stand up and take notice. Haye is back, and he is a dire threat to anyone whose last name isn't "Klitschko."
End of the Road
Glen Johnson seemed like an ageless wonder. The hard-traveling, 43-year-old Road Warrior was really just a journeyman middleweight in the late 1990s, the guy who lost to literally every name opponent he fought at that time. Frankly, some of those guys (like Syd Vanderpool and Merqui Sosa) were barely in the fringe contender category.
He didn't do much better during his initial phase as a light heavyweight, but by 2003 he was on the road to becoming a solid 175 lbs contender. He went 1-1 with Antonio Tarver and 1-1-1 with Clinton Woods, plus some other good wins. However, after giving Chad Dawson and Tavoris Cloud tough, but ultimately losing fights, Johnson was basically back where he began. Although his reputation was more formidable, he was once again the tough guy who lost most of his big fights.
Johnson was starting his comeback from his 1-2 record in the Super Six tournament by returning to light heavyweight and fighting a journeyman, Andrzej  Fonfara. He lost, and by a big margin. The Road Warrior announced his retirement after the fight, and so an ageless wonder isn't so ageless after all.
Yet the tremors set off by the Johnson loss extend far beyond Johnson himself. This sad end to a remarkable career makes a point for another fighter, and I think most observers are going to miss it. Johnson had enough stuff to beat Allan Green and go toe-to-toe with Tavoris Cloud in 2010, but one has to wonder how much he had slid since then. True, Johnson might have simply been unmotivated for the fight with Fonfara, but the truth is that I think Johnson's career renaissance was slowly winding down years ago.
So, when you consider that Glen Johnson was arguably the toughest opponent Lucian Bute had fought prior to his clash with Carl Froch, and that bout with Johnson was only seven months ago… well, suddenly Bute's toughest opponent reverts to Saiko Bika, and the two of them met in an IBF Title Eliminator way back in 2007.
The Johnson loss should serve as yet more evidence in just how much Bute was protected, and therefore failed to develop, by clever matchmaking prior to the Froch fight. That bodes ill for the March 2013 Froch vs. Bute rematch.