A major weekend in fight action is in the books. Let's try to make sense of it…
I saw Tyson Fury, English heavyweight prospect, on Friday in a Shobox appearance. While oafish and generally unimpressive, the undefeated Fury is very young. Who's to say that, by the time he's 32 and 47-5, he won't morph into a bigger Corrie Sanders-type threat? Who knows?
Now on to the Big Stuff…
Wladimir Klitschko basically had things his own way with Samuel Peter, en route to a 10th-round TKO. Wlad, more comfortable and confident in his style then when they first fought, was masterful in keeping distance, while completely nullifying Peter. The Nigerian was earnest, but increasingly resigned to a loser's fate as the fight moved into the middle rounds.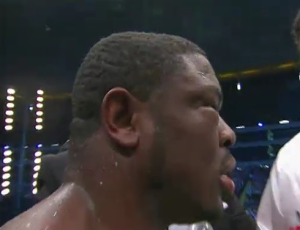 Peter was threatening with his menacing-looking tee shots, but failed to land anything cleanly. Meanwhile, Wladimir fought in his typically clinical manner—catching Peter at the end of punches, while minimizing personal risk. Fans certainly will only give the champion respect begrudgingly. It's difficult to love a heavyweight king whose entire thrust is not to exchange. At the same time, Wlad continues to become more of an advanced study in the style cunningly created by Emanuel Steward to keep the big guy winning.
Peter was initiating a lot of holding, which made for a dull fight, especially combined with Klitschko's clinical approach. At the same time, there is a certain effectiveness that Klitschko continues to show that is hard to dispute. It doesn't look like he's doing much. Then at the end of the round, you realize he's thrown 80-90 punches. On the replays, you see his punches land with an undisputed heaviness and flushness. Sure, it can be boring, but he's darn good at pecking away at guys, and then blasting them out, as 49 knockouts in 55 wins will attest.
People will say Klitschko doesn't fight anybody, yet they can't name one fighter he has ducked. They will say the heavyweight division is at its weakest ever, but never attribute it to the gap in talent established by Wladimir, who otherwise has nothing to do with the greatness of his contemporaries. They will say he's a lame-duck champion, refusing to acknowledge he has been virtually unchallenged in ten consecutive title fights.
I grew up during the title reigns of Larry Holmes, Michael Spinks, and Mike Tyson. I'm accustomed to the heavyweight champion being a producer of excitement just like the next guy. But perhaps we have gone overboard in blurring the lines between entertainment value and sheer excellence. When it applies to the latter, it is difficult to say anything derogatory about Klitschko.
He doesn't want exciting fights. At some point, however, it becomes incumbent upon the opponent to make it exciting. To be frank, the deficiency in his challenger's ability and hunger levels has been appalling. We all remember a time when challengers for heavyweight championships would go for broke, show some moxie, and get some business done from time to time.
All we see now are guys dutifully laying at the end of his reach, almost hypnotized into lethargy. Having a boring heavyweight champion is bad enough, but between him and his brother, you see almost zero competitive boxing taking place at the top of the heavyweight division. What was the last competitive fight you saw involving a top heavyweight? Exactly.
The HBO Card…
Anthony Peterson looked pretty good for one round, until Brandon Rios took control of their fight with his sharp combinations and overall persistence. He reminded me of WBC Lightweight Champion Humberto Soto, just with a bit more pop, as he moved forward implacably winging punches from a wide variety of angles. Rios depleted the undefeated Peterson with body shots, looking nothing like the almost-two-to-one underdog quote given to him by sportsbooks. Peterson, losing his grip on the fight, began straying downstairs, leading to a disqualification in the 7th round.
Rios, now 25-0-1 (17 KOs) was rabid in his pursuit of the classy Peterson, who appeared to completely abandon his boxing ability for a crowd-pleasing toe-to-toe battle. Rios's form, power, doggedness, and champion-like ring demeanor makes him a threat against anyone at 135. He now presumably gets a shot against WBA champion Miguel Acosta of Venezuela. Acosta is tough—undefeated since a three-fight losing streak in 2003. With consecutive knockouts of undefeated Urbano Antillon and titlist Paulus Moses, he is also peaking. The two should make for an exciting fight, just the kind of bout that will help get the lightweight division cooking again.
If Rios beats Acosta, maybe he can get a shot at WBA "Super" Champion Juan Manuel Marquez. I'm not sure if you're aware that sanctioning bodies are crowning multiple titlists in the same weight classes. Isn't it a wonderful thing?
Yuriorkis Gamboa deserves credit for beating his toughest opponent to date—IBF Featherweight Champion Orlando Salido. The result of the fight was never in serious doubt and Salido proved to be a rugged and resilient campaigner. Gamboa was dropped in round 8 in an iffy knockdown, but came back in round 10 to drop Salido. In round 12, Gamboa unloaded on the rugged Salido, dropping him for a count. Another knockdown followed, when Gamboa inexplicably swatted a downed Salido on the back of his head, earning a two-point deduction.
The fight concluded without further drama, with the decision going to Gamboa by 5, 6, and 7 points on the cards. First is the good: Gamboa is a major talent. His offense has the look of a top fighter—clean, fast, and explosive. Salido isn't an easy guy to dent and Gamboa did it with impunity in winning a clear decision.
The bad: Gamboa has yet to package his talent into a clear identity. While massively gifted, he seems caught between styles, as analyst Max Kellerman pointed out on the telecast. Surely we want to see the go-for-broke brawler, but this style reveals his vulnerability, particularly in the areas of defense and chin. When he fights in the style of a cautious boxer, he racks up points, while minimizing risk. The problem is that the safety-first Gamboa seems like a fighter boxing without clear direction. He fights to win individual exchanges without having a clear idea of where the fight is going.
With under 20 pro fights under his belt, he should be given the benefit of the doubt, but at 28, it is time that he carves out a clearer identity. Otherwise, he just might get run over by what is now a very strong featherweight division at the top. Oh, and let's hope he learned not to pull any that stuff from the 12th round ever again.
In Other Action…
Erik Morales continued his ill-fated comeback with a body-shot knockout of Willie Limond in 6 rounds in Mexico City. On paper, Morales beat a 33-2 fighter, which will be used as fodder to put him in a fight in which he will likely be battered. In reality, Limond is merely a halfway-decent domestic U.K. fighter who was coming off a win over an opponent with a 3-54-3 record.
I suspect you could take most first-ballot Hall of Famers, dust them off, and have them beat fighters of Limond's stature, so I see no great accomplishment here. Without sounding like someone looking to deprive a man of the right to exercise his free will, I have grown tired of watching great champions get chewed up and spit out by this unforgiving sport. When Morales retired after 4 straight losses in 2007, it seemed overdue. He had slipped so appreciably, there were no objections to his exit. It's strange how that feeling fades with time, opening the doors to this quixotic comeback that can end only one way.
Other Thoughts…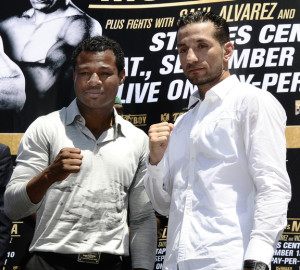 Not sure I like the racial angles being drudged up to sell the Shane Mosley-Sergio Mora PPV event on the 18th. Boxing has never been the third rail for political correctness, but this manufactured angle of "let's see if Sergio Mora can become the 1st Mexican to beat Shane" is over the top and an insult to the intelligence of the hardcore fan.
First of all, no one ever looked at Shane Mosley as being the assassin of Mexican fighters. He beat De La Hoya, a shot Vargas, Margarito, and that's about it. It seems quite ordinary that a top fighter at 135-154 pounds from southern California with a long history of success would have beaten a few guys with Spanish surnames. There's nothing peculiar about it.
Until watching the PPV promo, I wasn't even aware that no Mexicans had ever beaten Mosley. Isn't the fact that he lost to 3 African-American fighters and a Puerto Rican more a result of happenstance than any kind of deficiency on the part of Mexican fighters? Is the fact that he beat guys from East L.A. and Oxnard supposed to send Mexicans up in arms against Mosley? Those who have seen Mosley fight live know that, by in large, Mexicans and Mexican-Americans support him. You have the hometown angle of two So-Cal guys fighting in Staples Center, in addition to a solid-looking undercard. You don't need to drag race into it.
Just my two cents. Maybe I'm being nit-picky.
Next Week…
On Friday on Showtime, welterweights Freddie Hernandez (28-1) and Mike Anchondo (30-2) do battle in a crossroads match.
On Saturday in Sinaloa, Mexico, Humberto Soto defends his WBC lightweight title against 23-1 Fidel Munoz, with Jorge Arce facing former flyweight titlist Lorenzo Parra on the undercard.
Rising Welsh light heavyweight Nathan Cleverly faces talented and undefeated Iraqi-born German Karo Murat in Birmingham on a big card featuring top names on the U.K. boxing scene.
On the Mosley-Mora card, Golden Boy Promotions continues their promising new trend of stacking undercards, with young dynamo Saul Alvarez fighting former linear Welterweight Champion Carlos Baldomir, Ponce DeLeon vs. talented contender Antonio Escalante, and Victor Ortiz facing ex-titlist Vivian Harris.