Khan Wins in a Thriller!
In a great, tension-filled battle, Amir Khan nosed home to edge out Marcos Maidana by unanimous decision. This one didn't look like it was going to be much of a fight after the first round, when Khan dumped Maidana badly with a left hook to the body.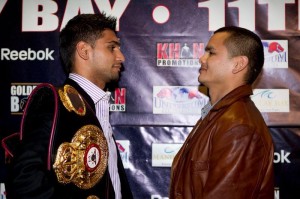 This pattern continued, though to Maidana's credit, he began to take the punches a lot better. But he continued to get tagged with impunity. The pressure he was able to put on Khan was commendable, but he was so much slower, it seemed he would have trouble getting to Khan.
In the 5th, a Maidana elbow cost him a point. It appeared to be slipping away from him, with Khan continuing to tattoo a steady flow of punches on Maidana's face. The fact that Maidana was eating those punches so well, combined with the pressure , made him a menacing presence.
The fight changed in the 7th, with Maidana suddenly getting in with right hands and uppercuts. The pressure was exhausting Khan both mentally and physically. In the 8th, Khan got back to business–and dominating Maidana.
In the 10th, everything broke wide open for Maidana as his perseverance and grit finally paid off. A wild right hand caught Khan squarely and he began fumbling around the ring with Maidana in hot pursuit. He continued winging shots at Khan, who showed great heart in soldiering through. What he didn't show was a high ring IQ by neglecting to hold Maidana. It's surprising this blunder didn't cost him worse than it did.
In the 11th, Khan didn't seem to have his legs under him, but a late rally might have won him the round and certainly gave him points in the moxie department. But a few Maidana shots in the 12th had Khan's legs betraying him again. Khan called on all his heart and soul to not collapse into a heap. He even closed strongly to underline his gameness. What a fight!
Khan won the decision unanimously over the dejected Maidana, but it was a titanic struggle. Khan seemed to become aimless after dominating Maidana early. He should have worked the body better to put a dent in his opponent, especially when it became clear that Maidana was able to handle the head shots.
But while this fight might have underlined Khan's vulnerability, there is no shame in being put to the test by the hardest hitter in perhaps boxing's best division. In this era of 140-pounds, competitive matches are the name of the game and Khan showed true grit in pulling through. His chin, while not cast iron, is not that bad either. He sponged dozens of shots against a true banger and survived.
Ortiz-Peterson a Draw!
In a junior welterweight co-feature, Victor Ortiz and Lamont Peterson battled to a 10-round majority draw. Peterson started well, taking the first round. He was in deep trouble in the 3rd, as he was dropped twice and put in a hole points-wise.
The more authoritative shots of Ortiz were effective, but he seemed to almost be too cautious. He almost gave the last rounds away, acting like he had a big lead to sit on, while Peterson began to take advantage. It was strange seeing a fighter who was criticized for being too gung-ho revert to a 4-corners defense against the boxing Peterson.
This allowed Peterson to catch Ortiz at the end of his reach with some hurtful right hands. While his increased discretion is admirable, a more assertive performance in the second half of this bout might have been advisable. As it is, it's a draw between a pair of young quality contenders, which shouldn't set either man back too far.