Scott's On the Spot weekly Boxing Report:
After a brief lull in the past few weeks, this weekend saw a spike in the action, with a slew of key fights….
Friday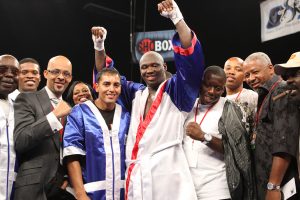 Antonio Tarver beat Nagy Aguilera over ten rounds on Showtime on a card from Miami, Oklahoma. It's highly doubtful that he will be able to become a factor in the heavyweight division. With that in mind, I thought he looked okay. He had a shoulder issue come up in the mid-rounds. When injuries happen through the normal course of action in mid-fight, that's a sure sign of aging. Tarver fought through it and just had too many skills for the cruder Aguilera.
His body didn't look great at 221, but better than you might think for a guy who put on 46 pounds from his last fight. Let's see how good we'd look after putting on a 50-spot. With some clever matchmaking and better conditioning, Tarver could make some minor waves.
Shawn Porter won his 17th consecutive fight on the televised supporting bout. Porter is undoubtedly a top prospect. Looking sharp at 147 after dropping down, he ran roughshod over a game Hector Munoz. He has a very professional disposition and calmness that belies his lack of pro experience.
I felt the officiating in this bout was abominable. Munoz, defiantly game at first despite being hopelessly outclassed, was cut over the head in the 5th and fought through a mask of blood from that point. Even his sporadic and momentary mini-bursts of success had ground down to a halt. The doctor, upon inspecting a Wepner-esque Munoz, said, "I wouldn't worry about it too much." What?!
After a few more cuts, referee Gary Ritter again brought Munoz over to be inspected by the doctor. Bernie Koppel, who played "Doc" on the Love Boat, would have done a better job. Keeping in mind that the fight had now turned into a G.G. Allin concert, the doctor said Munoz is good to go, but adds—" If the blood gets in his eyes, that's another story." Ritter then waves them back together! The blood had long since started going in his eyes!
First of all, if referee Gary Ritter had any heart at all, he would have taken the initiative and stopped the fight, instead of passing the buck back and forth with the jerky doctor. Anytime after Porter crashed home one of his dozens of big shots on a hopeless Munoz would have been a good time. Or maybe when we arrived at the point where Munoz represented zero threat and was an unsightly, bloody mess? The corner also didn't do the gallant Munoz any favors. What were they waiting on? Are they getting paid by the round? Un-freaking-believable.
Finally, Gary Shaw managed to convince the corner of Munoz to finally throw in the towel. Turns out they don't have a towel. They manage to get Ritter's attention and he stops the fight in the 9th. Message to Oklahoma: Get your act together. This isn't the first time that we've had this conversation. If you want to get into the fast lane of this game, get some decent officials. That includes doctors, referees, and judges. Watch a card from Oklahoma and chances are you will utter something like, "What in the world are they doing?" at some point during the broadcast. Disgraceful.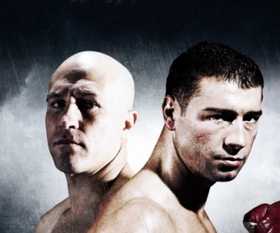 You gotta like this Lucian Bute character. He goes to the body like nobody's business with sudden shots opponents often do not suspect. The body punches you don't see can be worse than the head shots you don't see. Jesse Brinkley put up a competent and professional effort. Judging by how Bute was marked up at the end of the fight, Brinkley did manage to land some shots and remain marginally competitive for several rounds.
He's not a Mack truck, but more of a swan—an artful performer with an unshakeable air of fragility about him. In order to beat him, his challengers will need to drag him into a rugged-type bout. Librado Andrade almost managed it in their first fight, but opponents will need to soldier through a lot of punishment in order to create such a fight. Brinkley tried his best, but by the 5th, his cost seemed to be a lost one after a bodyshot almost put him down for the count.
Brinkley showed a lot of guts coming back from that punch to make it all the way to the 9th. Bute is a slashing puncher and was having his way with the former Contender star. Bute finished the fight in style, as a big uppercut put Brinkley down and out.
On the undercard, top-rated light heavyweight Adrian Diaconu won a widely-scored unanimous decision over veteran Omar Sheika. Diaconu didn't have things all his way—going down in the second round. He's a sharp fighter, but his right hand is delivered strangely at times. Hats off to Sheika for continuing to put forth honest and heartfelt efforts almost a decade removed from his prime.
In action elsewhere, 2008 Olympic Bronze Medallist Deontay Wilder had his first hiccup, getting knocked down and hurt badly before rallying to stop veteran Harold Sconiers. He deserves credit for making it through a major crisis. It's just a bad sign that the first opponent he faces who isn't a gas station attendant was able to put him on the verge of demise. Sconiers, 17-21, has been around for a while, but Wilder better steel himself as he rises in class.
Saturday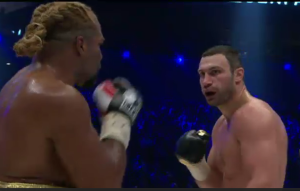 Vitali Klitschko defended his WBC Heavyweight Title against Shannon Briggs. It was mostly lopsided, with Klitschko scoring at will on a very game Briggs. Once in a while, Briggs would retaliate with a shot to keep it somewhat interesting, but it was mostly one-way traffic.
Briggs has really bulked up over the years and was just too boxy and overly-muscled to muster the sharp effort he would have needed to threaten Klitschko. He hit Klitschko with a few good shots early. Then again, we were expecting so little from Briggs that it probably resonated more on the rare occasion he managed to score.
I thought Briggs gave Klitschko his best challenge since the big Ukrainian began his comeback. This does not speak well for the heavyweight division that a relative retread well removed from his peak can surpass the efforts of more contemporary contenders. In becoming only the 3rd man to go the distance with Vitali, Briggs showed a lot of moxie. In the 10th, he absorbed a major beating and managed to carry on to the finish in a bit of a surprise.
It would be nice to see a heavyweight come along that has the poise, skills, and confidence to punch with the Klitschko brothers. They are masters at keeping range. The only time when you can catch them with a big shot is when they are distracted by their own offense. No one seems to be able to do that. One challenger after the next almost gets hypnotized into compliance. The Klitschko's punches are compelling enough to have their opponents obsess on "D." They both back up whenever the opponent even acts like he's going to throw. Catching them when they are throwing, a modified version of the strategy Ken Norton used against Ali in their first fight, seems like the best course of action.
In other action, rising 122-pound titlist, Wilfredo Vazquez, Jr. scored an 11th-round stoppage over valiant Ivan Hernandez in Kissimmee, Florida. Hernandez, once a good 115-pounder, gave as good as he got for a few rounds, and then Vazquez began to take over with his physical strength and punching power. Give the son of former multiple-champion Wilfredo Vazquez some credit. He has grown into a fine young champion, the kind of talent who could soon become a major attraction. The talent at 122 pounds is a little thin, but after a few fights, maybe he can join the big-name mix at featherweight. At 26, his future is ahead of him.
All in all, it was a good weekend of action. There were no major surprises, with all the favorites winning in the notable bouts. The game and gutsy performances of the opponents helped make it worthwhile.