Scotty Cardle says there is no stopping him now as he prepares for his first major test when he faces unbeaten Maxi Hughes for the vacant Central Area lightweight title in Betfair's 'The New Life Of Brian' at the Winter Gardens in Blackpool on April 20, live on Sky Sports.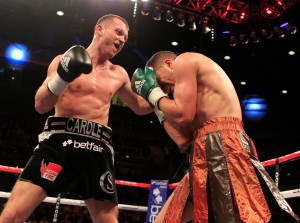 The 23 year old former Team GB star moved to 10-0 when he beat Yves Mesny in March and is yet to drop a round in the pro ranks. It is a massive chance for talented southpaw Hughes, also 23, to make a big impression on the biggest stage he's boxed on so far, but Cardle insists his first title shot is just the start of a big year.
"I'm made up to have my first title fight," he said. "I thought it was going to come soon and to have it on my doorstep it is going to be a great night and I am really looking forward to it.
"The Central Area title is the first title of the year but there is going to be no stopping from now on.
"In my weight division there is nobody I am not looking at. If I want to be somebody then I want to fight everyone big and if Eddie thinks I am ready for anyone I will be ready for them. I am full belt with it at the moment and I cannot wait for a big year. Hopefully I can end it with a bang and start next year with a bang as well.
"I fought at the Winter Gardens last year but this is a Matchroom show and it is much bigger and better and I know Eddie and the team will do it right.
"I have heard great things about Maxi Hughes, I have heard that he is an up and coming star and I will be prepared for the best. I know he is training good and hard for this fight and it is a big one for him the same as it is for me, it is a very big one for me.
"I am one of the main fights so it is going to be a whole new thing for me and it is going to be a great experience, I know it is, because I am back home for it. It is going to be a great atmosphere for it and I just can't wait."
Brian Rose's WBO Inter-Continental light middleweight title fight against Joachim Alcine tops the bill in Lancashire with Lee Selby defending his Commonwealth featherweight strap against unbeaten Australian champion Corey McConnell.
China Clarke defends his English cruiserweight title against Blackpool's Matty Askin, while Team GB stars Callum Smith and Olympic captain Thomas Stalker continue their exciting pro careers on a stacked undercard which also features Dudley middleweight Ryan 'The Tank' Aston.