A Special Christmas Greeting from WBC Middleweight Champion and 2010 Fighter of the Year, Sergio "Maravilla" Martinez:
Sincerely Boxing Friends:
2010 has been a wonderful year for myself, my team, and my family. I have made tens of thousands of new friends and proven myself as one of the greatest fighters in the word. I want to thank each and every one of you for the love and support you have shown me. I would do it in person if I could.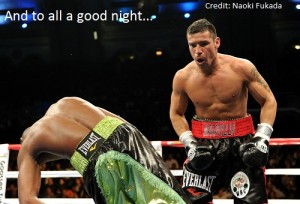 As important as boxing is to me, and it is a big part of my life, at this time let us remember that there is nothing more important than family, friends, and dignity. Let us also remember those less fortunate than ourselves and fight against unnecessary violence, particularly against women.
I look forward to resuming my career in March at Madison Square Garden and hope that all my friends will join me for a celebration of the best of boxing. I wish all of you un año de maravilla. Feliz Navidad por todos.
Sergio "Maravilla" Martinez
Additionally, ProBoxing-Fans.com would like to congratulate Sergio Martinez for winning our 2010 Fighter of the Year award!