Kovalev vs. Pascal Fight Preview:
Montreal heats up out of its winter freeze on March 14, when it once again becomes the setting for first class light heavyweight action. #1 contender and WBA-IBF-WBO titlist defends his belts and his status against the challenge of #2 in the world, hometown hero, and two-time former light heavyweight champion Jean Pascal. Since current World Champion Adonis Stevenson won't fight either Kovalev or Pascal, this clash is the closest thing we'll see to a genuine 175 lbs championship main event, and all things considered it's not far off from being one at that.
Jean Pascal (29-2-1, 17 KOs)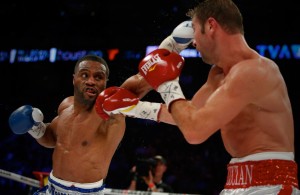 5'11" tall, 72″ reach, 32 years old
Canadian
Former two-time light heavyweight titlist, including once as World Light Heavyweight Champion
Aggressive, busy, quick, strong, and still very much in his prime, they don't come more serious than Jean Pascal. This guy's resume reads like a who's who of 168 and 175 lbs boxers of the last several years: Carl Froch, Adrian Diaconu, Chad Dawson, Bernard Hopkins and Lucian Bute. Along the way he has suffered only two defeats, hard fought losses to "The Cobra", super middleweight ironman Carl Froch, and ageless wonder Hopkins in a rematch.
Pascal is a pressure fighter. He likes coming on and throwing punches in bunches. Unlike a lot of fighters in that mold, however, he doesn't rely on sheer toughness to keep him out of trouble. He is quick, has good feet, and has enough defense to make him something more than a sitting duck waiting to be punched, as so many swarmers are. Against that, he is typical of busy fighters in that he isn't much of a banger. When he hurts opponents, it's through attrition.
Sergey Kovalev (26-0, 23 KOs)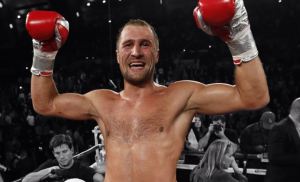 6'0″ tall, 72 1/2″ reach, 31 years old
Russian
Current three-belt light heavyweight titlist
The power-punching ways of "Krusher" Kovalev have made him a fan favorite. He is incredibly rugged and hits like a dooley pick-up truck at 75 mph. What is more, Kovalev has deceptively good offensive technique. He sets things up with a piston-like jab and a skillful feint, and has an excellent power flurry plus the tactical sense of space necessary to use it.
Kovalev vs. Pascal Analysis
Those of us who thought Hopkins would come out the loser against Kovalev realized that a man of almost 50 simply cannot beguile his way to victory over a tough, busy, energetic puncher in his prime. To think otherwise would be confusing the Krusher with, say, Tavoris Cloud. Add to that how the two Hopkins vs. Pascal fights were three years ago, a time frame that matters when talking about B-Hop. So throw the Kovalev beat Hopkins beat Pascal equation out of your head.
Some are predicting a Kovalev knockout victory, which misreads the dynamic between these two combatants. Styles make fights, and in one important respect Jean Pascal is the toughest opponent Kovalev has faced, and will be the toughest opponent he can face for the near future. Pascal, you see, has a chin.
Pascal took everything Carl Froch could throw at him without flinching, and while Kovalev is more powerful than Froch, the implication is that Pascal can take most of what the Krusher sends his way with little difficulty. So long as Pascal isn't careless or Kovalev doesn't get lucky, the Quebecois ought to come out of this encounter on his feet, indeed having never left his feet.
Against that, Pascal simply doesn't have the artillery necessary to make Kovalev shrink from getting into a phone booth with him, or to really compete with him in a war of attrition. Without a plan B, it's hard to see how Pascal can win on a footing like that.
Kovalev vs. Pascal Preview
The early rounds of this will be pure battle, two guys in exchange after exchange. Pascal can outwork Kovalev, but lacks the power to smother him. For his part, Kovalev can't nail Pascal squarely enough to make him either back off or go down. Yet as time goes by, Kovalev's heavy hands will sap even Pascal's superb endurance. The second half of this fight should be a clean sweep for the Krusher, as he stacks up on an increasingly weary, battered Pascal. If Pascal goes down, it will be late, but he will survive.
Prediction: Sergey Kovalev UD12 Jean Pascal