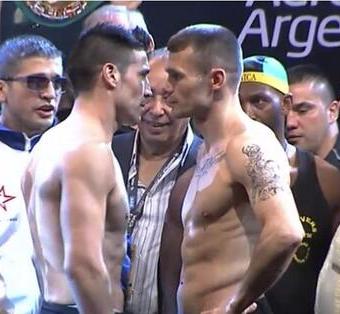 This morning in Argentina, Sergio Martinez and Martin Murray met face to face for the final time before their battle on Saturday night, to be televised live on HBO. Right here, you'll find the complete Martinez vs. Murray weigh-in results, along with some photos of the weigh-ins, and more.
Martinez vs. Murray Weigh-in Pictures
Martinez vs. Murray Weights
Sergio Martinez: 159.4 lbs
Martin Murray: 159.6 lbs
So both of the combatants were able to make weight without any issue, below the 160 pound middleweight division limit. And both Martinez and Murray look to be in fantastic condition, as you can see from the photos above. Murray's a big underdog in this fight, but there's a lot of pressure on Martinez as well, fighting in front of tens of thousands of his fans, coming back from major surgery and a fairly lengthy period of inactivity, and more.
Luis Carlos Abregu: 147 lbs
Antonin Decarie: 147 lbs
Abregu vs. Decarie is an interesting clash of styles, and the winner will be in good position to land a major fight with a title on the line in the welterweight division.
Be sure to come back on Saturday night for our live coverage of the bout, and then the aftermath and analysis once everything is said and done, and thanks for checking out our Martinez vs. Murray weigh-in results and photos!