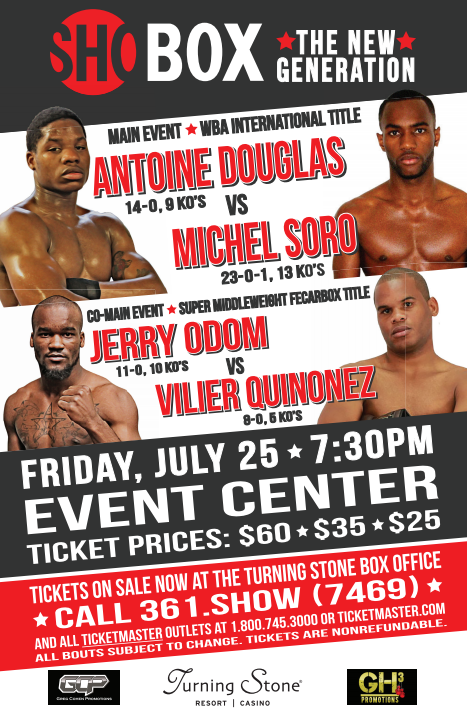 The 200th episode of "SHOBOX: The New Generation," live from Event Center in the Turning Stone Resort Casino in Upstate New York on Friday, July 25, is coming up.
The night's 10-round middleweight main event will feature Burke, Virginia's undefeated Antoine "Action" Douglas (14-0, 9 KOs) taking on former world title challenger Michel Soro (23-1, 13 KOs) of Ivory Coast via Villeurbanne, Rhône, France, for the WBA International Championship.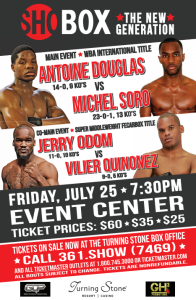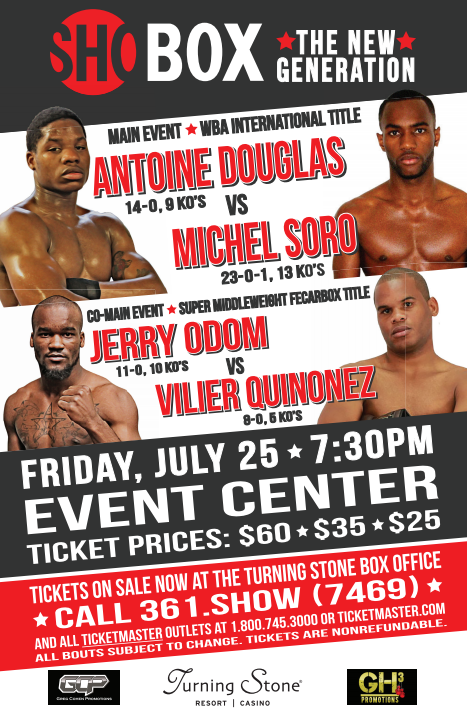 In the main bout of the telecast, Randallstown, Maryland's promising Cecil McCalla (18-0, 6 KOs) will face Watsonville, California's Oscar Godoy (13-2, 6 KOs) in a welterweight eight-rounder.
In the eight-round co-main event, undefeated knockout artist Jerry "The King's Son" Odom (11-0, 10 KOs) of Bowie, Maryland will face Cienfuegos, Cuba, via Miami's also undefeated Vilier Quinonez (8-0, 5 KOs) for the WBC Fecarbox Super Middleweight Championship.
Canadian prospect Tony "The Lightning" Luis (17-2, 7 KOs) will face undefeated Wanzell "Venom" Ellison (11-0-1, 5 KOs) of Newark, New Jersey, in a lightweight eight-rounder, as the opening bout.
Junior middleweight John "Apollo Kidd" Thompson was originally scheduled to meet Bronx, New York's Steve "Hitman" Martinez (15-1, 12 KOs) in an eight-rounder, but suffered a traffic accident and is injured.
The combined record of the 8 fighters is a staggering 115-5-1 with 61 knockouts.
Douglas of Burke, Virginia has been one of the most talked about Middleweight prospects in the United States. The 21-year old has quality wins over undefeated Colby Courter (4-0) and Marquis Davis (8-0-2). In his last bout, Douglas was impressive in scoring a sensational 2nd round stoppage over former world title challenger Luca Messi (37-9-1) on April 4 in Parsippany, New Jersey.
The win over Davis was also televised on Sho Box.
Soro of Villeurbanne, France has an impressive record of 23-1 with 13 knockouts and will be making his American debut.
He won his first eighteen bouts including a win over David Makaradze for the WBO European Jr. Middleweight title.
That win set Soro up for a shot at WBO Jr. Middleweight champion Zaurbek Baysangurov.
Soro fought a great a fight and dropped Baysangurov in the 2nd round but the champion retained his belt in a close decision.
Soro has won five fights in a row which includes a win over Kris Carslaw (17-3) for the WBO European Jr. Middleweight title. He defended the title twice and in his last bout he scored a 5th round stoppage over Alexey Ribchev on June 7.
Odom of Bowie, Maryland has a record of 11-0 with 10 knockouts. 8 of those knockouts have come in the 1st round.
The 21 year-old Odom turned pro in 2012 and this will be his 12th fight in 20 months. He is coming off a 4-round unanimous decision over Edgar Perez on April 26.
Quinonez of Miami, Florida via Cuba has a record of 8-0 with 5 knockouts.
The 29 year-old turned pro in 2010 with a 1st round stoppage over Abdellah Smith. He also has a Eliseo Durazo (4-1). In his last bout, he stopped Edgar Perez in the 1st round on May 1.
McCalla has a perfect record of 18-0 with 6 knockouts. The 29 year-old native of Randallstown, Maryland turned pro in 2008 with a 4-round unanimous decision over Ivan Ziglar (1-0-1).
He also has wins over undefeated Antonio Walls (2-0) and Gary Lynch (4-0). In his last bout, McCalla scored a 6-round unanimous decision over Antonio Chaves Fernandez on April 18 at the Turning Stone Resort Casino..
Godoy of Watsonville, California is a tough and durable fighter who has several solid wins over the likes of Roberto Crespo (4-1), Richard Hargraves (3-0-1), Ricky Duenas (12-2) and his last bout when he scored a 6-round majority decision over Victor Fonseca (8-2-1) on March 14 in Tustin, California.
The 26-year-old Luis is a native of Cornwall, Ontario, earned his return to national television with his gutty performance in his last fight, a debatable decision loss to top prospect Ivan Redkach for the USBA Lightweight Championship in January of this year.
Down in the first round and cut by a headbutt in the sixth, Luis was able to turn the tables on Redkach in a number of rounds and very nearly pull off the upset.
Luis has already won the WBC Continental Americas Junior Welterweight Championship via KO 1 over former NABA Champion Alejandro Barrera. As an amateur, he was a seven-time Ontario Champion, a 2006 Eastern NY Golden Gloves Champion, won three National silver medals and defeated 10 Canadian National Champions.
25-year-old Ellison started boxing at age 11, had 90 amateur fights and appeared in the National Golden Gloves tournament on two occasions. He qualified for the Olympic Team of his father's native Trinidad, but was unable to compete for family reasons.
As a professional, Ellison has been perfect, but facing Luis will mark a distinct jump up in class.
Tickets are priced at $60, $35, and $25 (subject to additional fees) are on sale now at the Turning Stone box office, by calling (315) 361-7469, or through www.Ticketmaster.com. The live telecast will begin at 10:00 p.m. eastern, with undercard bouts getting underway at 8:00 p.m. On fight night, doors will open at 7:00 p.m.