Results from Showtime's Four Warned Quadrupleheader
Showtime Boxing presented a special 4-fight card on Saturday evening, headlined by Antonio Tarver vs. Lateef Kayode, Peter Quillin vs. Winky Wright and Austin Trout vs. Delvin Rodriguez. The action began with Leo Santa Cruz taking on Vusi Malinga, and several additional bouts were televised on Showtime Extreme. Right here, you can find complete results for all of the action. Take a look.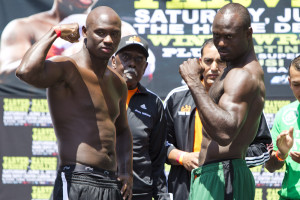 Tarver vs. Kayode Results
Kayode came out and took immediate control of the fight against his pudgy-bellied, 43-year-old opponent. He was extremely fired up in the ring, and you could see him talking and yelling at Tarver, and being very animated at every opportunity.
His workrate and aggression easily won him the first few rounds, even if he didn't do a ton of damage. But it also did appear as if he could wear himself out and gas out if he kept this up, especially considering his roller coaster of emotions. Tarver tried to hit the trash-talking Kayode on the break in the 3rd, but then did connect with the best punch of the fight thus far, a flush uppercut to the chin.
Tarver picked up the pace a bit in the next few rounds, but Kayode continued to provide the bulk of the action. Neither man was doing too much effectively, and the rounds were relatively close, but Kayode remained in control for the first half of the bout.
In the 6th, after some berating in the corner from his trainers, Tarver tried to be more aggressive, and he shifted to a conventional right-handed stance for a bit, pressuring Kayode back to the ropes. After switching back to southpaw, he landed a nice straight left to punctuate his best round of the evening, and perhaps the best round of the fight as well.
Tarver continued in the 7th, as he built up more momentum in the fight. He landed a nice shot towards the end of the round that sent Kayode reeling, but it was more of a slip than anything. Nonetheless, it seemed to affect Kayode. Next round, Tarver really did tag Kayode with a big straight left, and this one definitely hurt him, pushing him back after connecting on the chin. Suddenly, Tarver has won three straight rounds to make this fight very interesting.
Surprise, surprise, here we are in the 9th, and Tarver is keeping a good thing going. Towards the end of the round, he nails Kayode with a big left, then follows it up with a combination that clearly has Kayode hurt. he finally responds with a few powerful shots of his own, but a big Tarver round still.
Kayode turned things back around in the 10th and 11th. Instead of one-sided action from Tarver, he was back and forth with Kayode. Kayode appeared to get his second wind as he entered the championship rounds for the first time in his career. Kayode did more in the 12th to close the show as Tarver appeared just about finished in terms of energy. The scorecards could be interesting here, although it appears as if Kayode had enough rounds in the bank, although Tarver's best moments were the best of the evening.
Official scorecards: 115-113 Tarver, 115-113 Kayode, 114-114 – DRAW
So it's a draw, and both men are angry with the verdict.
Quillin vs. Wright Results
As the fight began, Winky Wright looked like who we thought he was, a 40 year old fighter who has been inactive for 4 years. Quillin took early control of the fight but stayed measured and wasn't pressuring too much. Winky was having his moments, where his veteran guile and skill allowed him to connect with flush shots and clean counters.
But Quillin maintained the upper hand, picking things up in the 5th and then dropping Winky. Wright got up immediately and was more determined to make a dent. However, with Winky's increase in activity and aggression, Quillin did the same, and Wright appeared to be a bit more tired and sloppier than he had been. Quillin was also showcasing some solid defensive skills.
In the 8th, Quillin landed a left uppercut that badly hurt Wright. Winky try to cover up and eventually fight out of it, but he barely survived the round. Wright actually had a good comeback round in the 9th after having been badly hurt. He snapped Quillin's head back with a stiff jab, and did some other good work in the stanza as well. Quillin took back control in the 10th and final round, and was hurting Wright by the end once again. But Wright made it out on his feet, and while he clearly lost, he had a few moments here and there.
Official scorecards: 97-92, 98-91, 98-91 for Peter Quillin
Austin Trout vs. Delvin Rodriguez Results
The Trout vs. Rodriguez fight began at a slow rate, both men feeling one another out and unable to do much damage. Rodriguez clearly took the 2nd round, Trout clearly took the 3rd, as the fighters maintained a casual pace, both looking to fight from the outside.
Trout briefly decided to be more aggressive in the 5th, before settling into full circling mode. Rodriguez wasn't able to connect with much, but Trout wasn't exactly landing much or doing much damage either. The 6th round was a clear one for Trout, as he began to get more comfortable and let his hands go a bit more. But Rodriguez seemed to be playing into his hands by sitting back and trying to box with him, instead of picking up his own aggression and pressure.
After the midway point of the fight, things settled down into a pattern of Trout controlling the action with his boxing, and Rodriguez not offering up much in return. He simply looked off his game, not the kind of performance I was expecting or hoping from him, and certainly not the one he wanted for himself either.
Trout picked things up in the 10th, which led Rodriguez to turn things up in the 11th. It was his best round of the fight, but where was this earlier? Why didn't he turn it up and start fighting with some intensity in the early going? Rodriguez came out strong in the 12th too, but it's too little too late at this point, by a good margin.
Official scorecards: 117-111, 118-110, 120-108 for Trout
Leo Santa Cruz vs. Vusi Malinga Results
Undefeated Leo Santa Cruz captured the vacant IBF bantamweight title formerly held by Abner Mares by dominating a game but overmatched Vusi Malinga. Santa Cruz was the busier fighter, and connected with the harder shots.
The most impressive aspects of his game were his nonstop, thudding body attack, and his smooth, diverse offensive attack. Midway through the fight, it looked as if the body shots might wear Malinga down enough to offer an opportunity to get a stoppage, but the entertaining fight played out through to the finish.
There was no doubt as to who the winner would be, and the official scorecards read 119-109, 120-108, 120-108 for Santa Cruz.
In earlier action, Showtime Extreme televised a few additional undercard bouts…
Sakio Bika moved himself back into contender status with a decisive 10th round stoppage against Dyah Davis. Davis was hesitant for most of the evening, and Bika took charge with his physicality and awkward offensive attack and style. Eventually, he hurt Davis and didn't relent until the referee waved it off in the final scheduled round of the fight.
Lightweight prospect Sharif Bogere remained unbeaten, taking out his overmatched opponent, Manuel Leyva, in just two rounds. In 2011, Bogere was stepping up his competition and proved to be one of the best prospects in the sport. This kind of a fight is a step backwards, and represents the second such fight. It's overdue at this point for Bogere to take on a top 10 caliber guy or step in and challenge a titleholder for a belt.
Thanks for checking out all of our coverage of the Tarver vs. Kayode results, Quillin vs. Wright results, and all of the rest of the jam-packed quadrupleheader Four Warned card from Showtime. Keep on checking back with us for more breaking boxing news, rumors and coverage all day long, including more aftermath and post-fight coverage of this event as well.