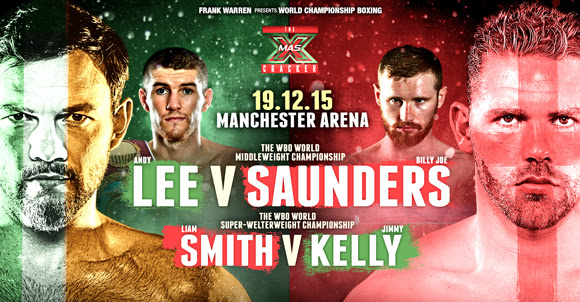 Showtime will present the WBO Middleweight fight between defending titlist Andy Lee and unbeaten challenger Billy Joe Saunders on Saturday, Dec. 19, live on SHO Extreme at 5pm Eastern from Manchester, England.
The Showtime offering of the Box Nation telecast will feature analysis from Brian Custer, Al Bernstein and Paulie Malignaggi before and after the world championship showdown. An encore presentation of the bout will air later that evening at 9 p.m. ET/PT.
"We're excited to deliver this important matchup of top middleweights to the U.S. audience," said Stephen Espinoza, Executive Vice President and General Manager of SHOWTIME Sports. "The 160-pound class is one of boxing's hottest and deepest divisions right now, and the winner of this fight should position himself for a major showdown or unification in 2016."
Ireland's Lee (34-2-1, 24 KOs) won the vacant WBO title with a sixth-round TKO of then-undefeated Matt Korbov in December 2014. The 6-foot-2, 31-year old was on a six-fight win streak before boxing a split 12-round draw with undefeated former champion Peter Quillin on April 11, 2015, in Brooklyn. Both fighters went down in a highly competitive scrap that was scored 113-112 for Quillin, 113-112 for Lee and 113-113.
Before turning pro Lee was a top amateur and represented Ireland in the 2004 Olympic Games in Athens.
"It's great that my fans in the U.S. will get to see the fight between me and Saunders and I guarantee it's going to be exciting," Lee said.
Saunders (22-0, 12 KOs), of Hatfield, Hertfordshire, United Kingdom, is the WBO's No. 1 middleweight contender. The 26-year-old is coming off a fourth-round TKO over Yoannan Bloyer last July 24 in London.
Two starts ago, in the most note-worth victory of his career, the 5-foot-11, Saunders took a 12-round split decision over Chris Eubank Jr. on Nov. 29, 2014, in London. All but one of Saunders' fights have taken place in England; the other was Northern Ireland.
Saunders was also an accomplished amateur; he represented England in the 2008 Olympic Games as a welterweight at the age of 18. Saunders is the great-grandson of one of Britain's most famous gypsy bare-knuckle champions, Absolom Beeney.
"This is a massive night for me and I'm excited that it's going out live to America," Saunders said. "The U.S. viewers will get to see just what I can do when I face Lee and become world champion. It's a big boost for me and takes the fight to another level when American TV comes on board and then you know it's a big fight on the world stage. I hope that (Gennady) Golovkin and (Miguel) Cotto will be both watching because I'm fast approaching their level and they'll get to see what I'm all about."
Promoter Frank Warren said, "I'm delighted that SHOWTIME will now be televising Lee vs. Saunders live in the U.S. as it confirms the importance of this fight on the world scene. My relationship with the network goes back many years with fights like Joe Calzaghe vs. Jeff Lacy, Ricky Hatton vs. Kostya Tszyu, Frank Bruno vs. Oliver McCall, plus Naseem Hamed and Nigel Benn fights. I believe that Lee vs. Saunders will be another great fight to add to that list because of what's at stake for both fighters. What lies ahead for the winner will make them fight to their very best."
Tyson Fury Sides with Billy Joe Saunders
Billy Joe Saunders has been backed by the new world heavyweight champion Tyson Fury to become the next world champion from travelling stock and predicts a new era for the sport.
Undefeated ace Saunders, who lives on a travellers' site in Hatfield, challenges the WBO World Middleweight Champion Andy Lee for his crown on Saturday 19th December at the Manchester Arena, live and exclusive on BoxNation.
The 26-year-old is deep in preparations at the MGM training facility in Marbella for his massive showdown against Lee, but made sure he watched Fury's sensational upset of long-reigning heavyweight king Wladimir Klitschko.
"Tyson did what he said he was going to do and shook the world," Said Saunders.
"A lot of people said he couldn't do it and it was an impossible job, but I backed him from day one to beat Klitschko,"
"He proved that he's a real champion by going into the lion's den and beating a true great in Klitschko in his own backyard,"
"No one has done that to Klitschko before and it shouldn't be underplayed,"
"I couldn't be happier for him and his achievement. We spoke the next day and he was over the moon about his win as he rightly should be, Britain has a new heavyweight champion of the world,"
"It fantastic that the world heavyweight champion is a travelling lad, the flagship division is now ruled by a traveller, now it's my turn to bring another world title to our community and for Britain,"
"Tyson said he's backing me to win the WBO World Middleweight title against Lee and then we'll both rule."
"I believe that this is the start of a new era in boxing for gypsy fighters, Tyson's world champion, I'm going to beat Lee and become the next world champion, and there are plenty more travelling lads coming through who are all potential world champions."