Abraham vs. Dirrell Coming Up, Abraham Still Eager to Impress American Fans and Win the Super Six
King Arthur Abraham (31-0, 25 KOs) will return to the USA on Saturday, March 20, to continue his preparation for the eagerly-anticipated Super Six World Boxing Classic showdown with Andre Dirrell (18-1, 13 KOs). The two super-middleweights lock horns at the famous Joe Louis Arena on Saturday, March 27 (LIVE on SHOWTIME® at 10:30 p.m. ET/PT – delayed on the west coast). Tickets may be purchased at www.OlympiaEntertainment.com, the Fox Theatre and Joe Louis Arena box offices, at all Ticketmaster locations and www.Ticketmaster.com. To charge tickets by phone, call (800) 745-3000. Boxing-Online.com caught up with the tournament point leader in his training camp in Kienbaum, 20 miles east of Berlin.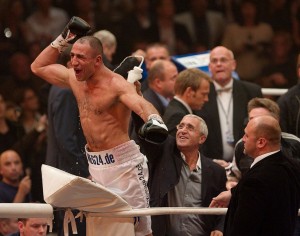 Q: You are returning to America on Saturday. How have things been going thus far?
AA: "I am thrilled to return to America. We had a great time in Palm Springs. I really enjoyed the Californian sun before we continued our preparation in Berlin. America is a great country and I am looking forward to going back on Saturday. That will give me one week to adjust and get ready for Dirrell."
Q: You must be pleased finally get in the ring with him…
AA: Indeed. This has been the longest preparation of my life. I did not have any time off since November. In my first year as a professional, I made 12 fights – and now I have been training non-stop for five months. I am really eager to get back in the ring."
Q: A lot of fans from Armenia would have supported you in Palm Springs. Are you missing that kind of support now?
AA: "I was a little disappointed because I would have loved to put on an exciting performance for my fans in California, but in boxing, people get injured and fights get moved, so there is nothing you can do about it. I am sure there will be lots of German and Armenian fans cheering for me in Detroit."
Q: …where Dirrell will have home support.
AA: "That's right. He can count on the support of his fans. But that will not help him once he is inside the ring with me. It will just be the two of us. Fighting in Florida did not help Edison Miranda either – I stopped him in the fourth round (in June 2008)."
Q: What do you think of Dirrell as a fighter?
AA: "He is very fast, very skilled and very awkward. But together with my coach Ulli Wegner we have come up with a plan to beat him."
Q: So how do you plan to beat him?
AA: "Watch Showtime on March 27 and you will find out…"
Q: Do you feel additional pressure because you are the tournament leader after the first round?
AA: "I always feel pressure. I hate losing. I don´t want to lose to anybody. But pressure is good – if you deal with it correctly. I don´t have any problems with pressure – for me, it is additional motivation."
Q: The Super Six tournament has been a huge hit in Europe. How do you feel about that?
AA: "I am very grateful to be in this tournament. It is the best fighting the best, which is exactly what the fans want to see. The winner will be a legend. It is my dream and my goal to become a boxing legend, so the Super Six tournament is the best thing that could have happened to me – and the fans all over the world."