A couple of the most common complaints about the sport of boxing in recent years have been fights not living up to their potential, and poor undercards for the big main events. However, thanks to the Humberto Soto vs. Urbano Antillon rematch being on the Manny Pacquiao vs. Shane Mosley undercard May 7th – problems solved. Last December Soto and Antillon put on a classic. A back and forth slugfest that saw Soto take it by Unanimous Decision but with narrow scores of 115-112 and 114-113 twice. The duel was called Fight of the Year in many circles [it fell short of 2010 Fighter of the Year on ProBoxing-Fans.com but was a runner-up], with a rematch all but a lock. The fight was a tale of two strategies – Soto the superior boxer, using precision and foot work, and Antillon doing everything in his power to make it a rugged war.
Soto vs. Antillon II Preview
Las Vegas, Nevada – 5/7/2011
Humberto Soto (55-7-2, 32 KO's) vs. Urbano Antillon (28-2, 20 KO's)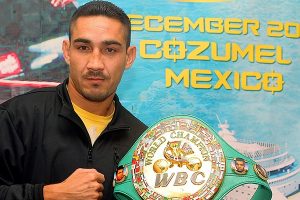 I see the rematch being a near identical version of the first, which is great news for anyone paying the $60 plus for the Pacquiao vs. Mosley Pay-per-view. It's a fight pitting two guys with aggressive, come-forward styles, each seeking to assert his position in the increasingly crowded lightweight division scene.
In the first couple of rounds, Soto's skill advantage will be obvious with Antillon slow on shots and trying to pin Soto on the ropes and cut the ring off. I see Soto building an early lead with Antillon having a couple flurries here and there. Towards the middle of the fight Antillon will close the gap and get Soto to engage a bit, earning him some rounds. From about round 8 and on, this fight will be back and forth. As skilled as a boxer Soto is, the dude's got heart and as we learned from the first fight – he's got a chin too. Of course, he's typically the unabashed aggressor in his bouts, so seeing him apply more technical boxing in the face of another come-forward fighter sheds light on both his versatility, as well as the strength of Antillon.
Although Antillon will make it in into a war, and Soto will engage at certain points, especially later on because he's a warrior, the early lead Humberto builds will be the difference and make up for the points he gives up to Urbano in the flurry filled action later.
Soto vs. Antillon II Prediction
With the scoring of certain fights recently being so bad, one judge will find a way to give Antillon the nod by a point or two. The other judges will have the same scores but in reverse for Soto. Ultimately, Soto is the more skilled and more versatile fighter and that will enable him to eek this one out again.
Prediction: Soto by Split Decision