Adonis Stevenson scored an authoritative, dominant 12th round TKO victory over Don George tonight at the Bell Centre in Montreal, Canada. In the process, he won an IBF title eliminator and is now theoretically in line to face the winner of the Carl Froch vs. Lucian Bute rematch (assuming Froch successfully navigates his defense against Yusaf Mack), likely around summer 2013.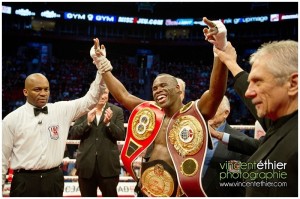 Stevenson has always had a true wealth of physical talent and attributes. However, the late bloomer – he's 35 years old with just 20 professional fights – has suffered in other areas, such as the dreaded glass jaw department, and a lack of a complete skill-set.
However, under the tutelage of Emmanuel Steward and the Kronk Gym trainers, he has added weapons to complete his arsenal, including a snapping, quick jab, and solid footwork to help him navigate the ring and effectively land his own shots while avoiding incoming fire.
Meanwhile, you always know what you're going to get from Don "Da Bomb" George – in your face toughness backed up with a fantastic chin and thudding power. On this night though, it wasn't enough to derail Stevenson. Maybe two years ago it would have been.
Stevenson came out strong from the start, but the fight turned in the middle rounds when he began landing thunderous body blows. The shots were audibly intense, and clearly took their toll on George's stamina and strength. After scoring a series of knockdowns, Stevenson was able to assume complete control of the bout and then cruise his way to victory.
Still, he came out in the 12th looking to put on a show and end the fight in style. He poured on the pressure and pummeled a weary George, eventually forcing the referee to come in and call off the contest.
Considering Stevenson's Canadian ties, I wouldn't be surprised to see he and his team being more interested in a Montreal-melee as opposed to a title shot. A fight against Bute or Jean Pascal would be huge business, regardless of whether any of the fighters brought hardware around their waist into the ring.
Another possibility, however, is that Froch successfully defends his title against Mack and Bute, only to drop it and seek to avenge earlier losses or move up to light heavyweight for his own lucrative domestic showdowns. That would leave a vacant super middleweight title on hand for Stevenson and Bute to battle for.
Of course, that's all just speculation for now.
Kudos to WealthTV for getting this fight on the air for boxing heads to see, and I'll certainly want to see more of both Stevenson and George in the future.
Comments
comments