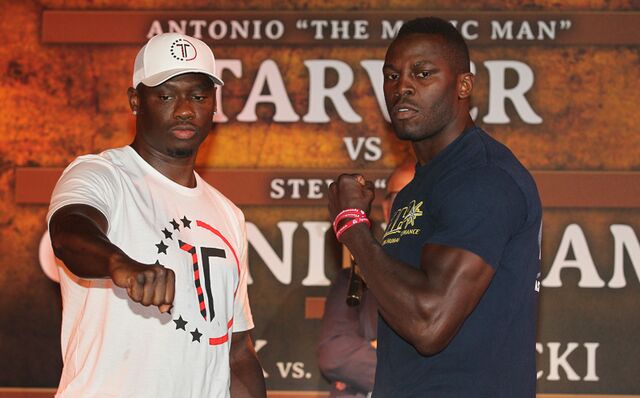 With just two days to go until their Premier Boxing Champions on Spike showdowns on Friday, August 14 at Prudential Center in Newark, NJ, a press conference was held today. The card is headlined by Antonio "Magic Man" Tarver (31-6, 22 KOs) and Steve "U.S.S." Cunningham (28-7, 13 KOs).
Also featured on Spike is cruiserweight Marco "Captain" Huck (38-2-1, 26 KOs) defending his title against Polish contender Krzyzstof Glowacki (24-0, 15 KOs) and Polish heavyweight Artur Szpilka (19-1, 14 KOs) taking on Cuba's Yasmany Consuegra (17-1, 14 KOs).
ANTONIO TARVER
"This is a big fight for me. PBC was designed for the new, young stars but I'm thankful they'll let an old guy like me steal the spotlight on Friday night.
"You have two guys who know their way around the ring. We're in the hurt business and only one man can win. When the smoke clears on Friday we'll see who's left standing.
"Every fight is do or die for me. I've come too far to start over. I'm on a destiny trip right now. I'm racing towards that heavyweight world championship.
"I was a big light heavyweight but I feel perfect at heavyweight. When I look back at some of my old fights, I was really just a shell of myself. Now I'm healthy and strong and ready to get to the top.
"I wasn't blessed with this unique talent for nothing. I have to put it on display. The game hasn't retired me. When I went through all of my struggles, I became a champion right then. Now I just have to walk through my destiny.
"I'm fighting the very best and I'm beating the very best. I'm looking to knock everybody out.
"Training camp has been amazing. My team has gotten me beautifully prepared for this fight. We're just feeling strong and can't wait until Friday.
"When I look at the 'Rocky Balboa' film when I played the undisputed heavyweight champion, I feel like art is going to imitate life. I played the champ in a movie and I'm going to become the champ in reality."
STEVE CUNNINGHAM
"It's a pleasure and an honor to be working with PBC. It's fight time. Training camp is over. Training camp was hell, and that's a good training camp.
"I know I'm prepared to do what I need to do. I'm ready to get this win and I want to look spectacular.
"Tarver is a five-time champion, legend, Hall of Famer, but that's all going out the window August 14. He's just another guy I have to beat.
"My record doesn't reflect what I've done in the ring, but I take it on the chin and keep going forward like I do in the ring.
"People have seen the work ethic from me. They've seen what I've gone through in the ring. They saw the close decision losses. I've always had faith in myself and I still do.
"Tarver has fought the best out there. He's been there. He's been through adversity. He's had ups and downs. There's nothing you can say about Tarver that makes you feel like you can go in there and make him look like a bum.
"I'm 39 and I feel awesome. This is a fight. The age means nothing to me. I'm fighting a five-time champion and that's how we look at it.
"A guy like Tarver, sometimes you have to talk yourself up to get to where you want to go and that's who he is. He's a good talker. That will carry on into his next career. But he's dealing with a guy who grew up dealing with trash talking. I dealt with trash talkers in every language. The talk is for him. He sold this fight, great. But now I'm getting in there to fight.
"I'm trained by brother Naazim Richardson, he'll never let me take anyone lightly. If you do that, that's how you go in there and get wiped out."
MARCO HUCK
"I'm really happy to be here for my U.S. debut. This is the mecca of boxing. I've wanted to fight here for a very long time.
"I am looking forward to wiping the floor with some of these guys up here.
"It's a very special occasion for me to be here and I'm going to show everybody what I'm all about.
"This is a similar feeling to the one when I fought for my first world title. I'm starting to heat up inside. I can't wait to put my fists on somebody.
"I want to bring this sport to everybody. Not just the people who make money but the people who don't have the money to spend on the sport. It's great for the sport.
"People can talk a lot but you have to prove it inside of the ring. I always prove it inside the ring. On Friday they will be chanting "Huck! Huck! Huck!'"
KRZYSZTOF GLOWACKI
"I'm so happy to be here. This fight is my whole life. I always dreamed about this chance to be a world champion and it's very close.
"There's no doubt Huck is a great fighter, a warrior, but if he thinks for a second this is going to be easy he's mistaken big time. This is going to be a war from the first round to the last.
"I already see me as world champion. Huck is a great fighter, great warrior, so what? I'm ready for a war, from first round to the last."
ARTUR SZPILKA
"I'm so excited to be here. I'm boxing for Polish people including my friend Glowacki, who I know can beat Huck.
"I want to show everybody how good I am. Everyone who does not believe in me will know the truth.
"All four Polish guys, my friends, will win on Friday.
"I have an amazing team and I can't wait. I am becoming a better and better fighter and I promise this will be an exciting fight."
LOU DIBELLA, President of DiBella Entertainment
"Artur Szpilka is a very exciting heavyweight and if you haven't had the opportunity to see him you should make sure you don't miss Friday. He's fighting Yasmany Consuegra who's very powerful as well. It's a battle of two punchers and someone is going to hit the canvas.
"Glowacki is a very talented fighter who believes he's taking the title back to Poland. Marco Huck believes otherwise. People are going to get to know Marco Huck in America and they're going to love his style.
"The American public wants to see wars in the ring and I think that Huck and Glowacki are going to put on a show.
"One of the great things about PBC is that not only are we getting to make attractive matchups, but we can bring over stars and people who have not been exposed to the American public. Marco is already a star in most of the world and he's soon going to be a star in the United States.
"The main event has been anticipated by a lot of people for a while. Antonio is looking for a shot at the heavyweight world title and he'll have to beat a real heavyweight to get there.
"Steve's record is not revealing of the quality of fighter that he is. He's a very good fighter and an individual with outstanding character.
"Antonio Tarver has had a tremendous career. He is a future Hall of Famer. The five-time world champion moniker is one that most people can't say. But this man can."