New Year's Eve promises to be an exciting night on Showtime, as two championship fights are scheduled. One of these highlights what is going on in the light heavyweight division beyond Chad Dawson, Bernard Hopkins and Jean Pascal, as the thunderous Tavoris Cloud is scheduled to defend his IBF title against veteran and undefeated Zsolt Erdei. This fight is a classic boxer vs. puncher match-up, and all the more exciting because the outcome is far from clear.
Zsolt Erdei (33-0, 18 KOs)
5'10" tall, 72″ reach, 37 years old
Hungarian
Former light heavyweight and cruiserweight champion

Erdei is a well-schooled Continental-style boxer with a respectable amateur pedigree, including a middleweight bronze from the Sydney Olympics. His technical skills were good enough to take Julio Cesar Gonzalez's WBO Light Heavyweight crown back in 2004, and in those days Gonzalez was a guy who could beat Glen Johnson, David Telesco and the older versions of Dariusz Michalczewski and Montell Griffin. That was the start of a five year reign typical of many Continental titleholders, in that Erdei never suffered any risky challenges, stayed in Central Europe and collected several modest-but-consistent paydays.
That all changed in 2009, when the Hungarian took on cruiserweight Giacobbe Fragomeni for the WBC belt, giving away 25 lbs. Fragomeni was a fringe contender at best, but it's not like Erdei bulked up for the fight in any way. He got by purely on technique. He has since vacated both of his old titles, relocated to the United States, and gone looking for trouble and more lucrative bouts.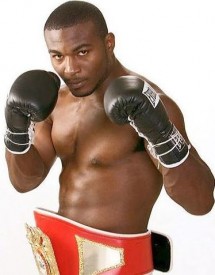 Tavoris Cloud (23-0, 19 KOs)
5'10" tall, 76″ reach, 29 years old
American
Current IBF Light Heavyweight Champion
"Thunder" lives up to his moniker, as he is a pure puncher. What defense Cloud has is rooted in a strong offense and a solid chin. He is a strong, stocky man who comes straight on, looking to apply his considerable power.
Cloud was the first (and thus far only) man to stop former champ Julio Cesar Gonzalez, earning his shot at the IBF's red belt. He then pounded out a clean decision over tough Brit Clinton Woods and brawled with the even tougher Glen Johnson to earn a close-but-unanimous decision. Beating Johnson at his own rough-and-tumble game is no mean feat, and even Carl Froch chose not to go that route. His last two fights saw him a clean win and a knockout over a pair of good journeymen. Cloud is now making the fourth defense of his title, so he is confident and has momentum.
Cloud vs. Erdei Analysis & Preview
Cloud is the younger man and has by far the better resume, but that might not necessarily translate into victory. The big names on Cloud's resume were well-suited to the style of a straight-up puncher, and Cloud has never fought a world class opponent who made Cloud go looking for him. "Thunder" is defensively porous and moves around in straight lines, making him a ripe target for a good boxer like Erdei.
On the other hand, Erdei is old, isn't very slick, has not fought a Top Ten opponent since his clash with Gonzalez. He has also never had to endure the kind of artillery Cloud brings to the ring (Cloud cracks harder, probably much harder, than Fragomeni, given the latter's low knockout percentage). It is entirely possible that he can't out-box Cloud's aggression and power, or if he can, that he cannot do so down the stretch.
Cloud vs. Erdei Prediction
This is a hard one to pick because both men are confident, undefeated fighters and neither has ever been tested by the likes of the man he will meet on December 31st. My belief is that if Erdei can befuddle Cloud with his superior technique, all Cloud needs to do to take control back is sustain the pressure, take Erdei out of his comfort zone and tire him out. At that point, Cloud can catch him and power through his guard. That is what I expect, but there is serious upset potential in this fight, and I wouldn't put money down on either man.
(Tentative) Prediction: Tavoris Cloud TKO8