Super Six Tournament – Stage 1
By now, everyone knows about the highly anticipated Super Six World Boxing Classic tournament.  By the off chance you've been living under a rock for the last year, here's a quick synopsis. The "Super Six" tournament is a boxing competition between six of the finest Super-Middleweights boxing has to offer. At stake, are the WBA and WBC super middleweight titles, currently owned by two of the participants (Mikkel Kessler, WBA and Carl Froch, WBC).
The format consists of a round robin, where each boxer will fight three times.  Three points are awarded for a win by KO or TKO, two points for a win on points, 1 point for a draw and of course, the big donut for a loss. The top four points getters will move on the semi-finals.  The winners of the semi-finals matches move to the Finals where a champion will be crowned.
Stage 1 opens on October 17th with two matches which promise to deliver.  They feature Carl Froch vs. Andre Dirrell along with this match: Arthur Abraham vs. Jermain Taylor.  Well, let's get to it.
Taylor vs. Abraham Preview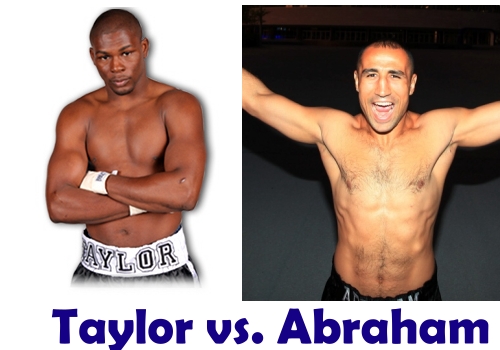 The fight between Abraham and Taylor features two fighters who made their names at Middleweight (160), eight pounds below the Super-Middleweight limit (168).  Taylor, a highly touted bronze medalist in the 2000 Olympic Games in Sydney held the position of undisputed Middleweight Champion before being dethroned and eventually moving up to Super-Middleweight.  He's had two fights since then at 168; a unanimous decision win against Olympic teammate Jeff Lacy and a 12th round TKO loss to fellow tournament participant Carl Froch.  Taylor looks to resurrect his somewhat disappointing career with an impressive showing in the Super Six tournament.
Abraham, who hails from Germany, will be making his debut at 168 pounds for this tournament.  Abraham's frustration with the lack of talent at 160 as well as the lack of people willing to fight him has forced him to vacate his IBF middleweight title in search of "greener" ($$$) pastures.  Abraham boasts an undefeated record and a legitimate resume, yet he remains relatively unknown in the US as he has only fought in the States once, a 4th round TKO win against Edison Miranda.  Abraham looks to overcome his lack of experience at Super-Middleweight and become a household name around the world.  Let's break down the key factors to this fight and see who has the advantage in each.
Resume
Abraham's resume is nothing to scoff at.  He holds two wins over battle tested contender Edison Miranda and ended the career of Raul Marquez by 6th round KO.  That being said, the rest of his resume is filled with fighters who boast very high win to loss ratios but attained them against nobodies.  The same can not be said about Jermain Taylor's resume.  First off, Taylor has two wins against first ballot Hall-Of-Famer Bernard Hopkins.  Hopkins had held the undisputed title at 160 for 10 years before Taylor unseated him with a very close and controversial UD.  Taylor managed to escape with another highly debatable decision in the rematch.  Taylor also holds wins over the aforementioned Jeff Lacy, Kassim Ouma and Cory Spinks. A draw against sure fire HOF'er  Ronald "Winky" Wright rounds out a very impressive resume.  Of course, everyone knows about his two losses to Kelly Pavlik which turned his career upside down.  Win or lose, Pavlik alone is a bigger name than anyone Arthur Abraham has on his docket.
Advantage: TAYLOR
Power:
This one isn't close. Twenty four KO's in thirty fights, including seven of his last eight, speaks for itself.  Abraham throws some of the meanest combinations in the business.  His opponents are often beaten into submission mercilessly.  Referees often have to step in to stop the onslaught before it gets too ugly.  In contrast, the only knockouts since 2005 for Taylor have been when he hit the canvas himself.
Advantage: ABRAHAM
Speed:
There is no question, Taylor is the more athletically gifted fighter.  He is quick and has good footwork which he uses to his advantage in the ring.  Against Froch, he outclassed him in the speed/skill department for 10 rounds before tiring late.  Although Abraham's speed is underrated and may catch Taylor by surprise, Taylor's speed is hard to match.  Most of Taylor's best victories have come off his speed and agility.
Advantage: TAYLOR
Toughness:
Anyone who follows boxing knows that Taylor is a 10 round fighter.  He fades late in fights and when his opponents turn up the heat in the closing rounds, Taylor often melts.  Taylor was cruising to a decision win over Carl Froch before Taylor tired and Froch was able to take advantage, taking Taylor's will away, eventually TKO'ing him with just 20 seconds left in the fight.  This was a fight Taylor was winning on two of the three cards.
In stark contrast, Arthur Abraham is tough as nails.  If you want to see a show of utter grit and determination, take a look back and Abraham-Miranda I.  Miranda broke Abraham's jaw in the middle rounds, causing blood to gush of his mouth continuously.  This is enough to stop many people from watching the fight, let alone continue fighting in it.  Abraham fought on, even though at time it looked like his jaw might just fall off completely.  Oh, he won that fight by unanimous decision.
Advantage: ABRAHAM
Taylor vs. Abraham Prediction:
First, I'll say this.  I picked Taylor to beat Froch.  Even though Taylor was able to snatch defeat from the jaws of victory in that one, I still think he's got the potential to win a fight or two in this tournament.  His career is on the line here and he knows it.  This is it for Taylor if he loses.  Whether Taylor turns that into a positive as opposed to a negative, we'll find out October 17th.
That being said, Abraham is all wrong for Taylor.  Abraham is big, strong, tough as nails and will fight on until his heart explodes.  Taylor may jump out to a lead early in the fight as the two fighters feel each other out but as the fights ages, so will Taylor.  Abraham will start breaking him down with monster body shots.  With each round, Abraham will grow stronger and Taylor will weaken.  Taylor's heart will eventually fail him as it has done in the past.
ABRAHAM TKO 10
Photo Credits – Taylor: Team Taylor/DiBella Entertainment; Abraham: SE / Photo Wende; Image: Pro Boxing Fans