Victor Mateo, trainer of, "King" Carlos Molina says Team Molina has their fighter in the shape of his life and ready to beat up and possibly knock out Ishe Smith this Saturday.
"He's really strong," said Mateo of his Chicago-based junior middleweight, Molina.
"I never felt this power in him before or seen the look that he has in his eyes. Not too many fighters have this look: the 'I'm going to kill you' look. He's got it. I haven't seen that look in a fighter in a long time, since Roberto Duran. He's in the best shape of his life. You're going to see the best Carlos Molina the world has ever seen on Saturday."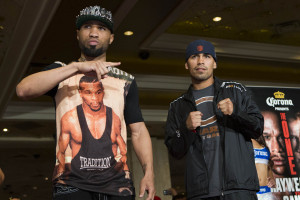 In preparation for the big fight, Team Molina (consisting of Trainer Mateo, original trainer Lou Askenette, cornerman Harrison "Hammer" Funmaker, and Strength and Conditioning Coach Freddy Cuevas), have been putting in double their usual amount of work at Oakley Fight Club in Chicago.
"It's been a long training camp. The fight was postponed once before, so we were careful not to burn him out. It went very well. We're working more on his balance and more a lot of technical stuff. But as far as training we're just doing more of what we always do."
Mateo says an unusual series of coincidences brought him and Molina together about seven years ago.
"I always say God gave me this direction. I was an amateur boxer, but I gave it up due to a shoulder injury. Years later, my brother Louie suggested I start working with kids at the local gym. I started with this one kid and within six months, he won the junior Olympics and all kids of other tournaments. That's when I realized I had a talent. From there, I started getting more people and getting good things out of them, even kids they never thought would go anywhere.
"I was working with another kid, a featherweight who was undefeated. He was getting ready for one of the fights and all of a sudden, I see this guy I'd never seen before standing there. It was Carlos. He asked me if we needed a sparring partner? I said yeah, put your gear on.
"After the sparring session, the heavyweight Fres Oquendo was ready to go in the ring and Carlos wanted to go spar with Fres! I couldn't believe it. He would get in with anybody. The following day, Carlos came back to the gym and asked me if I'd work with him. We've been together ever since. And a few times since then, I have put him in with heavyweights and he was tearing them up."
Mateo says he feels blessed to be part of such a big event and is glad he saw what he saw in the raw version of Molina that day.
"People used to tell me all the time that Carlos isn't going to go anywhere and ask me why was I wasting my time? But I saw something special in him. He was a hard worker. He needed a little more polishing, but he was able to learn and absorb everything. I always felt like he would be champion one day."
Despite opponent Smith's contention that the fight will be an easy win for him, Mateo says he's expecting a big night for his fighter.
"Smith is a strong guy. He likes to throw the double and triple jabs and right hand and likes to counter with the hook a lot. He's a well-conditioned fighter. It's not going to be easy, but I guarantee we're going to win. I see Carlos beating him up and hurting him with pressure, possibly knocking him out."
Molina (21-5-2, 6 KOs) will face defending champion and Las Vegas resident Smith (25-5 11 KOs) for the IBF Light Middleweight Championship this Saturday, September 14, at the MGM Grand Garden Arena in Las Vegas. The pair will meet on the pay-per-view televised undercard of the 12-round Floyd "Money" Mayweather vs. Saul "Canelo" Alvarez fight for Canelo's WBC and WBA Super Welterweight World Championships and Mayweather's WBA Super Welterweight Super World Championship.