Gary Shaw Productions and Thompson Boxing Promotions have teamed-up again, forming Team Colombia, which includes the recent signings of world-rated featherweight Daulis Prescott and 2008 Colombian Olympian Jhonatan "Momo" Romero.
"Like with Team Puerto Rico," Shaw said, "I'm also involved with forming Team Colombia. This is another rich boxing country with talented boxers such as Prescott and Romero. Alex Camponovo, Ken (Thompson) and I work very well together and we're signing the best Colombian fighters to showcase in the United States. We already co-promote two great Colombian fighters, Darley Perez and Yonnhy Perez, and now we've added two other potential world champions, Prescott and Romero, to our Team Colombia."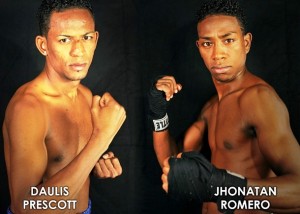 Colombia has produced several world champion boxers such as the Julio brothers, Jorge Eliecer and Ener, Antonio "Kid Pambele" Cervantes, Miguel "Happy" Lora, Fidel Bossa and Rodrigo Valdez. The late, great Diego "Chico" Corrales, who Shaw also promoted, was born in the U.S. but his father was Colombian.
The 25-year-old Prescott (23-0, 17 KOs), rated No. 4 by the IBF and No. 6 by the WBA, comes from a long line of boxers starting with his grandfather, continuing with his father, and including his brother, Breidis, who is best known for knocking out Amir Khan.
A standout amateur boxer who was a Silver Medalist at the 2006 Central American and Caribbean Games, Romero (18-0, 11 KOs) is a 24-year-old southpaw with tremendous upside.   "Momo," the former Colombian featherweight champion, owns the WBO Latino super bantamweight title and he is rated No. 14 by the WBO.
"We are happy to open the doors to these talented and highly-rated Colombian fighters in the U.S. market," added Alex Camponovo, Thompson's General Manager. "We have worked diligently to add them to our roster and we solidified our already successful business relationship with our friend, Gary Shaw. Teaming-up with their legendary manager, Billy Chams, is also something we are proud of. Billy has handled the careers of numerous Colombian champions and contenders over the past few decades."