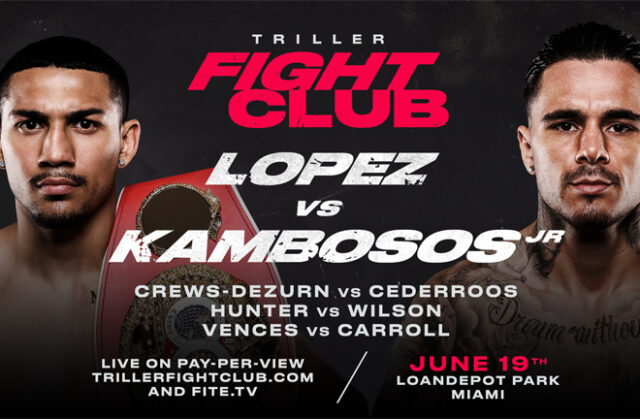 LoanDepot Park, Miami, Florida, USA will host the latest chapter of the Triller boxing story as Teofimo Lopez defends his WBA, IBF and WBO lightweight world titles against George Kambosos Jr.
Triller made the headlines after outbidding Top Rank and Matchroom Boxing to win the rights to promote this fight with an offer of $6.018m, beating Eddie Hearn's bid of $3.506m & Lopez's promoter, Bob Arum who came in with a $2.315m offer.
"This fight was a really important one for us to have," Ryan Kavanaugh, CEO OF Proxima Media, which owns Triller told BoxingScene.com.
"Having the undisputed lightweight champion on Triller was something we were really hoping to get.
"Our view is that we want to make it look and feel different. We also want to make sure we have the legitimacy of real fights and building a real Fight Club and not just something that is built around social media.
"Teofimo will come in with a certain amount of followers and leave with hopefully three-to-four times that amount. That'll be good for Bob [Arum, Lopez's promoter] too. We think we're great for everyone in the sport."
There is no love lost between the pair as the rivals have engaged in a war of words seeing tempers flare leading to Kambosos Jr telling Lopez, he'll be "leaving in a body bag."
Lopez vs Kambosos Jr – Date, Venue, Start Time & Ring Walks
Lopez and Kambosos Jr will clash on Saturday June 19, 2021 at the LoanDepot Park, Miami, Florida, USA
The undercard will begin at approx 01.00am BST on Sunday morning.
Lopez and Kambosos Jr are set to ring walk any time from 03:00 – 05:00am BST on Sunday morning, subject to change.
Lopez vs Kambosos Jr – How to watch the fight
Lopez vs Kambosos Jr will be aired live on Triller's streaming platform on pay-per-view via trillerfightclub.com and fite.tv.
Lopez vs Kambosos Jr – undercard
Andy Vences v Jono Carroll – vacant WBC International Silver super featherweight title.
Michael Hunter v Mike Wilson – WBA heavyweight world title eliminator.
Franchon Crews Dezurn v Elin Cederroos – WBC, WBA, WBO, IBF super middleweight world titles.