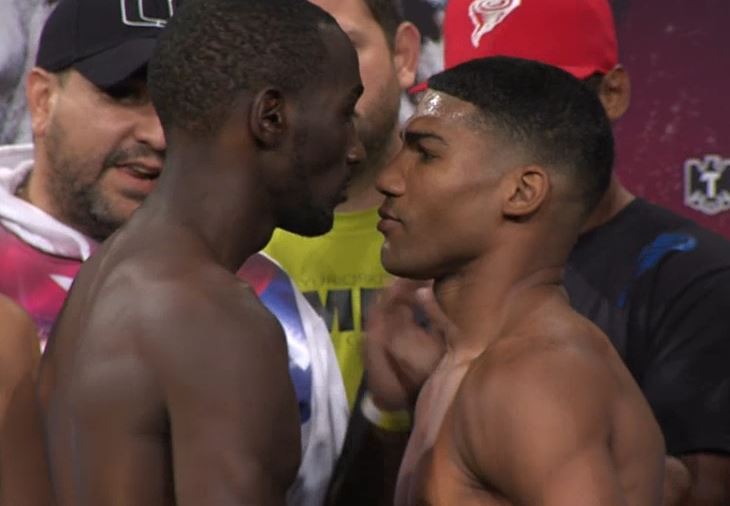 HBO Boxing Results from Omaha – Crawford vs. Gamboa:
Any remaining doubters of Terence Crawford should now escort themselves out of the building. The undefeated Crawford delivered a skilled and scintillating performance on Saturday night in front of his hometown fans in Omaha, Nebraska, scoring a TKO9 win on HBO Boxing over the previously unbeaten Cuban sensation Yuriorkis Gamboa.
Crawford began the fight slowly, and Gamboa asserted himself through his sheer speed and athleticism. Through three or four rounds, it was all Gamboa, and the fight was nearly one-sided. Yet, Crawford maintained his composure and seemed to be seeking adjustments and recalibrations so he could solve the puzzle in front of him.
He did just that when he switched to the southpaw stance, although the solution didn't appear instantly. As soon as Crawford switched, he began being hit more frequently, by flush straight rights from the talented Cuban star.
However, in the 5th, Crawford finally found his bearings, and he did what many believed he would be able to from the start, time the incoming blitz of Gamboa to land his own firepower first. He sent the susceptible Gamboa down to the canvas in that stanza and then continued gaining control of the fight.
Gamboa went down again in the 8th, and it appeared that the fight would be over soon. Yet, in the 9th, Gamboa displayed amazing will and heart by hurting Crawford and going for the kill. Instead, his own aggression and success backfired, as the more technically skilled Crawford landed a pinpoint counter shot to send him down to the canvas. Then, a fantastically brutal uppercut thrown from distance sent Gamboa down for the 4th time of the evening, sealing the deal for the Cuban's first loss as the referee jumped in to wave off the action.
It's a fantastic performance from Crawford, and despite the setback from Gamboa, we didn't learn anything new about him which should discourage himself or his supporters. That's why it's also important to keep things in perspective.
Despite the ramblings of Max Kellerman on the HBO Boxing telecast, Gamboa was never "outclassing" Crawford in the beginning of this fight. He had his moments, and his moments have the potential to be great. We all know that, and that's the point. His moments also have the potential to be disastrous — which we all know as well — and that caught up with him this evening.
Crawford did what he needed to do, and what nobody did before him, by closing the show against Gamboa and ensuring he got the victory. Now, Crawford stands as perhaps the best lightweight in the world, and with his Omaha crowd behind him, the sky's the limit.