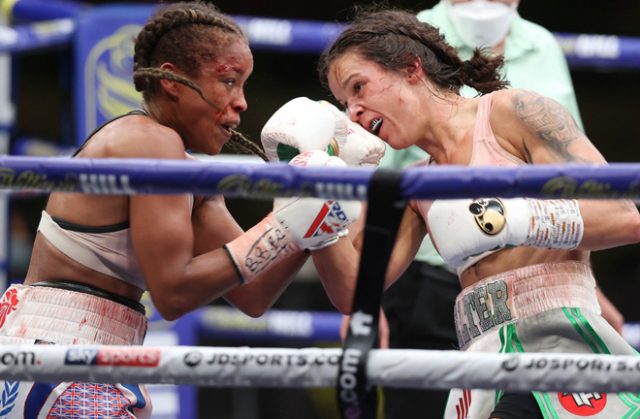 Terri Harper clung onto her WBC and IBO Super Featherweight titles with a three way split draw with Natasha Jonas in a historic first all-British female World title contest at Matchroom HQ on Friday.
Scores of 96-94, 96-95 and 95-95 ensured the belts returned to Doncaster, in what was a tremendous advert for female boxing, in the second instalment of Matchroom's Fight Camp series.
The bill was reduced to four fights on Thursday night, following Aqib Fiaz's withdrawal from his clash against Kane Baker through illness.
Jonas (9-1-1, 7 KOs) was intent on getting centre ring in the opener, throwing shots right down the middle, as she made a bright start to the contest.
Harper (10-1, 5 KOs) landed with some decent jabs at the back end of the opening round and was happy to be patient.
The 36-year-old landed a hard left hand to get the champion's attention in the second, however it sprung Harper into action, as she put together some eye-catching shots, with the challenger's right eye cut in the session from a left hand.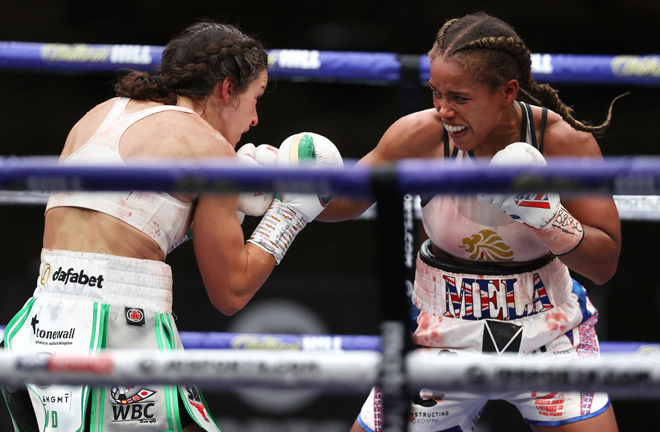 The pair opened up in the third, exchanging with hurtful swinging hooks of which the Denaby native seemed to get the better of.
Harper was using her movement to good effect, however it was turning into a fiercely contested affair with both having their success in round four.
The give and take action continued into the fifth, with body shots now coming into play in another tough to score session that was energy sapping stuff.
Jonas landed a big left hand in the sixth that momentarily stopped the 23-year-old in her tracks, but the champion battled back, landing a straight right hand towards the end of the sixth.
Ringwalks 🔥🔥🔥🔥@TerriHarper96 Belter#FightCamp #HarperJonas #FightCamp2 pic.twitter.com/b0YHdO9HFr

— Matchroom Boxing (@MatchroomBoxing) August 7, 2020
The eighth saw a real breakthrough for the Liverpudlian, as she shook up Harper with a tremendous right hand that wobbled her and Harper was forced to survive the round, but she did fire back, as her head started to clear.
Another stiff Jonas right found the target in the ninth and she was showing plenty of desire in her quest to become World champion.
It was all to play for going into the final round and Harper sensed her belts were slipping away, as she came out with intent and doggedly kept coming forward, letting her hands go.
Jonas didn't fade, as expected and stood up to the late pressure from the her foe, as the enthralling fight went to the scorecards.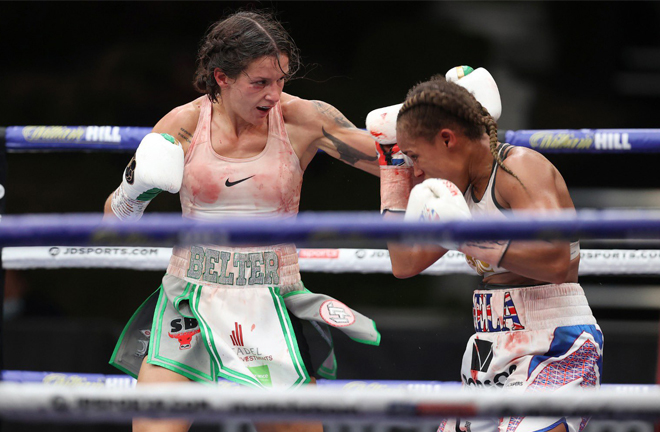 After an agonising wait, Ian John Lewis scored 96-94 for Harper, John Latham tallied 96-95 Jonas, and Mark Lyson couldn't separate the two in a 95-95 verdict.
It was tough on Jonas, but it wasn't a robbery by any stretch as a lot of the rounds were hard to score.
A rematch has to be a natural next step, and both were complimentary of each other post-fight in a superb show of sportsmanship.
"I'm disappointed with my performance, but I've got to think that I'm only 23 with 16 amateur fights behind me". Harper told Sky Sports post-fight.
"I knew she was a tough opponent, but I didn't expect her to perform like that.
"I was lazy and got caught with the backhand too much and I just didn't seem to wake up. I've learned a lot from that though tonight".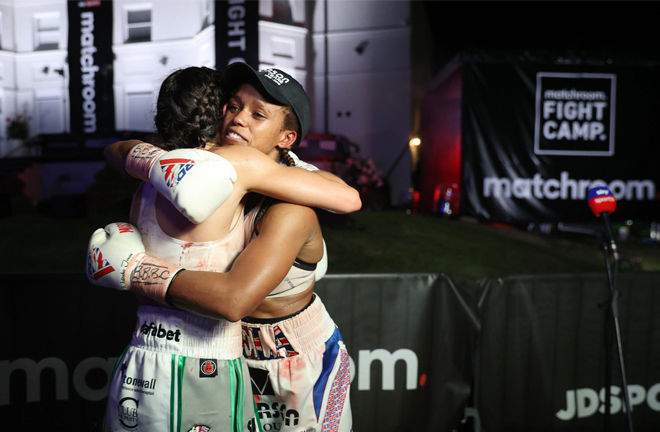 "I thought it was level going into the eighth and then I think I won the ninth clearly and also round ten, but it was history in the making and an honour to share the ring with Terri," a magnanimous Jonas said.
"I thought I put on a good performance, and I'm gutted not to be walking away with the belts.
"A million percent I'd do that again."
Chief support came from Anthony Fowler, who utterly dominated the extremely brave Adam Harper, eventually stopping the Tewkesbury man in seven painful rounds in their Super-Welterweight clash.
Fowler (13-1, 10 KOs) began by targeting the body of Harper, (9-2, 1 KO) and also worked off a dominant jab.
A lot of the body work was borderline though and as such, Fowler was pulled up by referee Ian John-Lewis for a low blow during the round.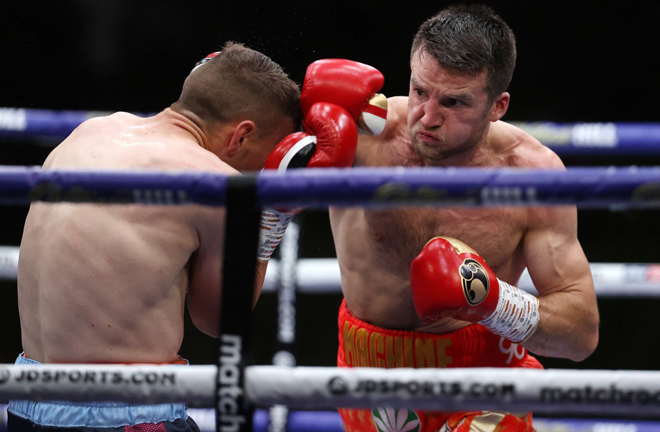 Fowler, 29, strayed low again in the second and instantly had a point taken off, as Harper was given time to recover.
The favourite's ramrod jab was causing significant markings to Harper's face, with his left eye cut.
Harper was breathing heavily between rounds two and three, struggling to keep Fowler off him, as the hard shots continued to rain in on him.
The fourth saw the 32-year-old walk into a perfectly timed right hook that floored him.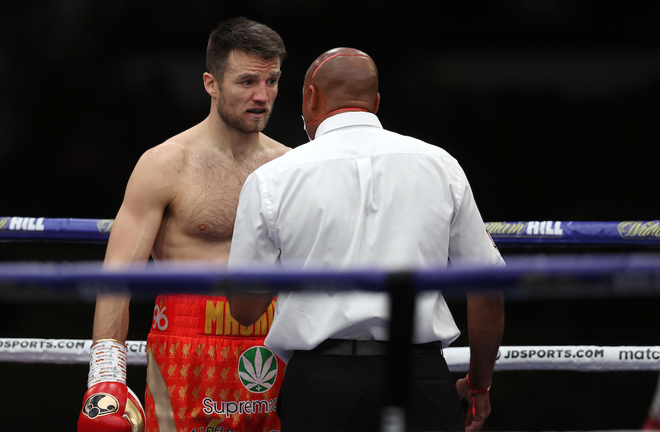 He bravely rose to his feet with his face a bloody mess and somehow made it to the bell under heavy fire.
The end was inevitable, and unsurprisingly, it wasn't long in coming. Another session of Fowler dominance in the fifth saw Harper plead with his trainer for one more round at the end of the session.
He got his wish, but Fowler, in his second fight under trainer Shane McGuigan continued the onslaught in round six, pinning Harper to the ropes at regular intervals.
Fowler was again warned by the referee for straying low and was threatened with an unthinkable disqualification, reverting to head shots in round seven to be safe and a big right hook buzzed his opponent.
As Fowler followed up, thankfully the referee had seen enough and swiftly jumped in.
Chris Billam-Smith opened the show, successfully defending his Commonwealth Cruiserweight title with a ruthless second round win against the previously undefeated Nathan Thorley.
Billlam-Smith (11-1, 10 KOs) was in no mood to hang around, catching Thorley (14-1, 6 KOs) with some spiteful punches in the opener, as he swiftly showed his intent.
Right at the end of the first round, an innocuous right hand to the body followed by a left hook bundled the Welshman to the canvas.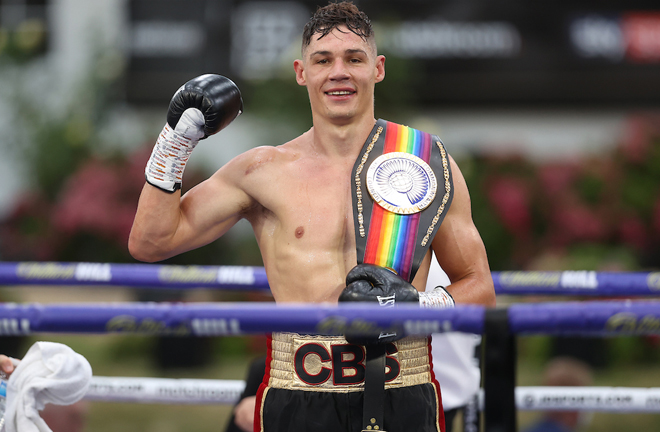 He comfortably beat the count, but the second round saw the Bournemouth native turn up the heat by trapping Thorley on the ropes, and more chopping blows to the head dropped the challenger once more.
On the resumption, Thorley went for broke and a lovely right hand momentarily stunned the champion, but Billam-Smith regrouped and made his opponent walk into a big counter right hand that floored him heavily.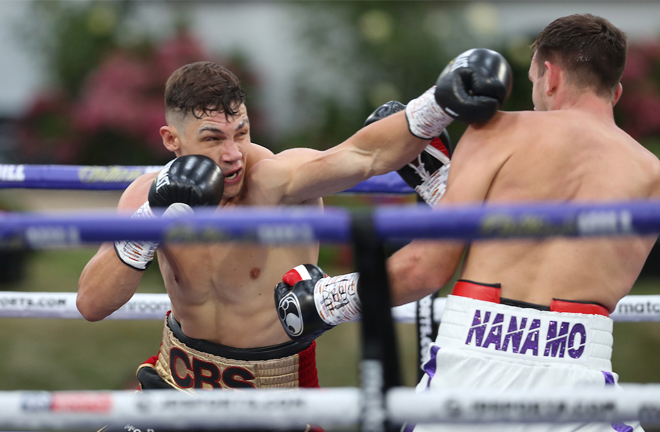 As the count was being administered by referee Mark Lyson, Thorley's trainer Gary Lockett already had the towel in his hand and the fight was waved off.
Hopey Price is certainly a name to watch and the highly decorated amateur made it three straight professional wins with a shutout points win over six against the game Jonny Phillips.
Phillips (5-5, 2 KOs) loaded up from the first bell and bullied his way towards Price (3-0, 1 KO) in an attempt to rough his opponent up.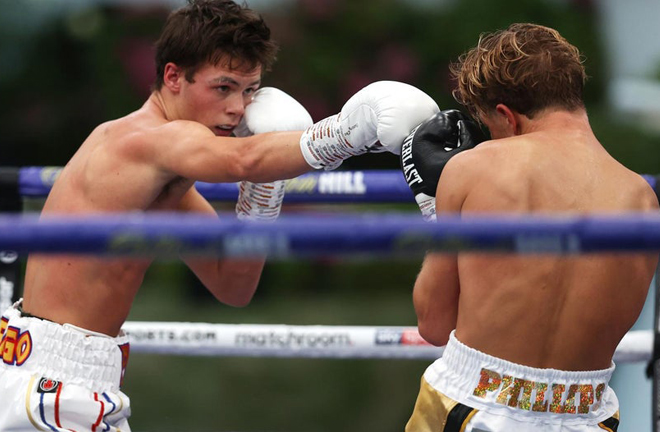 With Phillips bulldozing his way in, it was inevitable that the former Olympic Youth Gold medalist would eventually pick him off and he upped the gears in the second, closing the range to allow him to land his punches.
Phillips was crude and just the type of opponent Price, 20, needed to continue his education.
The 28-year-old kept Price honest, but the Yorkshireman was always a step ahead and the scorecard of 60-54 from referee Ian John-Lewis was justified.