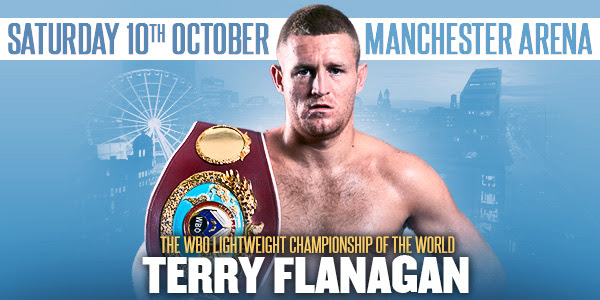 Terry Flanagan and Liam Smith have fired up the Anglo-American rivalry ahead of their title showdowns with respective challengers Diego Magdaleno and John Thompson at the Manchester Arena on Saturday. Flanagan makes the first defense of his WBO Lightweight title against California hitter Magdaleno, while Liverpool star Smith faces  Thompson with the Vacant WBO Super-Welterweight title on the line.
Flanagan says he has a point to prove after he won the world title from Jose Zepeda in July when the American dislocated his shoulder in the second round and will be looking to do a demolition job on mandatory contender Magdaleno to show the he is the top 135 pounder in the world.
"It's always a big occasion when the Americans fighters come over to Britain and especially when there's a world title on the line," Said Flanagan.
"There's that extra heat because the Americans are big, loud and brash and think that they're the best so it makes you train that extra bit harder to give them a good hiding in the ring,"
"I know that Britain has a special relationship with the Americans with very close political, cultural, trade and military links. We stand side by side in any armed conflicts, but on the night that me and Magdaleno fight, hostilities will be ignited and the only trading that will be done is between me him,"
"Once I deal with Magdaleno, there will be no questions about my credentials of being world champion,"
"I can't wait now, I'm only a few days aways from the fight, my training has been perfect and now I've got to put everything into action on the night."
Smith is drawing inspiration from Joe Calzaghe's victory over then unbeaten American Jeff Lacy at the Manchester Arena nearly a decade earlier when he produced what was described as the finest ever performance by a British boxer in a British ring.
"This is my big chance to not only win the world title but it is the chance to show the boxing world that I've arrived," Said Smith.
"Thompson is a good fighter and I know that he's coming over here with one thing on his mind and that's to give me a beating and take the world title back to America,"
"Like Terry said, when the American fighters come over it's a big occasion and it means something. I remember when Joe Calzaghe fought Jeff Lacy and there was all this hype about Lacy being some sort of unbeatable force and Joe absolutely hammered him. That's the kind of performance I'm aspiring to. But however I win doesn't matter, I'm going to win,"
"It makes my hair stand on end thinking about Saturday when I think about making my entrance and getting in the ring. My adrenalin is flowing now, I can't wait."