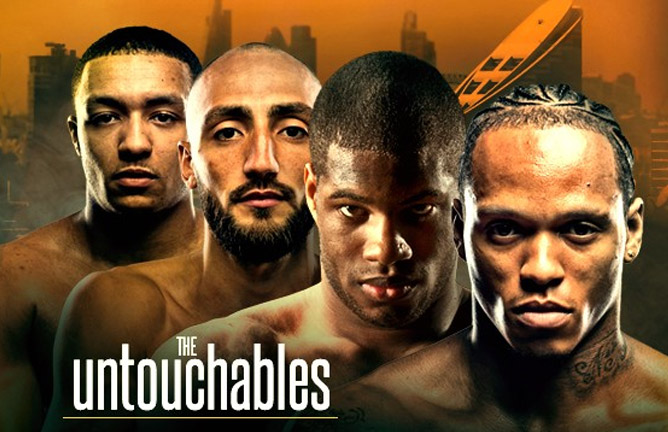 An update to proceeding's at the Copper Box Arena in London as a calf injury has forced Zolani Tete to postpone from his WBO World Bantamweight title defence against Omar Narvaez.
Tete, 29, was due to defend his crown at London's Copper Box Arena on Saturday 10th February, but will now make his mandatory defence against the Argentinian at a later date in 2018.
"I'm hugely disappointed to have to postpone my fight with Omar Narvaez." Said Tete. "Unfortunately I picked up a calf injury that has severely hindered my training and the only option was to postpone the fight.
"I train as hard as I fight so there is always a risk of picking up injuries. World Championship defences are incredibly tough and it is unsafe fighting when you are not fit. Narvaez is a two-weight World Champion so it is vital that I am fully prepared for him.
"I am determined to put on another explosive performance for my UK fans when I face Narvaez. After I beat him the plan is to unify the Bantamweight division against Ryan Burnett. It is a fight that the boxing World wants to see and I am hopeful that it will happen in 2018."
Frank Warren's bumper 'Untouchables' show still features some of the best British talent around, with Bradley Skeete, Anthony Yarde, Daniel Dubois and Zelfa Barrett all looking to make statements to kick-off a huge 2018.
British Welterweight Champion Bradley 'Super' Skeete faces IBF Inter-Continental Welterweight Champion Laszlo Toth for the Vacant WBC International belt. Skeete is ready to prove his World class credentials and knows that a win on February 10 will take him a step closer to a dream World Title shot.
"This is an opportunity to add another belt to my collection," said Skeete. "Toth has won the IBF European and Inter-Continental titles and should provide a good test for me. I have strong ratings with the WBO and IBF, winning this title will push me up the WBC rankings as well.
"2018 is the year that I will prove I'm a World class fighter. I know that my style would give anyone trouble, it's why I've been avoided. I'm ready and waiting to prove what I can do against the best!"
Ilford Light-Heavyweight Anthony Yarde defends his WBO Inter-Continental and European Light-Heavyweight titles against Frenchman Tony Averlant. 'The Beast' is determined to pick up from where he left off in 2017 after becoming the first man to stop Nikola Sjekloca with a heavy-handed display which lasted less than four rounds.
"I enjoyed a successful 2017, winning three belts and stopping all five of my opponents," said Yarde. "2018 is going to be an even bigger year but whatever is meant to happen will happen, I'm not in any rush. My job is to keep my head down, work hard and enjoy the journey.
"I'm hoping that Averlant is a durable opponent, he's only been stopped twice and one of those stoppages was against former WBA Light-Heavyweight World Champion Juergen Braeher. I'm looking to gain some crucial extra minutes in the ring."
Heavyweight sensation Daniel 'Dynamite' Dubois defends his Southern-Area belt against Kent's DL Jones. He claimed the title after knocking AJ Carter out in the opening round at the Copper Box Arena back in September. As a result, he is promising to start 2018 with another explosive KO.
"I'm ready to start 2018 with a bang," said Dubois. "I'm working hard to be the best that I can possibly be and I'm feeling good. Everything is going great, I'm just staying in the gym, staying focused, and staying dedicated to it.
"I'm looking forward to being back at the Copper Box Arena, it's starting to feel like a home venue for me and I always get a great reception from the fans. I'll be looking to send them home happy on February 10."
English Super-Featherweight Champion Zelfa Barrett fights for the first time in the capital. He takes on Spain's Ivan Ruiz Morote over ten rounds. Barrett is closing in on a salivating showdown with rival Super-Featherweight star Lyon Woodstock.
"I rate him as a person," said Barrett. "He's a nice guy. He's a good fighter. Anybody in my weight division, they all can get it. So I'll just say he's a good fighter and I respect him as a person.
"I only do my talking in the ring. There'll be no fight talk, there's nothing personal. He's a cool guy, he wants to do his family proud so you can't take that away from him. All I'm focused on for now is getting the win in style on February, it'll be my first so I'll be putting on a show."