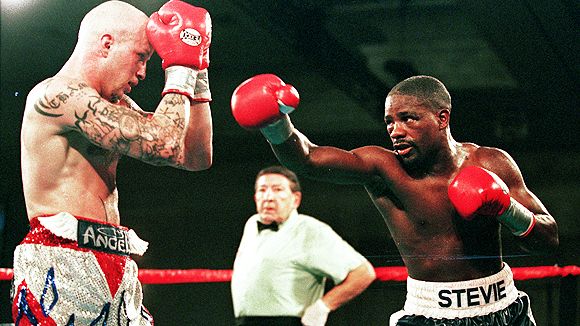 Forgotten Recent Champions: Modern Titleholders Who Nobody Talks About Anymore
We live in an era of so many champions that it is understandable if some end up being forgotten. But usually when a guy puts together a nice title reign with some good wins–he gets a boost to his popularity. You'll remember him, even if he fell short of clear-cut greatness.
Other champions, however, seemed mired in obscurity. Maybe it was their style, their lack of good promotion, or lack of marquee fights that relegates them to the mental scrap heap of boxing fans. Either way, there are some fighters you almost feel sorry for because it's almost like they never existed.
Here are some now-retired forgotten champions who deserve at least a bit more reverence.
Stevie Johnston, 42-6-1 (16 KOs), WBC Lightweight Champion (1997-98, 1999-2000)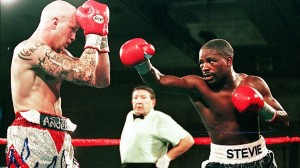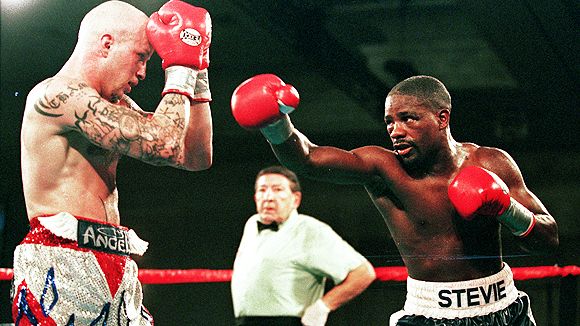 Why He's Forgotten: While he managed to carve out a little niche of hardcore fans who appreciated his immense craftiness, Johnston never really made that big of a splash. One of many southpaws on this list, Johnston was a thrill to watch for boxing fans who appreciate skills, though he was not a favorite among the blood-thirsty set. Even though Jose Luis Castillo got a win and then a draw against Johnston, both of their 2000 bouts could have gone either way. In their draw, Johnston had been announced as the winner, making him a 3-time champ, but an error noticed later on the cards allowed Castillo to retain his belt.
Reigning at the end of the 90's, which was a weak era at 135, he was never put in a great spot. And losing his title to stringbean Cesar Bazan, even though he regained the belt in the rematch, slowed his momentum. He seemed to lose his edge, just as he was on the verge of making some serious headway. The Denver craftsman sure didn't seem to receive any favors from the powers-that-be.
Why He Should Get More Respect: Short for the weight at 5'4," Johnston had the full package of skills–with speed, extreme boxing ability, and ample ring-smarts. "Lil' But Bad" was a joy to watch, unlike some on this list and had the wins to justify a higher Q-rating. Among his triumphs were a 9th-round knockout of Sharmba Mitchell and a thoughtfully-executed decision over Angel Manfredy. You would think when the best lightweights of the past quarter-century are discussed, Johnston would at least get an honorable mention. As it is, he remains completely anonymous in retirement. It's a shame–he was a hell of a fighter.
Frank Liles, 32-3 (19 KOs) WBA Super Middleweight Champion (1994-1999)
Why He's Forgotten: You can't fix dullness. Liles, despite some exciting fights and meaningful accomplishments, possessed the uncanny ability of being utterly forgettable. He just couldn't drum up much fan support. A tall technical southpaw, Liles stood in direct contrast to other exciting 168-pounders of the time–guys like Nigel Benn and Chris Eubank. Losing the belt by knockout to Byron Mitchell made him all the more easy to neglect. One of a lot of good fighters in the Don King stable whose careers languished in mothballs.
Why He Should Get More Respect: The man did have a 5-year reign as WBA champion and it wasn't all that dull in retrospect. In his first defense, he defeated the still-useful Michael Nunn. And in an absolute war, he knocked out Tim Littles in the 3rd round to avenge his only defeat. That should have boosted his popularity, but he could never rise above the status of obscure titlist. The 6'3" southpaw posted some good wins and although his triumphs are not that far in the past, they might as well be. Liles' name is almost never heard these days.
Tom Johnson, 51-10-2 (28 KOs), IBF Featherweight Champion (1993-1997)
Why He's Forgotten: Johnson did sort of have a dull vibe about him. He was a steady workman in the ring without much flair. It didn't help that he stayed within the comfy confines of the IBF and never booked a unification bout–namely against fellow titleholder Kevin Kelley, which would have lent some excitement to an otherwise mundane reign. When he did get his big shot, he didn't do well–losing by 7th-round stoppage to Naseem Hamed. Although by that time, Johnson had started looking ringworn. Going 7-8 in his last 15 didn't leave a good last impression.
Why He Should Get More Respect: He was IBF Featherweight Champion from 1993 to 1997, racking up an impressive 11 defenses. Before fighting Hamed, he was 44-2-2, his only losses a close technical decision to Manuel Medina that he avenged and a split decision loss to tough Harold Warren early in his career. During his reign, Johnson boxed with distinction, beating some good contenders. It's just worth noting that you will NEVER hear his name mentioned nowadays. You'd think that the guy reigned in the 20's. Johnson was a heck of a fighter–a top-notch technician who really knew what he was doing and came up the hard way.
Freddie Norwood, 43-4-1 (23 KOs), WBA Featherweight Champion (1998, 1999-2000)
Why He's Forgotten: Norwood, the WBA Featherweight Champion from 1998-2000, was a bit lost with superstar Naseem Hamed reigning in the same division. The St. Louis southpaw wasn't terribly exciting, missed out on any marquee match-ups, and was reportedly a prickly sort who didn't make a lot of friends along the way. Choosing "Little Hagler" as a nickname was probably a bad move, as it only underlined the general lack of excitement in his fights. And losing his belt by knockout to Derrick Gainer didn't help either.
Why He Should Get More Respect: Norwood was undefeated in his first 39 fights with some quality wins, including 7 world title fight victories. He beat a good fighter for the title in Antonio Cermeno (31-1) and repeated the win the following year. In a 1999 defense and a chance to further his cause, he beat Juan Manuel Marquez by unanimous decision. The fight was so dull, however, that the win did little to propel his career to the next level.
Norwood also defended against quality contenders Takashi Koshimoto (23-0-1) and Julio Pablo Chacon (36-0) before losing his belt. He even notched a win over future esteemed champion Vuyani Bungu when he was coming up. Active until 2011, Norwood never seemed to get much respect or admiration. For a guy who went almost 40 fights without losing while scoring some quality wins, he's almost completely invisible in retirement.
Tim Austin, 27-2-1 (24 KOs), IBF Bantamweight Champion (1997-2003)
Why He's Forgotten: It's weird. You look at Austin and it's as if he never existed. Meanwhile, Jeff Chandler is in the Hall of Fame. What's the difference? No disrespect to Chandler, who was a fine bantamweight champ, but how did Austin manage to get so neglected? People seemed more interested in Johnny Tapia, Paulie Ayala, and others at the time Austin reigned, but Austin was actually a better champ at 118. Maybe it's the southpaw deal, but the Cincinnati lefty was no cute technician, winning 24 of his 27 victories by knockout. Finishing on a bad note and some ugly legal issues didn't do him a bit of good, either.
Why He Should Get More Respect: You would think an Olympic medalist with 10 world title wins and an undefeated record would create a bigger buzz. He lost his belt to a good fighter in Rafael Marquez and then you almost never heard his name again. The guy beat a good champion in Mbulelo Botile, was champion from 1997-2003, beat some dangerous contenders, and punched with undeniable power. Still, even in boxing circles nowadays, you're more likely to hear the name Tracy Austin.