The Boxing Bankroll: Tips, Picks & Analysis for Betting on All of the Major Boxing Bouts this Weekend
When betting boxing, you shouldn't look to the past too much, but let's see how it went. We hit the under in the Donaire-Sidorenko fight. Urbano Antillon fought valiantly, far better than his underdog price would have indicated, but came up short. In addition, Lovemore N'dou was surprisingly resilient against Saul Alvarez. Despite the recent juggernaut form of Alvarez, the aging veteran showed incredible guile in lasting the full route. At least we kept our losses to a minimum, losing a little over $20.
Starting Bankroll: $1000
Current Bankroll: $1045.50
Sign up with Bodog to bet on boxing and receive a 10% cash bonus when you make your first deposit!
Let's see what we have on the table for this weekend.
Fight #1: Vic Darchinyan vs. Abner Mares
Betting Odds for Darchinyan vs. Mares: Vic Darchinyan (+200), Abner Mares (-240)
Over/Under: TBA
Thoughts and Pick: It seems a little strange that a fighter with almost no success at the top level is favored to beat such a championship mainstay like Darchinyan. Obviously, the oddsmakers see Mares as the far younger, fresher, and more energetic fighter at this point. Personally, it seems like a toss-up type of fight. Let's go with the value and take Vic is an upset.
Bet: $50 on Vic Darchinyan to win $100
Fight #2: Yonnhy Perez vs. Joseph Agbeko
Betting Odds for Perez vs. Agbeko: Yonnhy Perez (-220), Joseph Agbeko (+180)
Over/Under: TBA
Thoughts and Pick: The easy pick is to take Perez. After all, he beat Agbeko rather easily the first time and has been more active in the interim. It's never that easy, though, is it? Maybe Agbeko was overlooking Perez a bit in their first fight. In addition, maybe the recent tough fights of Perez have him not quite as fresh as a daisy at this point. Let's go with Agbeko to return to the form he showed when he beat Darchinyan and fight a lot better here.
Bet: $50 on Joseph Agbeko to win $90
Parlay: $50 on Darchinyan and Agbeko to win $350
Fight #3: Amir Khan vs. Marcos Maidana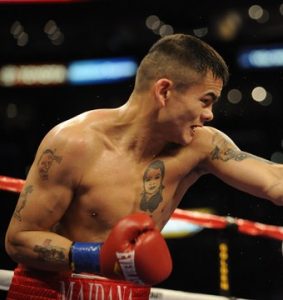 Betting Odds on Khan vs. Maidana: Amir Khan (-300), Marcos Maidana (+220)
Over/Under: Over 9.5 (-105), Under 9.5 (-125)
Thoughts and Pick: Maidana is hard-hitting and tough, but lacks the sophistication to deal with the now-advanced and streamlined boxing style of the supremely-gifted Khan. Khan will be respectful, as he wins rounds cautiously. Some anxious moments will surface, with Khan winning a decision at the end of the day.
Bet: $31.50 on the over to win $30
Fight #4: Victor Ortiz vs. Lamont Peterson
Betting Odds on Ortiz vs. Peterson: Victor Ortiz (-300), Lamont Peterson (+220)
Over/Under: TBA
Thoughts and Pick: Lamont Peterson is unquestionably a talented fighter and top contender in the 140-pound class. The bottom line is that Ortiz is simply the more talented offensive force. Peterson lacks the firepower to put Ortiz in a state of peril like Maidana did. It will be competitive, with Ortiz winning about 8-9 rounds and cruising home a decision winner. Let's parlay Ortiz with Khan.
Bet: $75 to win $60 on a Khan/Ortiz parlay.
Don't forget: Sign up for a 10% bonus to bet on boxing with Bodog!
Good luck with your picks, and thanks for checking out this week's Boxing Bankroll, your guide to betting on boxing, boxing betting tips and analysis and more for all of the biggest fights every week, right here only on ProBoxing-Fans.com.