British Boxers Have Had Both Highs and Lows in the Last Year, But Big Names Are Ready to Emerge
As Ricky Hatton lay unconscious in the center of the Vegas ring on that May night in 2009, following a collision with Manny Pacquiao's left hook, the hopes of a nation lay with him. With the retirement of Joe Calzaghe many believed this was now the end of Britain's involvement in the upper echelons of the boxing. Yet a little over one year later the British are back.
Amir Khan Goes to Work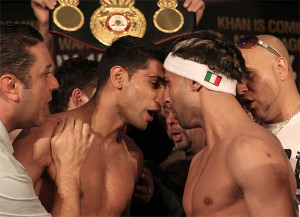 For starters, two months after Hatton's defeat, Amir Khan hit the world stage. Khan, himself the target of criticism since his 2008 KO loss to Breidis Prescott, outpointed Andriy Kontelnik winning the WBA light welterweight strap. Seeing the much hyped Devon Alexander recently struggle against Kontelnik now really puts this victory into perspective.
Khan went on to defend his title against the previously unbeaten New Yorker Dmitriy Salita. Many believed Salita was overhyped due to his marketability as a Jewish boxer, and these claims were brutally confirmed. After only seventy-six seconds of round one, an out of his depth Salita was annihilated. This one-sided execution did little to appease those who remember Khan's defeat to Prescott and still consider him susceptible to a big puncher.
Khan's next defense came against the awkward Paulie Malignaggi at Madison Square Garden. Malignaggi came in off the back of two fantastic fights against Juan Diaz but is famed for his lack of KO power and was never going to test Khan's chin. Yet this was still a step up and he handled it perfectly. With sizzling speed and pin-point accuracy, Khan controlled all eleven rounds before referee Steve Smoger stopped the fight.
As accusations that he can't take a punch still follow him, it would be nice to see Khan prove himself against a big hitter such as Marcos Maidana. Whatever route is chosen expect to see Khan at the forefront of the massively talented light-welterweight division this coming year.
David Haye Hitting Hard at Heavy
South London's David Haye entered the much maligned heavyweight scene with claims he would 'wipe out' the unpopular Klitschko brothers who dominate the division. Utilizing speed and exuberating charisma like no other top ranking heavyweight, Haye was a breath of fresh air and one the division badly needed. He defeated Russian giant Nicolai Valuev in November for the WBA crown and added a ninth round TKO victory over American John Ruiz following that performance.
Nevertheless, until he gets into the ring with a Klitschko, Haye will not be considered a real champion. 'Ruby' Bob Fitzsimmons and Lennox Lewis are the only two Brits ever to be outright heavyweight champions and while both were born in England, Fitzsimmons was raised in New Zeeland and Lewis in Canada. Haye certainly could beat the Klitschkos and make history as the first born and bred British heavyweight champion, but seems unwilling. Let's hope negotiations between the fighters continue and a bout is arranged, for the sake of the division if nothing else.
Khan and Haye both have the ability to clean up in their divisions but need to step it up.
Carl Froch and Kevin Mitchell Get Taken Down a Notch
Carl Froch and Kevin Mitchell also seemed to be reaching the heights, yet recent world title defeats for the pair have threatened to derail two of Britain's best.
Super-middleweight Froch, who spent far too long in the shadows of Calzaghe, came to the forefront in the Super Six tournament. A close victory over Andre Dirrell was followed by a unanimous decision defeat to Mikkel Kessler. However, the beauty of the Super Six means there is always another fight and Froch can redeem himself when he takes on 'King' Arthur Abraham in Monaco next month.
As for Mitchell, unbeaten in thirty-one fights, many considered him Britain's brightest prospect. For this reason twenty thousand fans turned up to see the Londoner fight aggressive Australian Michael Kastidis for the interim WBO lightweight title. However, Mitchell's weaknesses were discovered.
After two cautious rounds, Kastidis, never one to take a backward step, mauled Mitchell against the ropes. A long and distinguished amateur and pro career without hitting the canvas has left Mitchell lacking in the survival skills needed at the top level. Naively he attempted to trade blows with the harder hitting Kastidis. After a series of unanswered punches, the referee stepped in, ending the fight in the third. Despite losing, the 26 year-old Mitchell is young enough to come back but he must adopt a different mindset and learn to hang on when things aren't going his way.
Other British Names to Know
Quick mentions must also go to Rendall Munroe, Jason Booth and Ricky Burns. Munroe, who still works as a garbage collector in his home town of Leicester, will travel to Tokyo to fight for Japanese superstar Toshiaki Nishioka's WBC super-bantamweight title in September. Also that month Booth, another super-bantamweight, meets Canada's Steve Molitar for the IBF crown and Burns will face tough Puerto Rican Roman Martinez for the WBO super-featherweight belt.
Lightweight Jon Murray, light-heavyweight Nathan Cleverly and the appropriately-named English heavyweight champion Tyson Fury are three young British prospects also hoping to hit the world stage.
Post Hatton and Calzaghe the Brits still possess a few challengers. With hard work and the right matchmaking this time next year Britain could well be dominating boxing's most prestigious divisions. And with a long line of young guns coming through, British boxing is in a healthy state.