Juan Manuel Lopez, Yuriorkis Gamboa, Celestino Caballero, Oh My!
The Featherweight Division has been generating some great buzz lately, after a down period following the departure of its biggest stars, and more action taking place in the lower ranks. The division had been overshadowed by the Junior Featherweight division, where we witnessed classic wars between Israel Vazquez and Rafael Marquez, as well as the Junior Bantamweight Division, where Nonito Donaire and Vic Darchinyan have become elite fighters and attractions. During the early part of this century, we were treated to great fights at 126 featuring some of the fighters who helped define an era. I'm talking about the Mexican trio of Barrera, Morales, and Marquez, along with Prince Naseem Hamed, and Manny Pacquiao. They gave us moments that boxing fans will never forget. I don't think this current group of top fighters at 126 are at that level yet, but the potential is there. Let's take a closer look at the featherweight division and its big stars
Juan Manuel Lopez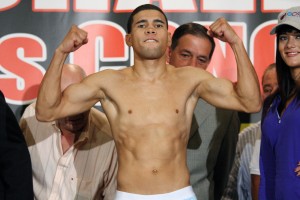 He has the most potential of any of the top fighters at 126 to become not just an elite fighter, but also a superstar. A lot of people think this guy one is of the 10 best pound for pound right now. I think he's slightly overrated. He still has defense and chin are flaws right now, and I also have questions about his stamina. We all saw his fight this weekend against Bernabe Concepcion. There's no question Lopez has tremendous punching power, but once again, defensive lapses caused him to taste the canvas. I don't think Lopez has a weak chin, but there is no question he needs to make some improvements defensively. Lopez's promoter Bob Arum keeps talking about eventually matching Lopez with Yuriorkis Gamboa, but Lopez might not get through his next fight against Rafael Marquez, which I think will be one of the best fights of the year.
Yuriorkis Gamboa
Gamboa has the speed and power that could make him a top 5 fighter in the world one day, but like Lopez, the flaws are his chin and defense. Gamboa is also overrated because technically he still needs a lot of refining. He's getting better with each fight, but he still keeps his hands low or drop his hands altogether during points in fights. That's not the best thing to do when you don't exactly have a granite chin. He's cocky, arrogant, and not ready for prime time yet. In my opinion, Gamboa would be the underdog against of the other top fighters at 126. His next fight is against WBC Champion Elio Rojas, a nice fighter, but this is a fight Gamboa should win if he wants to make me eat my words.
Chris John
All hail the king. The last guy to beat Juan Manuel Marquez besides Mayweather and Pacquiao is Chris John. I know some people dispute that he won, but I think he did. He's has been exposed to American TV, having defended his title twice against Rocky Juarez, the first fight was a Draw, even though John clearly had won at least 8 rounds. The second fight was more conclusive, a near perfect shutout. John is a boxer with an awkward style who I consider to be underrated and not getting the respect he deserves. He's been ruling the division for about 4 years now. In order for Lopez to become the king, he has to beat the ruler. John should get through his next defense at the end of this month, and then all indications are that he is going to try to fight  Lopez or Gamboa. I would consider John the favorite in both fights out of respect to him. Lopez could knock John out, but until he does John is the champ at 126.
Rafael Marquez
Marquez just finished his series with Israel Vasquez, and all fight fans will remember that for the rest of their lives. With the score now tied at 2, and a fifth fight not in the books, Marquez now has his sights set on the top of the Featherweight division, starting with Juan Manuel Lopez. To me, it's an even contest, maybe a slight edge to Lopez because he's younger and hasn't been through the wars that Marquez has. One thing we know for sure is that there will be action. If I had to pick though, I would take Lopez to finish Marquez between rounds 8 and 9.
Celestino Caballero
Caballero and Paul Williams have a lot of similarities. Both are long, gangly, exciting fighters who throw power punches with both hands from many different angles. They also share the unfortunate position of being the most avoided men in boxing. I believe Caballero is the best fighter at 126. However, he'll never have a chance to prove it because he can't get other top fighters to face him. At 122, while Marquez and Vazquez punched each other into submission, Caballero cleaned out the rest of the division.
After Vasquez and Marquez left the division Caballero became the best fighter at 122, yet this kid named Juan Manuel Lopez became the star of the division by knocking out Daniel Ponce De Leon(Caballero had already beaten him badly), and Gerry Penalosa (who had moved up from 118, and is not a big puncher). Caballero called out Lopez relentlessly, even at one point saying if Lopez wanted to be mentioned in the same breath with other great Puerto Rican fighters like Miguel Cotto and Tito Trinidad, he had to fight him. Lopez talked a good game, saying he wanted to shut up Caballero once and for all. When it became time for action, talks fell through. I've heard reasons why, but the bottom line is Lopez ducked Caballero.
Caballero followed Lopez up to 126, where he continues to duck him and Caballero probably knows Lopez will never fight him. Caballero tried to make a fight with Gamboa, who doesn't want to fight him either. So with Lopez ducking him and Gamboa ducking him, Caballero is now idle, and sadly might not get a big fight in the immediate future. I'm hoping that John steps up if he can't get Lopez and gives Caballero a shot. At 5'11″, Caballero should make an easy transition to higher weight classes, but even at 130 or 135 lbs he might not find many takers.