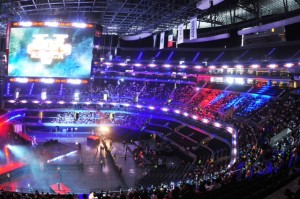 The balance of power among the different divisions in boxing can change from year to year. As you can see from this list, divisions that were once rife with possibilities can completely fall into disfavor, while once-dead divisions rise from the ashes. Here are the hottest and coldest divisions in the sport of boxing.
Hottest Divisions
Welterweight: 147 keeps regenerating. Floyd remains the glamour guy of the weight class, with Manny still shining brightly despite some of the luster being removed and his remaining time in the ring probably down to its last few fights. Marquez is at the end, but is probably going to take at least the Bradley fight before he retires. Timothy Bradley is still unbeaten and in the mix and former victim Devon Alexander is in the midst of a well-timed career renaissance. Also in the mix is an interesting group of vets in Robert Guerrero, Andre Berto, Victor Ortiz, Josesito Lopez, Jesus Soto-Karass, Marcos Maidana, and Paulie Malignaggi. Among the new blood is Keith Thurman and especially Adrien Broner. Throw in exciting X-factors like Juan Carlos Abregu and Ruslan Provodnikov and 147 is deep and fertile.
Junior Middleweight: A lot of boxing's biggest attractions perform at this weight. Canelo Alvarez is going to fight Floyd Mayweather in the biggest match-up of the year. Erislandy Lara is picking up steam. Austin Trout is still there. Warriors like Alfredo Angulo and James Kirkland provide a boost of entertainment value. Veterans like Miguel Cotto, Ishe Smith, Cornelius Bundrage, Delvin Rodriguez, and Carlos Molina balance out a rising cast of youngsters like Vanes Martirosyan, Shawn Porter, Demetrius Andrade, Jermell Charlo, and Willie Nelson.
Light Heavyweight: Say what you will, but having a champion pushing 50 years of age is cool–I don't care how boring he is. Hopkins is right at the top, with a solid roster of ex-champs and up-and-comers. In addition, it might get even better, as some of the luminaries from 168 rise up in search of a big fight. Some younger talent includes Europe's unbeaten Nathan Cleverly and hard-punching Sergei Kovalev. Jean Pascal and Lucian Bute are about to fight in a huge event in Canada. Fierce-punching Adonis Stevenson, who just punched his ticket with a blast-out of Chad Dawson is now in the mix. A nice rotation of guys right under the top level rounds out a division that should be heating up in the next few years.
Worst Divisions
Heavyweight: Sad to say, isn't it? The division that brought so many fans to this sport is now less watchable than the WNBA. Sure, there have been some good fights among contenders. But when the action at the top of the division is null and void for almost a decade, that's not a good thing. Hats off to the unchallenged stranglehold the Klitschkos have managed to maintain, but it's hard to identify a time in heavyweight history where so much time elapsed without any drama in a heavyweight title fight.
Super Middleweight: Call it the downturn of the 168-pound renaissance of a few years ago. We want clarity, but when we get it, sometimes the division dries up. We have one guy at the head of the class in Andre Ward, but he's not an exciting guy to watch. The best of the rest are guys he's already beaten. Things would be more compelling maybe if Bute didn't lose to Froch or if some compelling contenders had materialized as the top guys duked it out, but neither of those things happened. Honestly, it's not an altogether bad division compared to a lot of others, but it went from a crackling weight class to one where the best fight available is a rematch (Ward-Froch II) that no one seems that pumped-up in seeing.
Bantamweight: Just like at 168, this division once had the potential to become a gem in the sport, only to fall into a recent state of disrepair. Unlike 168, clarity was never really established and all the better fighters in the division have moved up in weight. There was Donaire, Mares, and well-rounded cast of others who were all capable and exciting to watch. Can you even name a champion at 118 now? It's not easy. This one is a disappointment, as the potential seemed there to make a great division. Right when it was on the verge, it all evaporated.
Comments
comments