For a considerable period of time, the heavyweight division has been monopolized by the brothers Klitschko. Wladimir and his elder brother Vitali seem to strengthen their grip upon the throne on each occasion they turn away another over-matched contender.
Debate is often had as to where they fit in with the greats of the heavyweight past. Perhaps a more topical conversation would be "who out of the current crop can challenge them in future?"
As such, ProBoxing-Fans.com is getting started with our very special Klitschko Readiness Rating. The KRR will examine the contenders and challengers, and offer a grade on each particular fighter's readiness, and potential, in facing either of the Klitschkos. First, we present Tyson Fury.
Definition of the word "Fury": wild or violent anger. Synonyms include; wrath, rage, frenzy. Definition of "Tyson", see "Mike Tyson": a heavyweight wrecking machine from the 1980's to the 1990's, a man commonly known at the time as "the baddest man on the planet".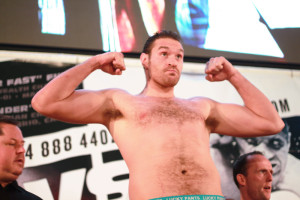 So it would appear Tyson Fury, the latest in a long line of contenders and pretenders, has the name to create a marketable boxing brand, but what about the fighter himself?
Born in Manchester, Fury is the descendent of a fighting family. The blood of Irish travelers and bare-knuckle boxers courses through him. Middleweight Andy Lee is his cousin. If ever someone was born to fight for a living, Fury fits the bill.
Despite an excellent amateur record consisting of thirty-one wins (twenty-six inside the distance) against four defeats, Fury missed out on the 2008 Beijing Olympics to one of the few men to have beaten him; David Price. The heartbreak drove Fury to turn professional.
Once in the paid ranks, Fury showed no lack of confidence. His boasts were backed up in the ring as he won his first seven fights without allowing his opponent to hear the final bell. Things were as smooth as can be by the time he was scheduled to face John McDermott; a mammoth of a man and a real test for any up and coming domestic heavyweight.
What followed was widely considered a testament in how not to score a fight. Fury was given a wide points verdict in a closely contested bout, one which many felt McDermott had done enough to win.
Sheepishly, Fury carried on. Two fights and just short of a year later, he received another opportunity to crack the McDermott test.
Weighing in at a career-high 270 lbs, Fury was exhausted after a positive start. Holding his hands low, Fury was under pressure as McDermott threatened to come on strong down the stretch. A flurry of punches at the end of the 8th round seemed to drain McDermott of whatever he had left however, and Fury made sure he finished the job in the next round.
In getting past one of Britain's toughest gatekeepers Fury relieved himself of that particular weight from his shoulders. There were improvements to be made, though, namely in his physical conditioning.
Gradually slimming down, Fury beat an out of shape and unmotivated Dereck Chisora at Wembley. The fight was exciting and Fury boxed well to tame his aggressive opponent.
Attracting a sizable television audience through appearances on Channel 5, Fury was slowly becoming a reputable name in the heavyweight division. Ironically, two up and down performances against Nicolai Firtha and Neven Pajkic helped this cause, as the viewer was given wild entertainment contrary to recent memories of heavyweight bores. Fury was put to the seat of his pants via this route against Pajkic, but showed his will to win once more to recover and stop his opponent one round later.
Gaining the attention of the general public is an achievement for any boxer these days, but what was to follow for Fury did not curry him any favor within core boxing circles.
Come 2011 and David Price, Fury's former amateur nemesis, was hot on his heels. Price had become the mandatory for Fury's British and Commonwealth belts having thrashed Tom Dallas in two rounds. Fury was highly conspicuous as he vacated the titles, instead using his ancestry to fight Martin Rogan for the Irish heavyweight strap. Essentially, what would have been a hugely significant and crowd-pleasing match-up between the country's two best up and coming stars at the weight was put on the backburner.
Fury has gone on to show class in his last two performances, but this is expected considering the opposition he has faced.
He fought as a southpaw against Rogan, with many believing it to be a tactic somehow used as an attempt to diffuse Fury's openness to a right hand. He ground Rogan down and finished him with a body-shot.
His following clash with Vinny Maddalone was widely criticized in the UK as a mismatch from the day it was announced. Fury boxed well once more, using his jab and footwork to prevent Maddalone from getting into punching distance. Maddalone became disheartened and the stoppage came in the fifth.
It was nice to watch, and it was also encouraging to see Fury enter at his lightest weight yet – 245 ½ lbs. With the exception of the Pajkic fight, Fury's weight has consistently descended since his win over Zack Page in 2010.
Improvements in fitness, coupled with a burgeoning television audience and some decent names on his record has seen to it that recently, Fury's name pop up in numerous articles discussing future Klitschko opponents.
Vitali is set to pursue his political ambitions in the wake of what will most likely be an easy victory against Manuel Charr in September, which leaves Wladimir as the heavyweight division's prize target.
Fury is certainly engrained among the chasing pack. He is charismatic, undefeated and appeals to the mainstream viewer. He is also slightly taller than Wladimir, which would present an intriguing situation, so rare is it a Klitschko brother finds himself looking up at his opponent in the ring.
Serious questions are to be asked of Fury's resume, however. He struggled with John McDermott on two occasions. He picked apart an out of shape Dereck Chisora but could not stop him in the fashion David Haye managed this past weekend. He has found himself caught and hurt time and again by rights over the top from smaller men, and it is known Wladimir Klitschko fires his right cross with radar accuracy.
Fury's promoter suggested Tomasz Adamek as a potential opponent sometime down the line. This would be a positive step-up, though it now looks unlikely, with the Pole instead set to enter the IBF's four man elimination tournament with the winner earning the right to challenge Wladimir for his titles.
One thing is for sure though. If, as Wladimir Klitschko has suggested, he and Tyson Fury are to dance within the year, Fury had better find some better dance partners to test himself with, and soon.
Verdict: Tyson Fury's Klitschko Readiness Rating
Tyson Fury is still too open and inexperienced to be considered a genuine threat to either brother.
Klitschko Readiness Rating: B-