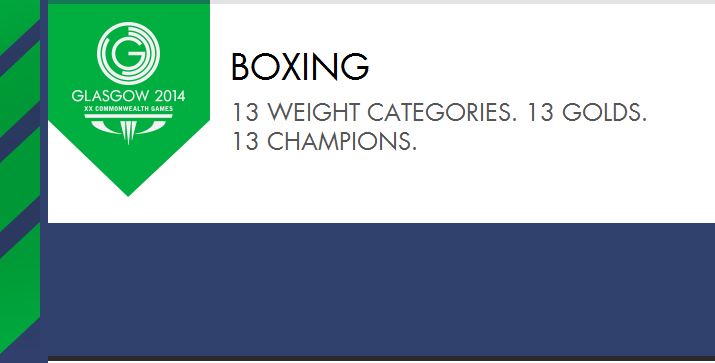 There were many talented fighters on show at this years Commonwealth games, and not all of them won gold medals. Some didn't medal at all, for various reasons including close scorecards and misfortune, but still showed enough to warrant specific mention. Here are ten fighters who caught my eye at the 2014 Commonwealth games.
Devendro Laishram (Light Flyweight – India)
The powerful 22-year-old defeated two home nation boxers on his way to the final, where he lost to Northern Ireland's Paddy Barnes. It's the second time he has been on the receiving end of Barnes' constant fists, having lost to him in the 2012 Olympics quarterfinals. With Barnes surely to consider turning pro, the light flyweight division could be there for the taking, and the strong, fast-swinging Indian will be one of the first in line were that to happen.
Reece McFadden (Flyweight – Scotland)
McFadden was one of the stories of the tournament as he beat the world number one – Andrew Selby, in his first bout. Drawing from the energy of the crowd, he darted in and out, making life uncomfortable for his more experienced foe, who grew frustrated. He then outworked English rival Charlie Edwards and aggressive Botswanan Oteng Oteng before losing in a close semi final contest with the eventual champion; Andrew Moloney. At just 19, the southpaw from Bellshill gained a huge upturn in his following thanks to his performances.
Ayabonga Sonjica (Bantamweight – South Africa)
Sonjica's 2014 Commonwealth games story was a short one. He had a bye to start with, and went out in the quarterfinals. The results may not impress, but the way he won his second round contest was very impressive. He boxed elegantly, using his physical advantages, combined with technique and intelligence, to win, barely being hit in the process.
Qais Ashfaq (Bantamweight – England)
Ashfaq won three of his four fights at this years games as he picked up the silver medal, and he did so in style. Boxing with an unorthodox style, Ashfaq controlled the ring with his timing, hand speed and footwork. He fell short in the final, struggling with the uncompromising Michael Conlan, but Ashfaq showed enough to earmark him as one to watch.
Charlie Flynn (Lightweight – Scotland)
At first glance, Flynn's style does not attract. It is not by general standards aesthetically pleasing, but as he proved this summer, it is highly effective. His semifinal with Wales' Cordina was a clash of styles, with Cordina boxing and moving as Flynn pressured in waves. The Scotsman got the better of it, thanks mainly to his willingness and ability to work on the inside. Without eye-catching speed or power, Flynn won gold – the ultimate testament to that style of his.
Shelley Watts (Lightweight – Australia)
Watts began her tournament with success in mind, getting past highly rated Englishwoman Natasha Jonas. In her final with the Indian, Laishram Devi, Watts displayed the relentless body attack and strength that she had shown throughout to earn gold, gritting out her disadvantage in hand-speed to land the cleaner work.
Junius Jonas (Light Welterweight – Namibia)
Given he lost his final with Scotland's Josh Taylor, Jonas won one of the most one-sided rounds in the latter stages of the tournament, pouring everything out to try and claw back a deficit having lost the first two rounds. It wasn't enough, but the tough Namibian still looked good, putting in good performances to beat Lumbwe, Hindley and Duffy.
Bowen Morgan (Welterweight – New Zealand)
The non-stop New Zealander couldn't help but catch the eye with his constant application of offensive boxing. Fighting out of a southpaw stance, Morgan often stood square on as he waged war on the inside with his opponents. His body shots and heavy handed blows were thrown with intent, and often punctuated the rounds they were thrown in. It's hard to imagine Morgan having trouble adapting to pro boxing.
Anthony Fowler (Middleweight – England)
Fowler was one of England's five gold medalists this summer, and arguably impressed more than any of them. Strong and methodical, Fowler broke his opponents down by holding center ring and picking smart punches. His clubbing shots discourage opponents from engaging with him, and he rarely looked flustered on his way to victory.
David Nyika (Light Heavyweight – New Zealand)
Up against Scotsman Scott Forrest in his second fight, Nyika faced the roar of a partisan home crowd. The 18-year-old did so with maturity beyond his years, completely outboxing his rival to reach the next stage. Nyika went on to win gold, albeit with difficulty, getting the verdict in a close contest with Kennedy St Pierre. The crowd booed the decision, but Nyika had already shown his worth, and has a huge future ahead of him.
Comments
comments