Top 10 Jewish Boxers in Modern History
The title of this article might evoke a chuckle or a raised eyebrow. It'd be like writing an article titled "The Best Samoan Place Kickers of the Last 40 Years." It's no secret that Jews have not been the most successful group in the sport in recent years. A look through boxing history, however, shows that many of the top champions from the first half of the 20th century were Jews. The names are illustrious ones.
But economics dictate who thrives in the sport. European immigrants toughened up by living in slums gave way to a lot of groups having success in the sport. Now these ethnic groups, like Italians, Irish, and Jews barely make a dent in a sport they once dominated.
Looking back, Jews have done very well. Among the Semitic set includes possibly the greatest ever lightweight in Benny Leonard, one of the greatest featherweight champs in Abe Attell, and top-50 all-time talent like Barney Ross. In the last 40 years, the pickings have been slim. In fact, most of the Jews on this list are not from the USA, hailing from tougher areas where one is more likely to resort to boxing as a career.
In order to even come up with this list, the messy question of "What is a Jew?" was dealt with using some relaxed standards. Some on this list had families that converted to Judaism or even have a shiksa mother. But when discussing the recent history of Jews in boxing, you can't be too picky. Here are the ten best of the past 40 years.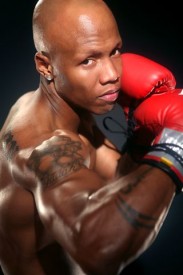 1. Zab Judah: In the late 90's, some fancied him to be the next coming of Pernell Whitaker–just with more power. He fell short of that lofty projection, but has nonetheless managed to stay near or at the top of the 140 and 147-pound weight classes for over a dozen years. His list of triumphs easily trumps everyone on this list, including wins over Micky Ward, Junior Witter, DeMarcus Corley, Cory Spinks, and Lucas Matthysse, among others. Judah certainly lost his share of big ones along the way. In addition, he's now a born-again Christian, but his best work in the ring occurred as a member of the Tribe.
2. Saoul Mamby: A cagey and skilled boxer, Mamby's career incredibly stretched from 1969 to 2008. From 1980-1982, he reigned as WBC Junior Welterweight Champion–making 5 defenses. During this time, Mamby was the best 140-pounder in the world with the exception of Aaron Pryor. He defeated tough Korean champion Sang-Hyun Kim (30-2-2) for the title and his 5 challengers had a combined record of 187-10-1, including Esteban DeJesus, who was stopped in the 13th round.
Mamby was one of few fighters in the lower weight classes who found success at an advanced age. Already on the wrong side of 40, Mamby was still good enough to beat 18-0 Glenwood Brown, 29-4-2 Gary Hinton, and 17-0 Larry Barnes, while extending countless other young battlers. Not bad for a guy who lost to Roberto Duran and Antonio Cervantes in the mid 70's.
3. Mike Rossman: Sure, a lot of his rep is based largely on one win, but what a win it was. In 1978, Rossman won the belt from long-reigning WBA champion Victor Galindez, who hadn't tasted defeat since 1971. He defended once against Italian Aldo Traversaro, who had lost only twice in 52 fights. "The Jewish Bomber" would only reign for 7 months, as Galindez beat him in the rematch. Rossman won a title during the toughest era ever for light heavyweights and that counts for a lot.
4. Matthew Hilton: At one time, Hilton was probably the top junior middleweight in the world. Following an enthralling 15-round unanimous decision win over rugged and determined IBF champion Buster Drayton, the undefeated Hilton's future looked bright. He came up as part of the wildly popular Hilton brothers and they filled arenas in Canada. While one of the brothers passed away and the others found trouble in their personal lives, Matthew looked to be the gem of the group.
Wins over spent forces like Vito Antuofermo and Wilfred Benitez led to his title-winning triumph over Drayton. After 2 defenses Hilton was 29-0 (23 KOs), the best in his division, and a rising star. It all unraveled when he lost his belt to unheralded Philly tactician Robert Hines. Hilton suddenly had hit a wall and he wasn't even 23 yet. A few fights later, it was all over. Shame.
5. Yuri Foreman: His run at the top was awfully brief and it's problematic if he will ever resume the lofty status he once enjoyed. Still, Foreman put together a pretty good resume at 154, including a world title. Foreman came up pretty tough, putting together an unbeaten record during his run to a world title. Before winning the belt, he beat Jesus Soto-Karass, 23-1 Anthony Thompson, and tough contender Andrey Tsurkan. He also seemed to be getting the better of Cornelius Bundrage, before a butt opened a cut on Foreman, leading to a technical draw. In 2009, he easily and surprisingly outpointed WBA 154-pound champ Daniel Santos. Just when it seemed to be going good for Foreman, he lost his belt to Miguel Cotto in an uncompetitive fight, before being upset by hard-charging brawler Pawel Wolak.
6. Fabrice Benichou: One of the more unlikely world champions. In 1987, he was twice knocked out by sub-.500 fighters, including a stoppage defeat to a 6-33-5 foe. By 1989, however, he was wearing a world title belt. He first served notice with a 1988 knockout over the 23-1 Thierry Jacob, who would go on to win a title. He lost by stoppage to tough IBF Junior Featherweight Champion Jose Sanabria, but in their rematch, Benichou won a split decision to annex the belt. He scored two defenses, before narrowly losing to the excellent new champion Welcome Ncita. While he would score a few more good wins, Benichou resumed the role of gatekeeper, before retiring for good in 2006.
7. Davey Hilton, Jr.: Another member of the ill-fated Hilton brothers, Davey, Jr. had a strange career. He was an undefeated phenom, considered as a possible opponent for Aaron Pryor in the early 80's. Turns out he had to wait all the way until the year 2000 before getting a shot, when he won the WBC Super Middleweight title from unlikely titleholder Dingaan Thobela. The fact that he was still serviceable by 2000 makes you wonder what he could have been in the 80's if not for a hazardous lifestyle. The bottom line is that he was a giant talent, even if he was a scumbag who threw his life away.
8. Dana Rosenblatt: The 37-1-2 Rosenblatt was probably a bit overrated and never tested himself against the cream of the crop, but he was a good contender who had some pretty good wins. His win over Terry Norris probably looks better on paper than it really is, since the Norris that Rosenblatt beat was really just a shadow of his former self. In his best win, he avenged his only defeat with a 12-round decision win over Vinny Pazienza. Three fights later in 2002, Rosenblatt would retire at age 30.
9. Alexander Frenkel: Strangely, the unbeaten cruiserweight has not fought in over two years. A member of the Sauerland outfit in Germany, it is rumored that he has been overlooked in lieu of the stable's top cruiser–champion Marco Huck. Whatever the case, Frenkel had become a top contender before his bizarre sabbatical. Frenkel, 23-0 (18 KOs), had beaten some good European cruiserweights, including his final win–a smashing knockout of Enzo Maccarinelli. He's still only 27, so time is on his side should he return to the ring.
10. Isaac Chilemba: A member of the Lemba people in South Africa who are of Hebrew heritage, Chilemba is a current contender in the light heavyweight division. Chilemba has not lost since 2007 and is putting together a nice resume that should culminate soon in a world title opportunity. He beat some of the best super middleweights and light heavyweights in Africa, before fighting a draw with current top 168-pounder Thomas Oosthuizen in 2010. He has since won 5 straight, including a win over Edison Miranda. Now with all the right connections, including promoter DiBella Entertainment, Chilemba's future looks bright.