David Haye vs. Either Wladimir or Vitali Klitschko is Perfect Right Now
Vitali Klitschko's 10th round stoppage of brave but over-matched Albert Sosnowski on Saturday should have brought a unification mega-fight with David Haye a massive step closer. In removing yet another pretender to his crown, the 6ft 7in WBC title holder is running out of credible, and more importantly, exciting opponents.
His brother Wladimir's 12th round knockout of American stylist Eddie Chambers means the WBO and IBF titlist is also in a similar position. And regardless of which Klitschko could be persuaded to take on the popular Londonder, who holds the WBA crown, it would easily be the biggest fight that can realistically be made in the division both economically and in terms of credibility.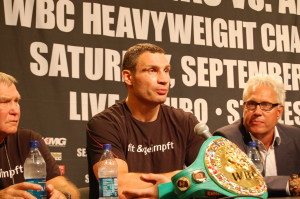 But timing, in boxing more than virtually any other sport, is crucial and if we are to see Haye versus either of the Ukrainian giants I feel it needs to be made as soon as possible, in ideally Haye's next fight, if it is to be the biggest attraction it can be.
The arguments in favor of such a bout really should have led to this fight already being signed and sealed already – although Haye was virtually set to take on Vitali before agreeing to fight then WBA champion Nikolai Valuev. It would easily fill a football stadium in either Germany, where the Klitschkos now call home, or Britain, and would also garner some much-needed mainstream press and television coverage.
Quite simply no other fight in the heavyweight division can boast the same collision of  skill, athleticism and explosive knockout power – vital components for most classic heavyweight battles.
While Athens gold medallist Odlanier Solis has Olympic pedigree like Wladimir Klitschkos, who won gold in Barcelona, he is far less along in his career, being relatively untested at world-class level as a professional, and his podgy physique in recent bouts suggests the Cuban defector might not be quite as dedicated to his craft or as naturally athletic as Haye or the Kiltschkos.
Similarly, former cruiserweight champ Tomasz Adamek compares favourably to Haye, having proven his class at top level in the 200lb division and purveying a similar gutsy, all-action style of fighting that guarantees fireworks. But Haye beats him hands down in the charisma stakes and the titleholder stakes.
The Bermondsey native is almost as comfortable on a talk show couch as he is in the ring and his ability to sell a fight would be the difference between a big trade fight – as Adamek vs. Klitschko would be – and a major mainstream sporting event, as Haye vs. Klitschko would be. Titles also count for something, and without a belt, Adamek vs. either Klitschko doesn't have quite the same ring as a major unification bout, as intriguing as it would be.
Finally undefeated contender Alexander Povetkin has been waiting even longer than Haye for a crack at the brothers K but is virtually unknown in America, where the big television money usually is, and commands nowhere near the following of either Haye or Adamek, so simply isn't as enticing financially as either of those fights.
Finally, Haye's big mouth and his distasteful t-shirts seem to have added a personal edge to the fight for both Klitschkos, who have both stated a keenness to punish the former amateur world championship silver medallist. This makes a clash with Haye more enticing than a 'routine' mandatory defense against virtually any other contender.
But sadly, just because a fight should happen in boxing, does not always mean it will, at least while it is at its most relevant. The fact still remains that Haye's suspect chin has yet to be tested by a full-on heavyweight banger and with formidable WBA champ Ruslan Chagaev having successfully manoeuvred himself back into the number one contender's spot for his old title, Haye may have to jump that hurdle before he gets his shot at the Klitschkos.
While Haye would start as favorite against the Uzbekistan native, Chagaev is at least one step, if not two, above John Ruiz and was at least as impressive as Haye in beating Valuev back when the Beast from the East was undefeated.
Should he find the formula to derail Haye's unification dream, which is certainly plausible, suddenly the Londoner  could become far less attractive both to the Klitschkos and to the mainstream public. While titles are not essential to boxing mega-fights, they are important to the Klitschkos, who are hell-bent on holding all four of the major belts between them at the same time.
Without his belt Haye would have far less to lure the Klitschkos into the ring, and while it would still be exciting regardless, it would lose some sparkle without the unification element and with Haye having already been dented at the heavyweight ranks.
Even if Haye defeats Chagaev, he appears more vulnerable to a 'lucky punch' KO or at least a surprise loss than either Klitschko – even though Wladimir has been proven to be soft around the whiskers, his conservative style often keeps his chin out of harm's way.
Similarly, sanctioning bodies being what they are there is surely only so long before one of the three is stripped of a crown, or upgraded to some spurious 'super'champion, to 'keep the titles moving' – a euphemism for allowing more sanctioning fees to be charged.
If it takes step aside money to make a Haye-Klitschko fight then whoever needs to pay it should pay it. The fight will make more than enough to justify the expense but it is a fight boxing, the fans and the heavyweight division in particular needs NOW, not later, if it is to have maximum value.
Luckily, it really does not matter which Klitschko agrees to fight Haye. Should Haye beat one the second SHOULD follow soon after if for no other reason than the brothers' desire to avenge each other's defeats as well as enhance their own careers.
The lack of quality in the heavyweight division should ensure that as long as all three fighters remain in world class, a Haye-Klitschko clash should come off at some point, but there may never be a better time to make the clash than there is now. Lets hope the boxers see it that way.