Great Weekend of Boxing Stained by the Tragic and Ugly End of Edwin Valero
Another big weekend of fights is in the books. We had a super middleweight standout continue his ascent, a new middleweight champion crowned, and perhaps one of the best fighters in the world see his career come to an end outside the ring.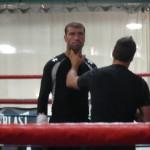 Bute Continues to Dominate
First for the inside-the-ring action: Lucian Bute really impressed with his second straight one-punch KO over a quality opponent. Miranda was looking good in the fight, more refined and composed. His hard-hitting pressure had him in good stead over the first few rounds. The ending was sudden and humiliating for Miranda. After taking a light combo from Bute, Miranda posed with his hands on his waist and looked out to the crowd to mock Bute's apparent lack of power.
It seemed like only a nanosecond went by before Bute found Miranda's chin with a lethal left uppercut. Miranda pitched forward and landed flat on his face. He gamely rose before the count of ten, but the referee wisely stopped the fight, with Miranda's legs and eyes suggesting a far-away alternate reality.
Hats off to Bute, who is forcing us to reconfigure our take on him. Based on his last two performances, the guy can punch like the dickens in addition to being able to prevail with a smooth-boxing style. He is quickly becoming one of the more versatile titlists in the game.
Martinez Takes Home the Middleweight Crown
Martinez-Pavlik was a stirring encounter. With a fast pace, featuring sudden and multiple changes in momentum, it was a fitting way to crown a new Middleweight Champion. Sergio has now stamped his name onto the history books.
The fight was stunning in its unpredictability. Martinez opened sharply, catching Pavlik with fast and clean shots. Pavlik seemed stuck in cement. He was unable to get much of anything going. After 3 rounds, Pavlik was beginning to pressure Martinez more effectively, though Sergio still seemed to maintain an edge. In the fifth round, Pavlik began to time Martinez with a few rights, and a left that buckled an off-balance Martinez.
In the sixth, Pavlik continued to adjust to Martinez, as Sergio's effectiveness went 180 degrees the other way. In the 7th, Pavlik dropped Martinez with a right hand. Martinez complained that he was held with the left hand while being hit and he was off-balance. While Kelly did appear to hold, the knockdown served final notice that the momentum had officially been reversed.
By the 8th round, Pavlik was looking good. He had appeared to nose ahead on the cards and was in a great rhythm—even out-boxing his more athletic foe. Martinez seemed flat and Kelly was starting to outclass him a bit.
In the beginning of the 9th, Martinez lashed out with a whipping left that busted Pavlik's right eye open. The sight of blood appeared to breathe new life into Martinez, who proceeded to strafe Pavlik with shots throughout the round. The cut became a gusher, as the right side of Pavlik's face was a mask of blood. I imagine someone who went to the fridge after the 8th round would have been shocked to come back to the TV set in the 9th to see Pavlik is such a state. Pavlik appeared to have things so squarely in hand. Martinez' 9th round turnaround was the stuff of great fighters and inevitably ended up earning him the belt.
Pavlik struggled for answers during the last 3 rounds, as the tide carried Martinez home a unanimous decision winner. Martinez really shined, but I think some have been too hard on Pavlik. He had not fought a top fighter in some time and it showed early. One might even be inclined to say the 9th round punch that opened up that cut was an unlucky moment for Kelly. I tend to think his ability to turn the fight around in the middle rounds was a shining moment for him that maybe he can build on. There were moments during Pavlik's spurt where he looked to be a more complete fighter than before, nullifying the more-sophisticated and gifted Martinez to a great extent with his adjustments and advanced vision of the fight. But that left that busted him open really threw him for a loop.
Kelly has decided to exercise the rematch clause, so we will see them do it again relatively soon. Pavlik had his moments, but some have rightfully begun to question his standing at the top of the sport. Some suspect the Hopkins fight took something from the young ex-champ. Maybe yes, maybe no, but one thing is not in debate—Pavlik has not been the dominant middleweight some suspected him to become following his explosive coronation. We will see if he can reclaim at least a portion of that former billing.
The Tragic End to Edwin Valero
Fight fans were shocked as the news came down about Edwin Valero. From what we understand as of this writing, Valero went to a hotel with his wife, only to come down to the lobby and notify hotel employees that he had just murdered her. The police were called and found Valero's wife and arrested him. He has apparently admitted his guilt.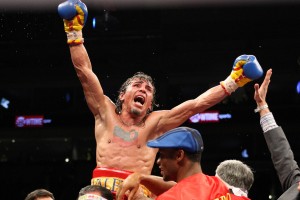 All sympathy in this matter should be deferred to the wife and her family, as well as Valero's family who has now probably lost a son. This has been a sordid tale, as Valero's condition appeared to be rapidly deteriorating since his last fight. The news out of Venezuela was troubling: reported cases of spousal abuse wrapped up into a cocoon of substance abuse and psychological distress. Valero's descent into madness was precipitous.
One wonders if Valero's celebrity status allowed him to circumvent the arm of the law. Without being an expert in Venezuelan domestic violence procedures, Valero was seemingly given a long leash for a guy who was out of control by all accounts. He had already recently beaten his wife badly enough to put her in the hospital. Family members were telling whoever would listen that Valero was on a rampage, abusing his wife and never sober. He was supposedly being forced into rehab after yet another drunk-driving incident, but was allowed to leave after a very short stay. I don't want to cast judgment prematurely, but it looks like the authorities dropped the ball on this one.
The ugliness of this event is certain to leave fans shaken. A prodigious talent, Valero is certainly not any kind of champion outside of the ring. Unless the facts coming out are completely backwards, his career is almost certainly over, leaving fans to forever wonder what might have been. There are many questions still to be answered and we'll have to see how it all plays out, but this is truly a blow to boxing, but more importantly—to the victim, the families involved, and Valero's countrymen.
Update: Edwin Valero has committed suicide in his jail cell, reportedly hanging himself with his sweatpants from a bar overhead. It brings a rapid and unfortunate end to the already tragic and tumultuous events of the weekend.