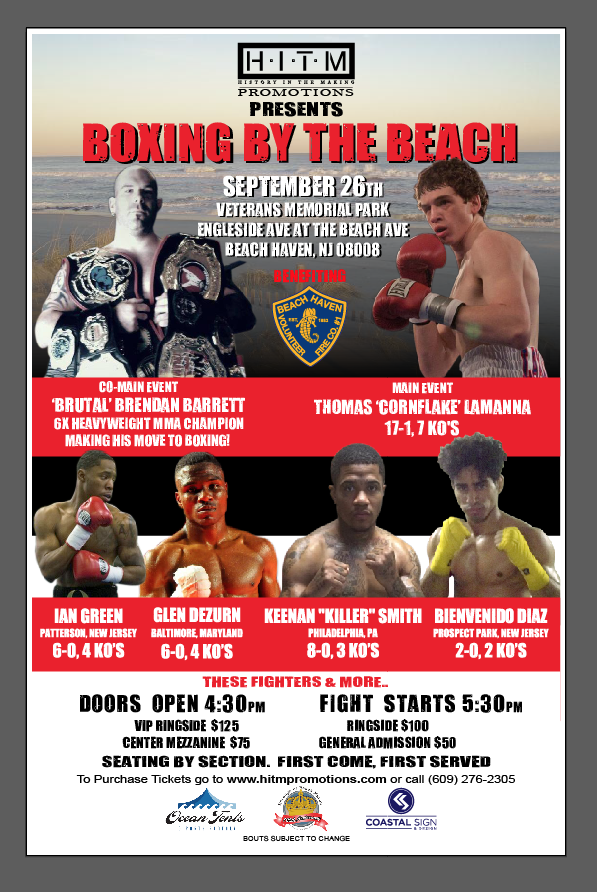 This Saturday, September 26, at Beach Haven Memorial Park at Engleside Avenue in Beach Haven, New Jersey, an early night of boxing will take place beginning at 5:30 PM. In the main event, junior middleweight Thomas "Cornflake" LaManna will take part in a 6-round bout against veteran Ayi Bruce.
LaManna will be looking for his 2nd straight win as he won a 8-round unanimous decision over Joshua Robertson on August 7 in Atlantic City. LaManna of Millville, New Jersey has a record of 17-1 with 7 knockouts.
Bruce of Accra, Ghana has a record of 23-10 with 15 knockouts is a former Ghanian super lightweight champion.
Bruce has also fought the likes of Albert Mensah (18-3-1), Emmanuel Taylor (7-0), Raymond Serrano (12-0), Gabriel Rosado (16-5), Dennis Laurente (40-4-5), Vitaly Demyanenko (19-0), Ishe Smith (22-5), Hugo Centeno Jr. (14-0), Glen Tapia (16-0) and in his last bout Erickson Lubin (10-0). He holds wins over former contender Shamone Alvarez (21-2) as well as Hector Munoz (19-4-1).
Fighting in the 4-round co-feature will be "Brutal" Brendan Barrett taking on Satario Holdbrooks (0-1) of Kannapolis, NC in a Heavyweight bout.
Barrett, of Little Egg Harbor, NJ, is a 6-time MMA Heavyweight champion, will be making his 2nd professional boxing appearance. He is 0-0-1 as he fought a disputed draw with James Rankin on May 8, 2009 in Philadelphia.
In undercard bouts:
Ian Green (6-0, 4 KO's) of Paterson, NJ will take on K Lon Spencer (4-2, 3 KO's) of Beaumont, TX in a Middleweight bout.
Dustin Fleischer (3-0, 3 KO's) of Monmouth, NJ battles Ira Frank (1-0, 1 KO) in a fight between undefeated Welterweights.
Meng Fanlong (2-0, 1 KO) of Chifeng, China will take on Michael Mitchell (3-5-2, 1 KO) of Paterson, NJ in a Light Heavyweight tussle.
O'Shanique Foster (7-0, 4 KO's) of Orange, Texas will fight Darius Jackson (0-1) of Anderson, SC in a Lightweight bout.
Angel Concepcion (6-0) of Newark, NJ faces pro debuting Sidney Outlaw of Pennsylvania in a Light Heavyweight bout.
Arturo Trujillo (6-0, 3 KO's) of Paterson, NJ boxes Alex Asbury (0-2) of Charlotte, NC in a Middleweight bout.
The fights begin at 5:30 PM with the doors opening at 4:30 PM with tickets ranging from $125 (rows 1 & 2), $100 (rows 3 and 4). $75 (rows 5-7) and $50 for General Admission and be purchased by clicking www.hitmpromotions.com.