Could Andre Dirrell Have Been Faking to Get a DQ Win Over Arthur Abraham? In a word: No!
Arthur Abraham's accusation that Andre Dirrell was "faking" has been taken up by German and some American sports pundits, as well as by rabid Abraham fans. To them, the fact that Dirrell did not fall right over after being whacked by Abraham is all the proof they need. This claim is specious in the extreme, as any seasoned fight fan (let alone a doctor or someone with real boxing experience) can tell you.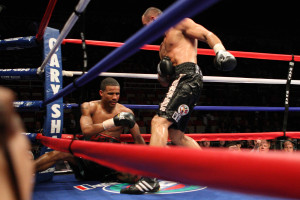 To cite just three examples of delayed or bizarre knockdown and knockout behavior that are readily available on YouTube: Simon Brown flat on his back and throwing punches after being slammed by Vincent Pettaway; the two-beat count between Holyfield's hook landing and Riddick Bowe going wobbily in Bowe vs. Holyfield III; or Mikkel Kessler vs. Julio Cesar Green. On top of that, I can recount many more such incidents at untelevised club fights, and can vouch for the character of the men involved: none was "faking" or taking a dive.
Of course, none of that matters. Abraham's flagrant foul alone was enough to merit his disqualification. The "faking" issue is just a fig-leaf to cover Abraham's thuggery. In this category, he has not sunk quite as low as his brother Alexander. Alexander Abraham, as you may recall, ran across the ring after Abraham vs. Miranda II to kick an almost helpless Miranda in the face. Let's just say this sort of thing must run in the family.
The Pavlik vs. Williams Fight That Wasn't
While I do not deny that Kelly Pavilk had a bad hand infection and needed surgery to correct it, a review of the timeline of Pavlik vs. Williams is necessary to clear up what happened to that fight. After prolonged negotiations, a fight date was set for October 5th. Pavlik's bad hand caused him to almost cancel that date, but in the end it was rescheduled for December 5th. Williams, who at the time last fought against Winky Wright in April 2009, agreed to the postponement and staying on the shelf for what would be eight whole months. Then Pavlik finally out-and-out bailed in late October, citing his hand.
Rabid Pavilk fans insist that it was Williams who walked away from a "career high payday," but not even Pavlik's own camp can produce any documentation that another postponement was an offer. That idea is mere fiction. Pavlik bailed, not Williams, and no postponement was seriously discussed. Yet merely a few weeks later, Pavlik signed to fight Miguel Angel Rubio and on a date only a week later than his proposed Williams bout. Pavlik's hand was ruined in late October, but sound enough to commit to training three weeks later, and all to make a fight date only one week later? If that doesn't smell fishy, then I'd like to talk to you about a premium real estate venture involving a bridge in Brooklyn…