Fight Preview & Pick: Timothy Bradley vs. Ruslan Provodnikov
Timothy Bradley defends his WBO Welterweight Title against Russian slugger Ruslan Provodinkov on March 16 at the Home Depot Center in the south-L.A. city of Carson. We can go on about the spurious circumstances that allowed Bradley to even win this title in the first place, but that's no longer the point. This is now. Regardless of how you feel about Bradley, he is a tremendous favorite to beat the 29-year old Provodnikov.
Date: March 16, 2013
Site: Home Depot Center, Carson, California
Weight Class: WBO Welterweight Title: 12 Rounds
Timothy Bradley, 29-0 (12 KOs), Palm Springs, CA
vs.
Ruslan Provodnikov, 22-1 (15 KOs), Beryozovo, Russia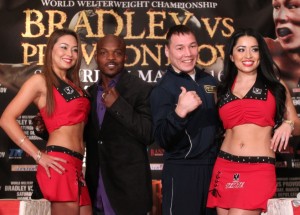 Bradley will have been inactive for 9 months by the time he steps into the ring against Provodnikov. Southern California is his stomping grounds, but his opponent is no stranger to rings in the southland, with his last appearance being a nearby win over Jose Reynoso in June, meaning he has also been off for nine months. Provodnikov is rising in weight to face Bradley, but he is a little longer at 5'6" and Bradley is also relatively new to the weight class.
At root, this is a fight between a top-tier guy in Bradley and what amounts to a middling contender in Provodnikov. The Russian brawler has some nice wins on his record, but he did lose to Mauricio Herrera, who is a good fighter, but by no means a world-beater. In all fairness, Provodnikov seemed a little off mentally against Herrera and that might not be the best gauge of his true abilities.
He is an exciting fighter–a passionate slugger who really lays it on the line. The flip side of that it that he's pretty raw, easy to figure out, and exceptionally easy to hit. That doesn't add up well against the total fighting package of Bradley.
This could be a dangerous fight for Bradley, however. His opponent isn't likely to inspire much awe or concern from "Desert Storm." A guy with the fortitude and spirit of Provodnikov is a good candidate for an upset should Bradley be at something less than top-form. The Russian's potential is perhaps greater than his placement in the sport. He might just be a middle-of-the-road contender, but he has power, determination, and he can take a punch. Against a guy with only 12 knockouts in 29 wins, his combination of assets could match up well with Bradley.
At the same time, we are faced with a major gulf in the areas of talent and ability. Provodnikov can dish it out, but he is one of the more defensively-deficient contenders in the entire sport. Bradley is built like a brawler, but he is a sharp-shooter. At least when compared to Provodnikov. The Russian also needs some room to run his shots and Bradley can nullify him by getting in close and staying there. It becomes difficult to see where Provodnikov will have an edge, as he is likely outgunned on both the inside and outside.
Handicapping a fight along those lines can tend to take the human element out of the equation, which could be a mistake. Provodnikov comes across as highly-driven athlete with ambition. He's a hungry fighter who is a tough out. Then we look at Bradley and we see that he's likely to be in no mood for games. The backlash from the Pacquiao fight took everyone's attention off of what a good fighter Bradley is and he should be chomping at the bit to reestablish some good momentum. That's basically why Provodnikov was selected as an opponent in the first place.
Bradley vs. Provodnikov Prediction
Look for the speed, skill, and athleticism of Bradley to hold true over the grit and determination of Provodnikov. It might be one of those fights where one guy will win the great majority of every moment of the fight with the opponent offering interesting twists along the way. Provodnikov is a good fighter and you never want to completely rule out a hungry and capable guy who can punch. This assignment, however, is going to be a little too much for him. It's not that hard to picture a battered Provodnikov getting the hook in-between rounds late, but a clear unanimous decision for Bradley seems like the most likely result.
Prediction: Timothy Bradley by unanimous decision.