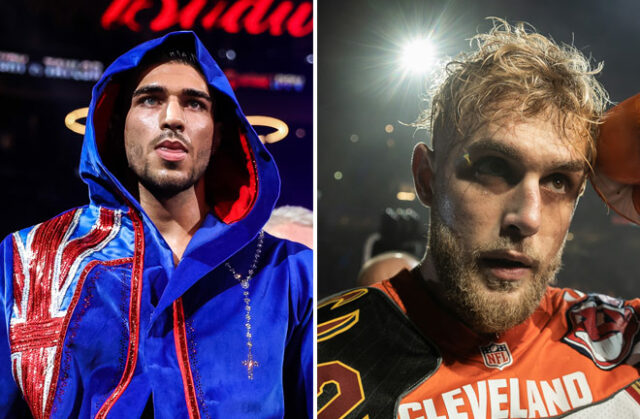 Tommy Fury says he was unimpressed by Jake Paul's victory over Tyron Woodley and insists the pair have unfinished business to settle in 2022.
Fury had to watch on from home as Paul knocked out Woodley cold with a stunning right hand in the sixth round of their rematch in Tampa on Saturday night.
The undefeated Brit, who fought on the undercard of the first fight, was forced to withdraw 12 days out from their highly-anticipated showdown after suffering a bacterial chest infection and a broken rib with ex-UFC welterweight champion, Woodley stepping in as a late replacement in a bid to avenge his August split decision defeat.
YouTube sensation, Paul secured his fifth straight professional victory and fourth knockout and claimed his rival was fortunate he wasn't in the opposite corner.
However, Fury who shot to fame after appearing on reality show, Love Island in 2019 has hit back and believes he would have secured an early knockout over 'The Problem Child'.
"He looked better in his last fight with Woodley," Fury told Dev Sahni on the Unibet Lowdown.
"He didn't do anything, Dev. For the first five rounds it was literally a hugging affair. They didn't do anything at all.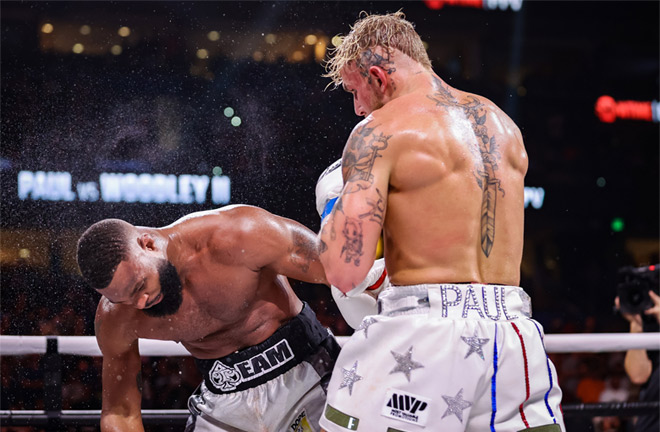 "He doesn't move his head, I've said that all along.
"I think he was very lucky that it wasn't me in there instead of Tyron Woodley.
"I'm trying to give him a bit more credit, but I just can't. If that was me in the ring on Saturday night, he wouldn't have got out of the opening bell.
"Watch that first round and then watch the first round of me, my first fight back coming out of Love Island.
View this post on Instagram
"Is he any better than that guy? No he's not. The guy I fought coming out of Love Island had 30 professional boxing bouts and was a world kickboxing champion.
"That's what I what I would have done to him. People who come out and don't do anything, they get put to sleep and Jake Paul came out and didn't do anything.
"If you watch my first round coming out of Love Island, watch Jake Paul's first round, what I did to that man is exactly what I would have done to Jake Paul on Saturday night, because he came out and didn't do anything.
Jake Paul in post-fight presser: "Tommy Fury is lucky he wasn't in there tonight, because Tyron is way tougher, he has that experience. Tommy probably would have looked a lot worse than that" #Boxing #PaulWoodley #PaulWoodley2

— Pro Boxing Fans (@ProBoxingFans) December 19, 2021
"I'd have been smashing the jabs out there, he doesn't move his head and I would have followed up with the right hand, he just wouldn't have been there.
"It was a bad, terrible fight. If it wasn't for the knockout, I think everybody's forgot the first five rounds.
"It was a nice punch, yeah, but what do you expect off a 14-stone guy when you put your hands down?
"And let's be honest, Tyron Woodley wasn't in a full training camp.
"If that's Jake Paul training for months and months and months to fight me, f***ing hell, it's gonna be an easy night when it happens."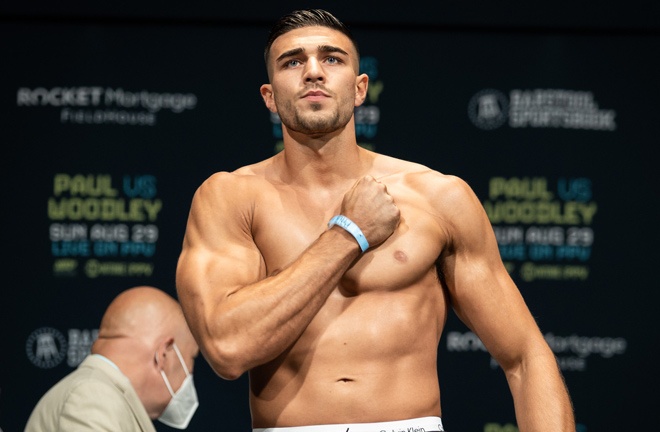 Paul had been dismissive of a rescheduled bout with Fury in the build-up and switched his attention to the likes of UFC stars Jorge Masvidal and Nate Diaz in the aftermath, who are both under contract with the UFC.
The 24-year-old has yet to fight a professional boxer, having beaten fellow influencer, AnEsonGib on debut, former NBA star, Nate Robinson, former UFC fighter, Ben Askren and Woodley twice.
However, 'TNT' is optimistic that a clash can be rearranged and has questioned why the American is looking to fight UFC fighters.
View this post on Instagram
"I do believe my time will come. Me, Frank [Warren] and yourselves, we're trying to figure out the next date for us," Fury added.
"We're trying get that fight rescheduled, because that's the fight I want next.
"I seen after the fight he was calling out all these MMA people, I don't get what he's trying to achieve by calling out UFC people.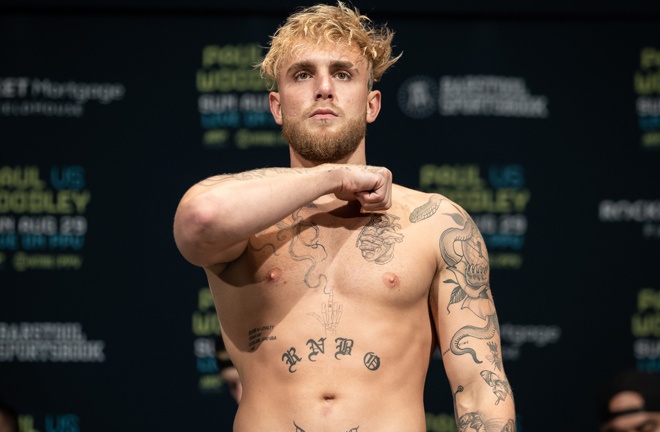 "He wants to be a boxer, doesn't he? So fight a boxer, stop calling out all these wrestlers and non-boxers.
"Let's be honest, would he beat Nate Diaz? 100%. Would he beat any other MMA super fighter? 100%, because they're not boxers.
The brother of WBC heavyweight champion, Tyson Fury has been advised to spend 12 weeks on the sidelines to recover.
The Manchester man, who has won his first seven professional fights, says the pair must settle their long-running feud and admits he would be ready to set the record straight in March.
View this post on Instagram
"We've got a lot of unfinished business.
"We need to get this year out the way, call this a write-off, enjoy your time off and I think we'll meet up in 2022.
"Get this fight done. Everybody wants to see this fight.
"You wanna proclaim yourself as a boxer, stop calling out UFC people, come and fight me like we were going to.
"What happened was unfair, I hold my hands up, what can I do?
View this post on Instagram
"But, next year let's get it done.
"Let's see if you're the real boxer or not. You've never fought a boxer before and you still haven't.
"Let's get this fight on, let's get this fight done, I'll be ready to go in March. I'll see you then."