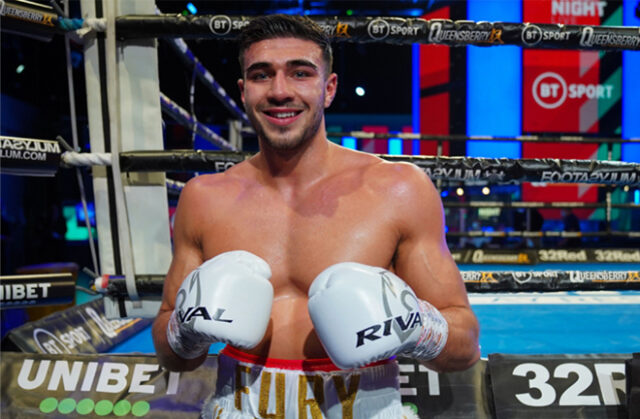 Tommy Fury says the expectation is on him heading into every fight, but insists his only focus is on learning his craft.
Fury (4-0, 3 KOs) fights for the fifth time as a professional on the undercard of Anthony Cacace's British Super Featherweight title defence against Lyon Woodstock at the Copper Box Arena, with an opponent to be confirmed.
The 21-year-old, younger brother of WBC Heavyweight champion, Tyson Fury shot to fame on reality show, Love Island in the summer of 2019 and has amassed over 3m followers on Instagram alone.
Despite recognising the pressure on his shoulders, the Manchester man says he won't let that effect his performances in the early stages of his career.
"When I take these fights now, there's so much pressure on it," Fury told Queensberry Promotions YouTube channel.
"Because, I've got all my audience on Instagram and social media looking at it, I've got all the boxing audience from the last name perspective looking at it.
"But it all just falls off. When I get in the ring I don't care about that. When I get in the ring it's about my learning stage, my apprenticeship, that's what I'd say, because that's what it is.
"I'm learning on the job, it's hard, it's a hard game, but I know what I've signed up for and there's no beating around the bush, it's a hard game and I'm ready for it."
Fury secured a showreel second round knockout out Genadij Krajevskij in his last fight in November to extend his unbeaten record.
View this post on Instagram
'TNT' trains alongside his dad, John Fury at Jimmy Egan's boxing academy, where Tyson first started out and heads to his brother's new Morecambe gym on a weekly basis.
The Light Heavyweight prospects admits the two-time Heavyweight champion, who is on the brink of securing an undisputed title showdown with unified titlist, Anthony Joshua in the Spring, provides him with additional incentive.
"Tyson's always been a big part of my career," Fury added.
"Motivational wise he's always been there, ever since I started training. I remember being eight and nine in Warrington we were always training and teaching me how to counter the body shots.
"Even now we go down to Tyson's once, twice a week, we do little bits with Tyson.
"It's good because whenever you get them down days, you get to go there and see him train and everything that he's been through, it's motivational."
Should he come through successfully on Saturday night, Fury is hopeful his promoter Frank Warren can keep him as active as possible this year, after featuring just once during a pandemic-stricken 2020.
View this post on Instagram
'TNT' admits he is in a comfortable position financially and is boxing solely to achieve his goals of becoming a world champion and vows to achieve this feat.
"I'm training like I'm challenger all the time and I still am," he added via a press release.
"That's the best part about it. I've not achieved anything in boxing and it's not about the money.
View this post on Instagram
"I'm not boxing for the money now. I can live the life I have now without boxing.
"This shows I'm not doing it for a few quid or to get my name out there. I'm doing it because I love the sport and I made a promise to myself that I'd be a World champion.
"It is a long hard road ahead. There will be a lot of good times, a lot of bad times but we'll get there.
"I know times are hard, but I am just hoping that Frank can get me out as many times as possible this year, and I know I'm lucky to get out boxing at the moment."