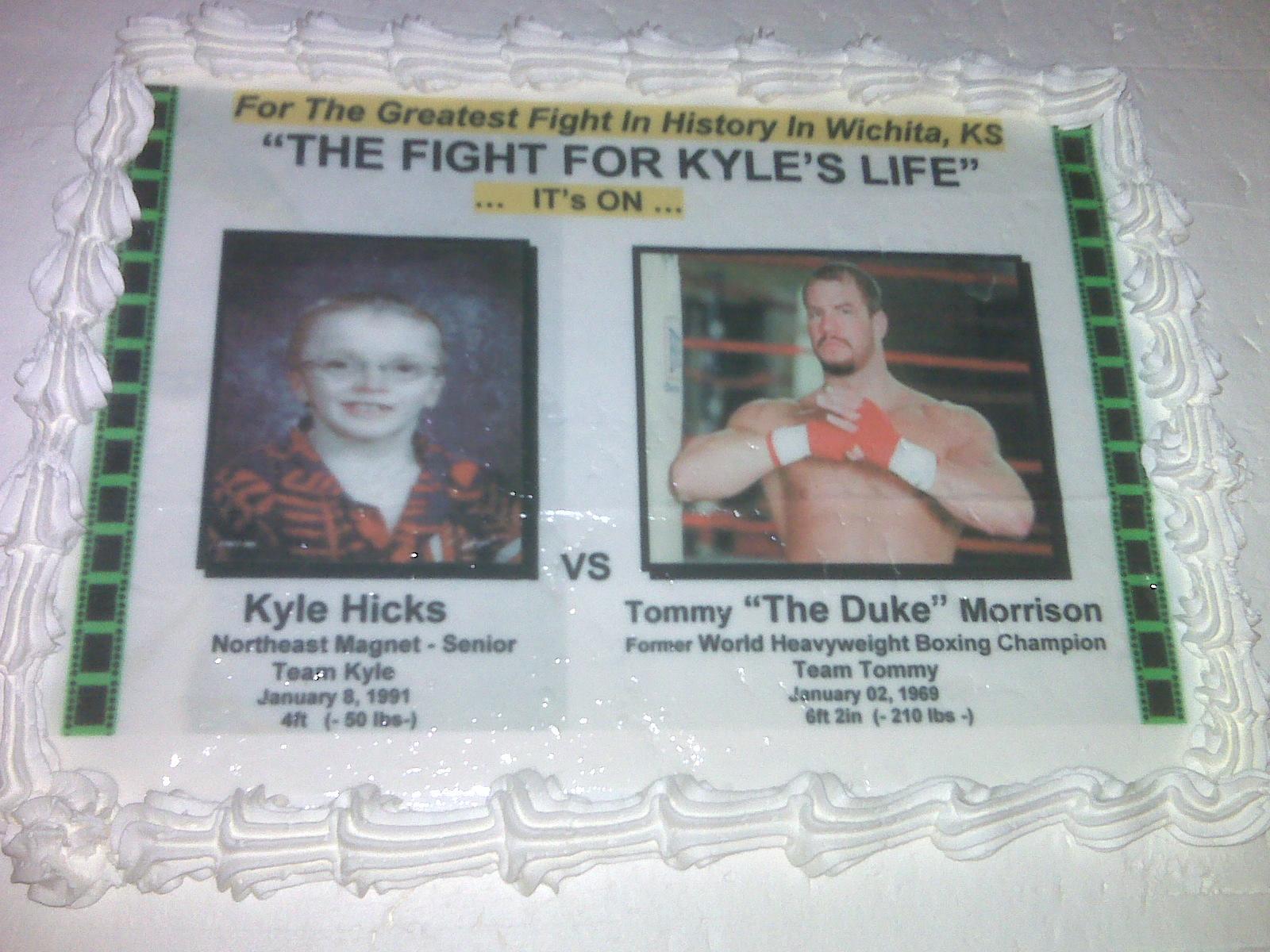 Where is he now? Tommy "The Duke" Morrison ill, but it's not what you think:
The past 17 years have certainly been a roller-coaster ride for former Heavyweight Boxing Champion Tommy "The Duke" Morrison. After allegedly being diagnosed with HIV in 1996 and barred from the sport, Morrison began an improbable comeback in 2007 and has been able to fight sporadically since then. For a fighter written off years ago and expected to die by the time he got to his car and was told to "get his house in order", he has done rather well.
—> Update: Tommy Morrison dead at 44
By Darren Barcomb for Tommy and Trisha Morrison
In February of 2007 he defeated John Castle by 2nd round TKO in West Virginia. He followed that up with a June of 2007 MMA victory over Matt Stover in Arizona, and a September of 2008 3rd round TKO of Matt Weisharr in Mexico. His last professional appearance to date is a 1st round KO of Corey Williams in a Muai Thai matchup in Wyoming in January of 2009. Those victories put Morrison's professional record of 48-3-1, 42 KO's (Boxing), 1-0 (MMA) and 1-0 (Muay Thai).
If you include his post diagnosis 1st round TKO over Marcus Rhode in Tokyo in November of 1996, that makes his overall fight record 5-0 since that dreadful day in February of 1996. No one who has ever fought or trained with Morrison has ever contracted HIV.
But his comeback has hit snags. Morrison over recent years has provided blood test results that show he is indeed HIV negative, but skeptics doubt the validity of the tests and have even came forward to allege tampering. So, 17 years later, the Tommy Morrison saga rages on, heightened by the fact that he has been out of public view since licensing troubles derailed a bout with Eric Barrack in Montreal in early 2011.
So, where is Tommy Morrison today? Rumors continue to swirl on internet message boards that the Duke has died; all based on hearsay and lies. No, Morrison is still alive, and fighting a health battle, but against Miller Fisher Syndrome/Guillain Barre Syndrome and not HIV/AIDS as most pundits assume.
Miller Fisher Syndrome/Guillain Barre Syndrome is a very rare nervous disease that causes abnormal muscle coordination, paralysis of the eye muscles, absence of the tendon reflexes, muscle weakness and respiratory failure. A largely unknown disease, it has touched the sports world before as former NFL Quarterback Danny Wuerffel suffered the same diagnosis a few years back and was successfully treated.
Critics assume that Morrison must be dying of AIDS by now though. Certainly the disease must be the cause of his health issues. "No way" says Morrison's wife Trisha, known to friends as "The Duchess". Devoted to Duke, she has stood by him through the past few years as his health deteriorated; he was hospitalized, and now finally is being correctly treated.
She has endured the hardship with her husband that began in August of 2011. According to the Duchess, that was when Morrison was wrongly imprisoned for being a fugitive. She says that it was there that he lost 30lbs due to malnutrition and endured such atrocities as "having to exchange his socks for a packet of oatmeal." After three weeks passed, he was finally bailed out, and charges would later be dropped.
That's when the real trouble began. Morrison then got a tick bite to his chest, which became infected. Following surgery, 12ft of gauze was carelessly left in the chest for 8 days, causing his already weakened body to fall into septic shock. Once the gauze was removed, he also suffered a fall, torticollis, the chest wound, a sacrum wound, a hip wound, and had to have a gtube (feeding tube) inserted.
Setbacks continued to compound matters. Trisha states that three further surgeries were needed for insertion of the gtube due to a nurse pulling out the original and his body again going into septic shock. Then there was the need for the installation of a PICC Line (Inserted Catheter), along with potassium supplement and iron supplement overdose. Tommy Morrison was in bad shape and the cause was a mystery.
Finally, doctors diagnosed him with Miller Fisher Syndrome/Guillain Barre Syndrome, which had left him unable to speak, eat, move, or breathe. He underwent intravenous immunoglobulin (IVIG) treatment and had to be ventilated due to pneumonia. He has suffered broken teeth sustained during intubation, had to have fluid around his heart and lungs drained, endured urinary tract infections,  as well as hemolytic anemia and seizures due to contra medications.
She also adds that there have been several medical mistakes along the way, including oxygen being turned off in error by a nurse, CT scan results not followed up by a doctor causing coughing up of blood and quick bronchoscopy, and results of an ultrasound of veins not being followed up, causing a delay in the removal of infected PICC line.
The maladies go on and on. It took two surgeries to remove an infected PICC line and Woundvac treatment was needed for his sacrum and hip wound. A temporary tracheotomy tube had to be inserted for breathing, malnutrition caused fluctuating nutrition levels, and his platelets and blood counts were critically low.
Through all of this, Trisha states that he has had "countless tests that state they DON'T detect "HIV infection".  As hard as the ordeal was for the Duchess, she stated that a lack of medical assistance and understanding only compounded the issue. She stated that to her dismay, "a stupid doctor said that she would give Magic Johnson CPR but NOT Tommy Morrison" and added that he was "code red 3 times and no one was willing to help me. I just prayed and cried and shouted at him to keep breathing."
And yes, he listened and kept breathing. A fighter out of the ring as much as he was inside of it, Tommy Morrison wanted to live. Numerous surgeries, infections, and procedures followed; with the Duchess by his side every day.
So where are we at now? As of August of 2013, the chest wound is finally healed and the sacrum and hip wounds are in the healing process. IVIG treatment has been successful in getting rid of GQ1b antibodies specific to Miller Fisher Syndrome/Guillain Barre Syndrome. He is now slowly making platelets, a new PICC line has been inserted, and his general blood counts and electrolytes are improving.
Yes, Tommy Morrison is in rough shape, but he is fighting his way back to proper health. Trisha points out also that "Boston Mass General Hospital performed an EM on blood in July 2012 and he was negative for HIV virus" and that "Kary Mullis, the inventor of the PCR test confirms via email that his test does not test for HIV." So, she can't understand why everyone has such a hard time believing his issues are anything other than HIV related.
Adamant that the public understands Morrison's current struggle and doesn't just assume it's HIV/AIDS- because she says it is not- she asks that prayers be said for his "continued strength to carry on this journey, doctors and nurses that care and don't give up and are not quick to give a death sentence, recovery from Miller Fisher Syndrome/Guillain Barre Syndrome, a solution to his abnormal Cerebral Spinal Fluid (CSF), levelling out of nutritional levels, breathing, strength level, and resolution of brain swelling and fluid in ventricles."
It is a long road ahead, but Tommy Morrison is recovering slowly but steadily. In conclusion Trisha added, that the World "needs to know that Tommy does NOT harbor a contagious infectious virus that has been named HIV – which in OUR world stands for His Innocent Victim."  The person indicated by the word "His" is Robert Gallo, the discoverer of HIV, whom she states is the "inventor of this biggest medical fraud in history."
More on the whole HIV/AIDS issue later, but for now, rest assured that the rumors are not true. Tommy Morrison is very much alive, but he does need the prayers of his friends and supporters worldwide. This is very much an uphill battle, but we all know that The Duke will find a way to left hook his way out of it.
Photographs:
#1- The chest wound that Trisha says Doctor's said would never heal, yet did heal one year later.
#2- Picture proof of a negative HIV blood test from 2011.
#3- Fundraisers that Morrison has done for children with health issues, using the Fight Night Video Game to allow the kids to knock him out.
Tommy has always been there for his fans and others, please stay diligent in your prayers and support for him.