On March 30th, Tony Bellew will square off against Malawian Isaac Chilemba in front of his home fans at Liverpool's Echo Arena. With the match-up being a WBC final eliminator, and the winner facing Chad Dawson, both fighters will be looking to produce a big  performance before a showdown with the  number one ranked light heavyweight. With therebeing very little to choose between the two and the fact neither man is afraid to let his hands go, we could be in for a real humdinger come fight night.
Tony Bellew
Age 30
Record: (19-1, 12 KOs)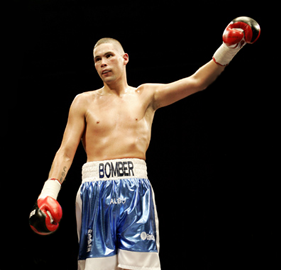 Tony Bellew will be looking to make an early statement in the light heavyweight division come the March 30th, knowing full well that having turned 30 this may well be his make or break year. Last year saw the Liverpudlian record stoppage victories over Danny McIntosh and Edison Miranda before going the distance with Argentine Roberto Bolonti, and Bellew will be looking to capitalize on this momentum as he continues on his quest for a world title.
In the current British champion's last outing, against Bolonti, he will have been slightly disappointed to have not finished off the durable but limited Argentine after twice flooring him in the early stages. However, what was impressive was Bellew's ability to readjust from his aggressive style following a deep cut he suffered in 3rd round, as he kept distance and jabbed his way to a wide unanimous decision.
Having previously fought for the WBO strap, The Bomber is unlikely to be fazed by fighting in world title eliminator a factor that could play into his advantage against Chilemba. On that occasion, he lost a close majority decision against domestic rival Nathan Cleverly, but did give the Welshman his toughest outing to date. Since then, Bellew has arguably kicked on more than his domestic foe and with a win against Chilemba, Bellew could lay legitimate claim to being Britain's number one light heavyweight.
Isaac Chilemba
Age 25
Record:  (20-1-1, 9 KOs)
With only one loss to his name, which was immediately avenged in a rematch, Isaac Chilemba should not be underestimated despite being relatively unknown in Britain. Since that loss back in 2007, Chilemba has gone 13 fights undefeated with the only slight blemish on his record a draw against the highly regarded South African super middleweight Thomas Oosthuizen.
In that time the Malawian has ended the perfect records of 3 fighters in Doudou Ngumbu, Michael Bolling and most impressively Maxim Vlasov. In the fight with Vlasov, Chilemba was dropped twice in the 8th round but showed great heart to climb off the canvas and regain control of the fight with his long jab and dangerous right to record the unanimous win.
However, arguably the most impressive name on Chilemba's resume is Edison Miranda. Against the big hitting Columbian, Chilemba produced an empathic display, dominating the fight from pretty much start to finish winning by a clear distance on the scorecards. The only previous boxers to have defeated the two time world title challenger are Arthur Abraham (twice), Lucian Bute, Kelly Pavlik, Andre Ward, along with a disqualification, which shows the level at which Chilemba is now operating.
Bellew vs. Chilemba analysis and prediction
With both men aggressive fighters this fight will probably be decided by who can give and take the most punishment.  Offensively Bellew does pack the bigger punch but by no means is Chilemba feather-fisted. Despite having a relatively low knock out rate Chilemba has more than enough power to worry the British title holder and will happily trade shots if the fight goes that way. While his long jab has the potential to frustrate Bellew and keep him at bay for long periods of the fight.
Unlike his opponent, Bellew does have explosive knock-out power, but considering this power he really should have recorded more stoppage victories. Why he hasn't is down to an overly cautious approach on several occasions. In both his last two outings he should have finished his opponents off much earlier than he did, waiting till the 9th round to stop Miranda and going the distance against Bolonti despite flooring his twice.
Admittedly, Bellew had suffered a deep cut in his last fight but the Argentine was offering little back offensively and The Bomber failed to show a killer instinct. Against Chilemba he won't be able to box as cautiously as will otherwise likely find himself behind on the scorecards due to Chilemba's work rate and jab, while if the opportunity for a KO presents itself The Bomber must fully capitalize as these will be few and far between.
Defensively, question marks remain about both men and when mixed with the power on display defense will definitely play a part in the outcome of the bout. Bellew has previously been dropped by Bob Ajisafe, a man not renowned for his power, in a British title fight and if there is any weakness in that chin Chilemba could be the man to find out. However, he has since gone toe-to-toe with the likes of Cleverly and Miranda without looking in any real trouble, possibly showing that that knockdown was a one off. More worryingly for Bellew was the ease with which he was hit in the second half of his last fight with Bolonti, luckily on that occasion no meaningful combinations followed the jab, but this could be an area that Chilemba will look to expose.
Like Bellew, Chilemba has also been down before, having been twice dropped by Maxim Vlasov. On that occasion, Chilemba chose not to cover up when in trouble and instead met fire with fire, punching his way back into the fight. Although highly commendable and certainly fan friendly, it's a risky tactic against a heavy hitter such as Bellew, and could result in Chilemba finishing the night on the canvas if he opts for a similar approach against the Liverpudlian.
Taking both of these factors into consideration, I'm expecting to see an all action scrap and possibly a potential fight of the year candidate. Having said that, I feel it may start tentatively with Bellew not the fastest starter and Chilemba looking to establish his jab and feel his way into the fight, in what will undoubtedly be a highly charged atmosphere. However, from the mid rounds both men will be looking to gain the ascendancy and assert their authority on proceedings which could lead to a number of frenzied exchanges as neither man backs down.
Although I expect both men to be able to ride out any potential exchanges I wouldn't be surprised to see a few knockdowns along the way. In the closing rounds, I'd expect to see both men trying to finish the fight and looking for the knock-out blow as neither will be comfortable enough to rely on the scorecards. Despite both men's best effort to stop his foe the duo should just make it to the final bell in a close fight.
Ultimately, I see this fight boiling down to is who really wants it more on the night, and I think with Bellew fighting at home in front of partisan crowd this should just make the difference, as The Bomber sneaks home to win it on the cards after a hard fought war.
Prediction – Bellew via Split Decision