The Ten Greatest Cruiserweights in Boxing History
Even though many of the greats in heavyweight history would be cruiserweights in the modern era, this is a long-suffering weight class. Almost devoid of marketability, this division has served mostly as a pit stop for aspiring smallish heavyweights or a wasteland for those who couldn't cut it at heavyweight or light heavyweight. With a cruiserweight explosion in Europe, however, it's not so bad nowadays.
There have been fine fighters at this weight. But as a neglected and fairly new division, it has lacked the star power of any of the "upper" weight classes. In most divisional top-tens, almost everybody is in the Hall of Fame. That is clearly not the case in this division. Here are the ten best to ever do it at cruiserweight.
1. Evander Holyfield (1984-present):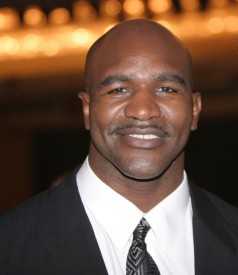 Not many divisions exist where the #1 choice is this clear, but there really is no argument about the identity of the greatest cruiserweight of all time. After turning pro at light heavyweight, the maturing Holyfield soon joined the ranks of the cruiserweight division, where he began a reign of dominance that has not been seen since. Beat Dwight Muhammad Qawi in a draining 15-rounder for his first belt, before unifying the belts against Rickey Parkey and Carlos DeLeon. Also knocked out former champ Ossie Ocasio, gold medallist Henry Tillman, and Qawi in a rematch. Evander was unparalleled at this weight.
2. Carlos DeLeon (1974-1995):
Fighting as a lightweight as recently as 1976, the mercurial DeLeon was cruiserweight champion by 1980. His world championship resume spanned a decade, with the Puerto Rican slickster winning the cruiserweight title 5 times. Beat all the top cruiserweights from the first half of the 80's, including Marvin Camel and ST Gordon. Took some puzzling losses, dropping his belt to Gordon and Alonzo Ratliff, but always bounced back with key wins. Lost resoundingly to Holyfield in a 1988 unification match, but regained the WBC throne upon Holyfield moving up to heavyweight.
Check out our entire collection of the all-time best fighters by weight class, as well as the breakdown of how these lists were made and what factors were included.
3. David Haye (2002-2011):
Does it say more about Haye's excellence or the division's lack of meaningful history that he can claim the #3 spot? Maybe a little bit of both, but Haye did something that had not been done since the days of Holyfield and that's clean out the division and establish clear-cut superiority over his peers. By the time Haye moved up to heavyweight, he had established a clear margin of dominance over the rest of the weight class. Got off the canvas to knock out unified champion Jean-Marc Mormeck, before starching WBO titlist Enzo Maccarinelli in 2 heats to consolidate his world title claims. The depth of his resume might not be very impressive, but becoming "the man" in a division with slim pickings counts for a lot.
4. Johnny Nelson (1986-2005):
Nelson might not have been that great of a fighter. He was awkward and inconsistent for much of his career, losing to a slew of cruisers and heavyweights before finding solid footing. At the same time, he went almost the final decade of his career unbeaten, including a nearly 7-year run as WBO champion, which included 14 defenses. Knocked out Carl Thompson for the title, before defending against the likes of Marcelo Dominguez and Guillermo Jones, among others.
5. Jean-Marc Mormeck (1995-present):
The overlooked Mormeck was the top guy in the division for a spell, unifying the title for the first time since the days of Evander. Became the only other man besides Roy Jones to stop Virgil Hill for his first title, who had just knocked out another good champion in Fabrice Tiozzo in the first round. Mormeck stopped two good contenders in Dale Brown and Alexander Gurov, before repeating the win over an aging Hill. Beat undefeated Wayne Braithwaite to snag another belt, before a puzzling stoppage loss to inconsistent O'Neil Bell. He came back to beat Bell and regain his belts, before falling to Haye in a fight where he also had his man on the floor. Mormeck was one of the more ambitious cruiserweights of all-time in terms of matchmaking and by partly consolidating the titles, stands out from the rest of the pack.
6. Steve Cunningham (2000-present):
The 6'3" Cunningham is one of the more impressive-looking cruiserweights of all-time, and even though he sometimes never fought to his full potential, his resume is impossible to dismiss. His wins over Guillermo Jones, Krzysztof Wlodarczyk, and Marco Huck–all still reigning world champions, represents perhaps the most top-heavy list of wins of any cruiserweight. Cunningham has also beaten notable cruiserweights such as Kelvin Davis, Wayne Braithwaite, and Troy Ross.
7. Anaclet Wamba (1982-1994):
The largely-forgotten Congo-born Frenchman was a classy 6'3" boxer of considerable skill and durability, even if he didn't light the world on fire when he fought. With an iffy decision loss early in his career and an egregious DQ loss, both on his opponent's home-floor, one can say that the 46-2-1 Wamba was never beaten in the ring. Bounced back from the scandalous loss to WBC champ Massimiliano Duran and stopped him in 11 to begin a nice title reign. Defended against Duran, Andrew Maynard, tough countryman Akim Tafer, and Adolpho Washington and unbeaten Marcelo Dominguez–both of whom would go on to claim world titles.
8. James Toney (1988-present):
Not an easy guy to rank. From a purely naked eye point of view, he was probably a better fighter than everyone ranked ahead of him, except Holyfield. But his cruiserweight legacy, not that he paid it much mind, suffers since he left the division immediately after winning a title. To his credit, however, he beat an excellent champion in Vassiliy Jirov in one of the best demonstrations of boxing ever seen in this division. And his 4-year run at cruiserweight was productive, as he beat some name guys without being seriously challenged. Though he didn't always have the belts to prove it, Toney was probably the best guy in this weight class during his tenure.
9. Juan Carlos Gomez (1995-present):
Watching Gomez as a lethargic and underachieving heavyweight, it's easy to forget his days where he was a sharp and powerful 6'4" cruiserweight champion. Only one man lasted the distance with Gomez during his 11-fight/4-year reign. His list of challengers are not altogether compelling and he never consolidated his world championship claims, but Gomez did re-introduce a level of excellence to the division that had not been seen since the days of Holyfield.
10. Dwight Muhammad Qawi (1978-1998):
It would have been easy to put Vassiliy Jirov or several others in this slot, as they might have a stronger overall resume at cruiserweight. It's just that Qawi was slightly more badass than those guys and really the first guy to bring attention to the division as its first name champion. And while giving points for losses can be a faulty way to evaluate legacies, the fact that he was the only man to threaten to beat Holyfield until Evander fought Riddick Bowe years later counts for a lot. After Michael Spinks brought an end to his glorious title run at 175, Qawi moved up, beating contender Michael Greer, before stopping unbeaten WBA champ Piet Crous in his native South Africa. Knocked out a slipping Leon Spinks in a defense before his glorious stand against a young Holyfield. Remained a factor for several years, with wins over former champ Lee Roy Murphy and Tyrone Booze and an absolute robbery-loss to Ossie Ocasio.