The Ten Greatest Junior Flyweight Boxers in History
Junior Flyweight (108 pounds) has been one of the deepest and consistently-entertaining junior divisions in all of boxing. The top ten is a colorful and deep cast of great fighters, most of whom can claim the top spot. At least the top-six guys could make a pretty sound case for the number-one spot.
Fans in the U.S. were mostly sequestered from the great action at 108 until Michael Carbajal and Chiquita Gonzalez took the spotlight in the 90's. Before and since, there have been talented and dominant champions from Mexico, South Korea, Japan, Panama, Venezuela, Thailand, and South Africa–making it a division of international intrigue, if not necessarily in the US and Western Europe.
Everything you could hope to find in a messy divisional ranking is here, from short explosive reigns, long periods of dominance, inconsistent greatness, weird upset losses, ambiguous head-to-head results, and a lot more. Here are the ten best junior flyweights of all time.
1. Jung-Koo Chang (1980-1991)
The South Korean in his prime was a dynamo–fast, hard-hitting, and with an intense fighting spirit. We in the west were largely deprived of seeing this Hall of Fame fighter, as he lost to Chiquita Gonzalez after coming out of retirement and past his best. Before that, the "Korean Hawk" soared above his contemporaries, reigning from 1983-1988 and notching 15 title defenses. He retired beating every man he ever faced.
Chang lost in his first shot to supreme champion Hilario Zapata in 1982, but 6 months later smashed him in 3 rounds for the WBC belt. Defenses came against tough German Torres (three times) and top-ten all-time flyweight Sot Chitalada. After beating Hideyuki Ohashi in 1988, he called it a day. Financial problems brought him back, but 3 title fight losses brought his record to 38-4 (17 KOs).
2. Michael Carbajal (1988-1999)
The vastly skilled, talented, and power-punching Carbajal is a Hall of Famer who put this division on the map for many boxing fans. He could finish you with one punch. When the stakes were highest in his million-dollar PPV showdown with Chiquita Gonzalez, he came through with flying colors. His up-from-the-floor knockout over Gonzalez was ferocious. Even two subsequent hairline decision losses to Gonzalez can't undo the magic he created in that first fight.
"Little Hands of Stone" won the IBF belt from unbeaten future flyweight champ Muangchai Kittikasem by knockout in 1990. Six defenses later, he was the first junior fly to earn a million-dollar purse, when he crushed Humberto "Chiquita" Gonzalez in 1993's Fight of the Year. Two defenses later, Gonzalez beat him by split decision in the 1994 rematch. Later that year, another majority decision loss to Gonzalez left Carbajal searching for answers.
In 1996, he regained the IBF belt by beating Melchor Cob Castro. After two defenses, he dropped a split decision to Mauricio Pastrana and then was stopped on cuts by Jake Matlala. He finished on a high note, however, coming off the pace to starch WBO Champion Jorge Arce with a right hand in Tijuana in an-almost surreal moment in 1999. It would be the last time Carbajal stepped into the ring.
Check out our entire collection of the all-time best fighters by weight class, as well as the breakdown of how these lists were made and what factors were included.
3. Humberto "Chiquita" Gonzalez (1984-1995)
Gonzalez was a stubby, barrel-chested five-footer who in his prime was a power-hitting phenomenon. He built his name on the west coast, where he became a favorite at the Inglewood Forum, as he steamrolled a slew of challengers with his vicious power. He won the title with a close decision over the excellent Korean Yul-Woo Lee, before embarking on a string of knockouts that earned him placement as the top puncher in the sport.
A number-three placement seems uncharitable, considering Chiquita is 3-1 against the top two in this ranking. Chang was out of retirement, though it still counts as a very good win. And if a guy ever won 2 out 3 from another fighter while not looking like he won the rivalry–it was Gonzalez in his 3 fights against Carbajal. He lost by crushing knockout in the first fight and deserves credit for switching into more of a boxer to outpoint Carbajal in two subsequent fights.
It's just when it counted most and he fought like himself, he came up short in graphic fashion. Still, he won 15 title fights, beat Carbajal and the excellent Melchor Cob Castro twice, and was a distinguished champion who is rightfully in the Hall of Fame.
4. Myung-Woo Yuh (1982-1993)
Recently inducted in the Hall of Fame and rightly so, Yuh was one of the division's greatest champions, reigning from 1985-1993, winning 20 world title fights at the weight, and beating every man he ever faced. After winning his first 13 fights by decision, Yuh found a power surge–winning 13 of his next 20 by knockout.
He was perhaps fortunate that his title-winning fight with champion Joey Olivo was in Korea, as "Sonagi" likely would have lost if not for being on home turf. That would be the last time he relied on sympathetic judging, however. Yuh's long reign featured two wins over four-division champion Leo Gamez and a long list of victories over obscure but mostly tough challengers. Lost the belt in 1991 to excellent Hiroki Ioka in Japan by debatable split decision, before returning to the Land of of the Sun a year later to regain his belt from Ioka by a majority nod. Made one defense before retiring.
5. Hilario Zapata (1977-1993)
In a mythical tournament where you could choose any top junior flyweight at his absolute best, Zapata might be the wise choice. The vastly talented and artful Panamanian was awesome at his peak, having beaten a solid list of fighters at this weight, including the top dog–Jung-Koo Chang. A number-five ranking almost seems harsh for a talent as robust as Zapata, who also won a title at 112 pounds.
Beat ex-champ and future 112-pound titlist Freddie Castillo in his 10th fight in 1979 and the following year won the WBC 108-pound belt against Japanese Shigeo Nakajima. Eight quality defenses followed before he was shockingly stopped in two rounds by 27-9 challenger Amado Ursua in 1982–a fighter who had been stopped 3 times in the previous 18 months. He regained the WBC belt with a win over Ursua's conqueror Tadashi Tomori, before beating undefeated Jung-Koo Chang in South Korea. Another win over Tomori led to a rematch with a peaking Chang, who wiped him out in 3 rounds in Zapata's final bout at 108.
6. Yoko Gushiken (1974-1981)
Another dominant, long-reigning Asian champion who deserves more respect. The Japanese with the giant afro, Gushiken was a colorful champion, who only lost his final fight after a long title reign. In his 9th fight in 1976, the 21-year old Gushiken beat the 25-1 Juan Guzman to win the WBA title. He would hold onto it until 1981.
The roster of challengers Gushiken fought might not inspire awe nowadays, but it was a generally quality group of contenders–future and former champions alike. The cerebral Gushiken lost his title in stunning fashion to 16-7 Pedro Flores, a man he had previously beaten. It would be the last time Gushiken ever fought. Before that, he had made 14 title defenses, beating solid opposition from around the world.
7. Jacob "Baby Jake" Matlala (1980-2002)
The South African junior flyweight was short even by this division's standards, standing a scant over 4'10." It didn't matter, as "Baby Jake" used heart and guts, not to mention skill, to outwork and outfight taller men. he was good enough to be the only man to stop the number-two man on this list, Michael Carbajal–albeit on cuts. Matlala turned pro back in 1980 and toiled for a decade before losing a world title shot at 112 pounds at 1990. In 1993, he began a nice run as WBO Flyweight Champion.
In 1995, he returned to his best class, winning the WBO 108-pound belt against Paul Weir. He stopped Weir again and after another defense, the 35-year old champion beat Carbajal. Three fights later, he lost to Hawk Makepula, but continued to post quality wins before retiring at the age of 40 in 2002.
8. Jorge Arce (1996-2012)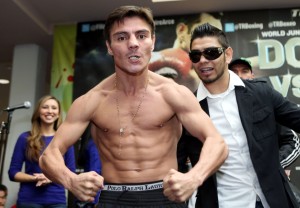 By the time he emerged on our radar, Arce's best days may have already been behind him. He was at his best at 108, where he was a quick, tough, and hard-hitting champion. Just a bit after his 20th birthday, he was miles ahead of the number-two guy on this list (Carbajal) before getting knocked out in the 11th round and losing his WBO belt he had won at 19 years of age. In 2001, he was again champion–beating Juanito Rubillar for the interim WBC belt.
Arce defensed the WBC belt seven times. His first defense was a knockout over excellent full-champion Yo-Sam Choi in Korea. Choi had come off an impressive run of victories, but fell to Arce in six rounds. He twice rolled over durable Melchor Cob Castro and beat Rubillar again before moving up to 112 pounds.
9. Saman Sorjaturong (1989-2005)
First known for getting bombed out by Ricardo Lopez at 105 pounds in 1993, Saman was a huge underdog two years later at the Inglewood Forum against unified champion Humberto "Chiquita" Gonzalez. What ensued was one of the best fights of the decade, when a battered Saman finished Chiquita in 7 brutal rounds, bringing an end to the Hall of Famer's career.
Saman's first 5 defenses ended by knockout, as he ran roughshod over Asia's best 108-pounders. Toward the end of his reign, he began to lose his touch, but kept gutting out victories–10 defenses in total. In 1999, he lost his belt to Yo-Sam Choi. A spent Saman would lose to Choi by knockout in 2001, before finally retiring in 2005 after losing 5 of his last 6 fights.
10. Luis Estaba (1967-1978)
A strange case. He turned around a career stuck in reverse to become a world champion. He reigned until nearly his 40th birthday–odd for a fighter at this weight. Strangely, he won his title from a fighter later found to be making his pro debut. Estaba, however, proved himself by making 12 defenses, with the quality of his competition increasing during his reign.
After winning the belt in 1975, he embarked on a long run of victories, proving some fighters become better after winning a title. Already in his late-30's, he beat some quality fighters like Rafael Pedroza and tough Thai Netmoi Sor Vorasingh. In 1978, he fell to Freddie Castillo in 14 rounds, bringing an end to the Venezuelan's reign.