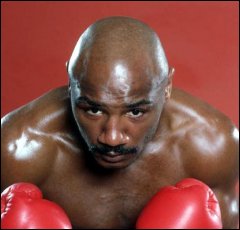 The 10 Greatest Middleweight Boxers in History
When ranking the ten best middleweights of all-time, many challenges arise. With great middleweights spanning over a century in time, it can be difficult to measure 160-pounders against each other. Try to compare the undefined middleweight division of the turn of the 20th century to its current manifestation and your head might spin. In the old days, fighters could sit on their title for years with nary a defense. Newspaper decisions, the vast changes in the dynamics of a typical professional boxing career, and other considerations makes it a sticky undertaking.
Also making it difficult is that this might just be the most stacked division in boxing history. With Hall of Famers occupying most of the top 25-30 spots, there are a lot of fighters with a good argument for top ten honors. Some of the most historic fighters of all-time made 160 their home and it makes coming up with a top ten an ultimate test of what you think is more valuable to creating a great legacy.
Do you go with the guy with a long reign? What about the great middleweight who beat greats from higher weight classes? Is it more impressive to be 99-2 against a lot of no-names and a small handful of big names or do you go with the guy who was 75-15 while fighting mostly monsters? It can be tough to sort out, but here are the top ten middleweights who ever lived:
1. Harry Greb (1913-1926):
The embodiment of the bygone era of ultra-tough fighters who took on all comers, Greb's work at this weight is unparalleled. He may not have enjoyed the super long reign and slew of defenses of more modern middleweight champions, but his dominance of the most glorious era of middleweights was as clear as day. Fighting much of his career with only one good eye, Greb is the only man to beat Gene Tunney and also posted wins over big names like Tommy Loughran, Mickey Walker, and Mike and Tommy Gibbons. During his middleweight reign, he fought at a frenetic pace, almost always winning and usually providing the best men of his era with a hellish experience.
Greb was one of the toughest and dirtiest fighters who ever lived. With 26 wins over fighters in the IBHOF, his work is impossible to describe in a small space. But when you pour over his career from 1918 to when he lost two debatable decisions to Tiger Flowers in 1926, it is amazing how he fought countless good and great fighters, while so rarely being bested. His record reads like a roll call from the Hall of Fame and for the most part, you will see a "W" for Greb.
2. Sugar Ray Robinson (1940-1965):
While not as dominant as he was at welterweight, Robinson's work at 160 is still good enough for #2 in perhaps the deepest divisional ranking in talent. And an argument for the #1 spot certainly has some merit. After already beating some good middleweights during his run as Welterweight Champion, Robinson won the title in 1951 with a brutal battering of Jake LaMotta. After losing his crown to Randy Turpin, he beat Turpin to regain the title and defended against Hall of Famers Bobo Olson and Rocky Graziano, before a failed try at the 175-pound crown led to a 2.5-year retirement. He returned in 1955 and within 6 months time, regained his title with a 2nd-round knockout over former victim Olson.
Another knockout over Olson led to a decision-loss to Hall of Famer Gene Fullmer. In the rematch, Robinson scored one of his greatest victories. Moving backwards, he caught the anvil-chinned Fullmer with the perfect left hook, flooring the Utah strongman for the count to reclaim his crown once again. In the 1957 Fight of the Year, Robinson dropped a split nod to Carmen Basilio, before regaining the belt against Basilio in the 1958 Fight of the Year. In 1960, he would lose the title for good. At the end of the day, though not as dominant as he was in the 40's, he was the best middleweight of the 50's–the deepest era in middleweight history.
Check out our entire collection of the all-time best fighters by weight class, as well as the breakdown of how these lists were made and what factors were included.
3. Marvin Hagler (1973-1987):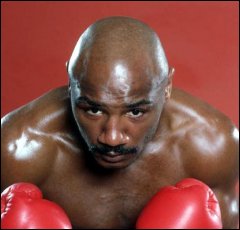 One of the more versatile, hard-hitting, and tough middleweight champions who ever lived, Hagler was king for 7 years and beat some of the biggest names from a glorious period in boxing history. Before he was champion, Hagler toiled for years in the ultra-demanding Philly/A.C. circuit, beating a veritable who's-who of top 70's middleweight talent. After getting jobbed against champion Vito Antuofermo in 1979, he decimated Alan Minter in 1980 to take control of the division. Dominant defenses over good opposition like Antuofermo, Mustafa Hamsho, and Tony Sibson, among others earned him respect. Though the everlasting image of Hagler is that of a brawler, Marvelous Marvin could do it all. A close one over Roberto Duran nudged him closer to full-blown superstardom, which he emphatically snatched by coming out on top against Tommy Hearns in the most fever-pitched Superfight in recent memory, winning by 3rd-round knockout. How many people on this list could have realistically stood up to Hearns' first-round assault like Marvin did?
A classic win against knockout artist John Mugabi led to his first defeat in 11 years, when a post-peak Hagler was edged by Sugar Ray Leonard. It didn't matter–Hagler had already made his bones. Prior to that, he mopped up the division's best for a decade and usually in dominant and brutal fashion. A few decision losses aside, can anyone righteously claim that they ever really got the best of Marvelous Marvin? They certainly can't claim that they kicked Hagler's butt, because that never happened.
4. Carlos Monzon (1963-1977):
Not many middleweights can claim that they retired as champion or that they were unbeaten for the final 80 fights of their career. Monzon can and thus claims the #4 spot on this illustrious list. The spidery and steely "Escopeta" was never stopped in 100 fights. Winning the title from Hall of Famer Nino Benvenuti in 1970 by 12th-round stoppage, Monzon repeated the win the next year, this time in 3 rounds. Also in 1971, Monzon stopped Hall of Famer Emile Griffith–a rare feat indeed. More defenses mounted, as Monzon beat Denny Moyer, Bennie Briscoe, and another win over a surprisingly spry Griffith. He defeated reigning Welterweight Champion and Hall of Famer Jose Napoles by 7th round TKO in 1974 and cruised through most of the 70's. After two demanding wins over the great Rodrigo Valdez, Monzon retired–still king. His 14 defenses are still a record for linear middleweight champions.
5. Bernard Hopkins (1988-present):
Has a lot in common with Hagler in that he came up tough, won begrudging respect, and was eventually dethroned in rather unconvincing fashion. Hopkins suffered through much of his reign in a quality of opposition sense, fighting through one of the more inglorious middleweight eras for most of his tenure as champion. But by the time he was finished, he had racked up 20 defenses and cleaned out his division in about as thorough and convincing a fashion as one could ask. Hopkins breezed through a list of contenders of varying quality until consolidating his world titles. A wide decision over titleholder Keith Holmes led to his signature win at this weight–a unification TKO over favored 40-0 Felix Trinidad. Six more defenses followed, including a body-shot knockout over Oscar De La Hoya before two decision losses to Jermain Taylor that smelled a lot like the Spinks-Holmes series. Uninterrupted champion for over a decade, Hopkins' laurels are impossible to disregard.
6. Bob Fitzsimmons (1885-1914):
One of the sport's seminal figures, Fitzsimmons' shadow still looms large. A ferocious puncher who would eventually win the heavyweight title not far above middleweight poundage, "Ruby" Bob lost only once in the better part of a decade and avenged that defeat. An anomaly for the time, Fitzsimmons record is littered with quick knockouts in a period when long-distance fights were more typical. Fitz knocked out another hallmark figure in boxing lore when he dusted off Jack "The Nonpareil" Dempsey in 1891 to win the 160-pound crown. In an era where world title practices were vastly different, Fitzsimmons rarely defended, as he eventually moved up to win titles at light heavy and heavyweight. He might seem crude when looking at his footage nowadays, but his power was indisputable, as he reigned over the best men his size with a clearcut dominance and violence that few on this list can claim.
7. Stanley Ketchell (1903-1910):
Power-punching middleweight champion ruled over his era with a heavy hand. He may now seem unrefined to the modern observer, but his punching prowess was good enough to leave a wake of broken bones and shattered dreams for those unfortunate to incur the wrath of "The Michigan Assassin." Lost a few bouts early in his career, then no middleweights were really able to say they got over on Ketchell. And unlike most fighters of his time, his victories almost always ended with his opponent laid out. Wins over Joe Thomas and knockouts over the famed Sullivan brothers set up a title-winning effort over reigning champion and Hall of Famer Billy Papke. Stopped in the rematch, Ketchell knocked Papke out in the rubber match.
During his reign, he scored a pair of triumphs over another Hall of Famer in "Philadelphia" Jack O'Brien, scored another win over Papke, and even managed to drop all-time great Heavyweight Champion Jack Johnson before getting knocked out himself, underlying the true level of menace he carried in his gloves. His 1910 bout with super-legend Sam Langford, scored as a newspaper loss, was by all accounts an even encounter. All this and he was murdered at age 24! He surely would have added to this legacy if his life was not cut short, but it's still good enough for #7.
8. Jake LaMotta (1941-1954):
Maybe it's the nickname "The Raging Bull" or his fierce in-ring portrayal in the Oscar-winning movie that goes by the same name, but LaMotta was a craftsman more than a powerpunching warrior. Sure, he was aggressive and iron-chinned, but LaMotta was a fighter who relied on brains as much as brawn. By being the only guy to defeat Robinson in well over 100 fights and pinning a rare loss on Marcel Cerdan, LaMotta is the only one on this list who beat multiple top-ten entrants. Beat a tough list of contenders and champions throughout the 40's, leading to his win over the 111-3 Cerdan. Defended against 48-1-3 Tiberio Mitri, before scoring one of his great victories–a last-second, back-from-the-brink knockout over top contender Laurent Dauthuille, a man who had previously beaten LaMotta. Lost his title to old nemesis Robinson in the "St. Valentine's Day Massacre."
9. Freddie Steele (1926-1941):
Steele is a tough guy to rank, as one could make a case for him being higher or lower. On one hand, he began his career with only a pair of defeats over his first 130+ fights, and those were 4 and 6-round decisions that he avenged in his very next outing on both occasions. And by the end of that run, he did defeat a large handful of top fighters. But he spent so much time fighting in the Pacific Northwest, that he stayed under the radar for a long time. He didn't fight in the best of middleweight eras, tucked between two of the best periods of 160-pound history. And by the time he established his credentials, the toll of a tough career made his stay at the top rather brief. Still, from 1926-1938, no one could say they got the best of Steele.
During that period of dominance, Steele scored a pair of knockouts over future middleweight champ Ceferino Garcia and in '35 added a stoppage over Hall of Famer Fred Apostoli. Both fighters, in all fairness, were not quite yet in their prime. He basically ended the career of ex-champ Vince Dundee with a 3rd-round stoppage, also in 1935. A non-title win over champion Babe Risko led to a rematch with the title on the line, won by Steele by 15-round decision. Scored quickie knockouts over Hall of Famer Gus Lesnevich and future king Ken Overlin before a non-title loss to old rival Fred Apostoli signaled an end to his dominant ways. After one more defense, an injured and spent Steele would lose his crown.
10. Marcel Cerdan (1934-1949):
A pair of DQ losses were his only setbacks in his first 109 fights. The Algerian-born French hero could do it all in the ring and surely would have achieved more glory if not kept in Europe for so long. Nevertheless, he utterly dominated a good European scene and beat some ranking Americans on his way to the top. Wins over Holman Williams (a little old), Georgie Abrams (a disputed nod), and others set him up for a title shot with the "Man of Steel" Tony Zale, whom he brutalized over 11 rounds to take the Middleweight Title. With his shoulder injured in the first round against Jake LaMotta in his first defense, he was eventually unable to defend himself late in the fight, leading to a TKO loss after 9 rounds. Killed in a plane crash heading back for the rematch, Cerdan's world-class work was likely not done.